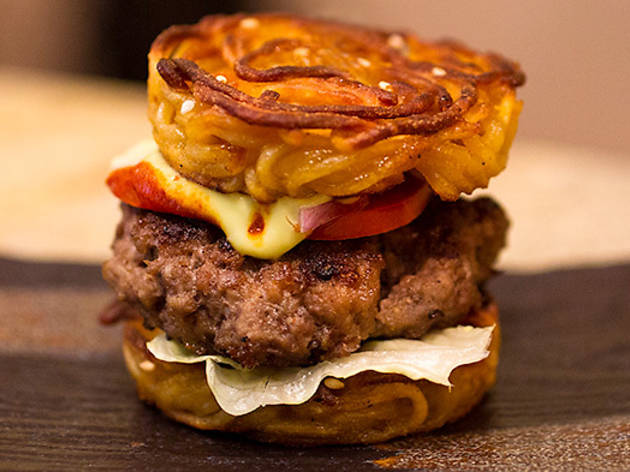 1/12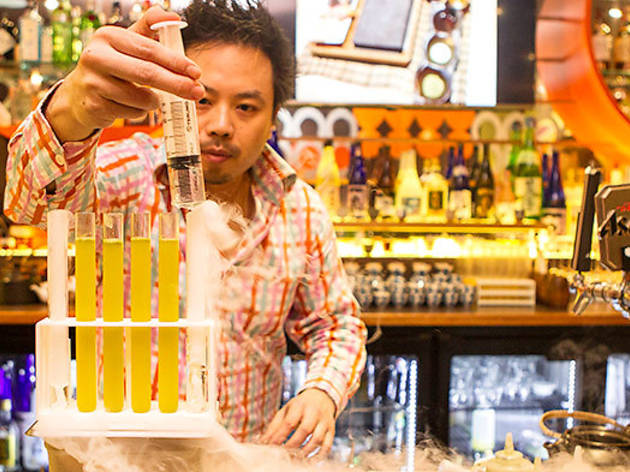 2/12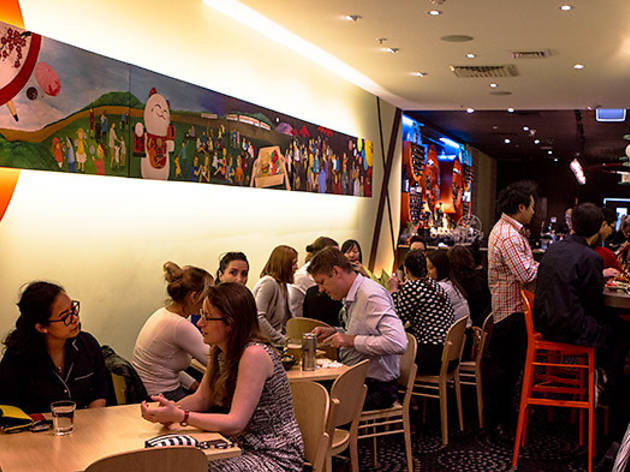 3/12
4/12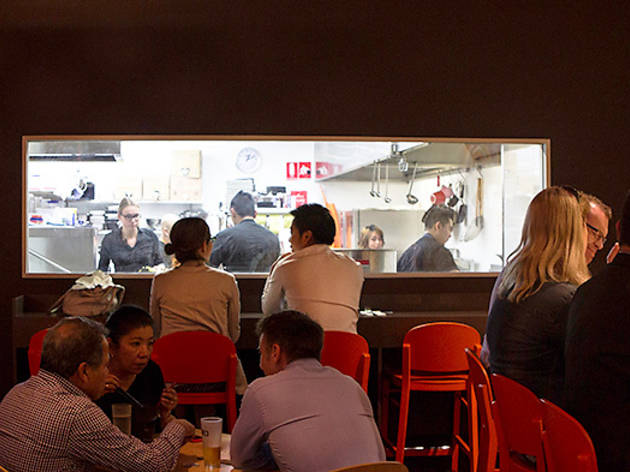 5/12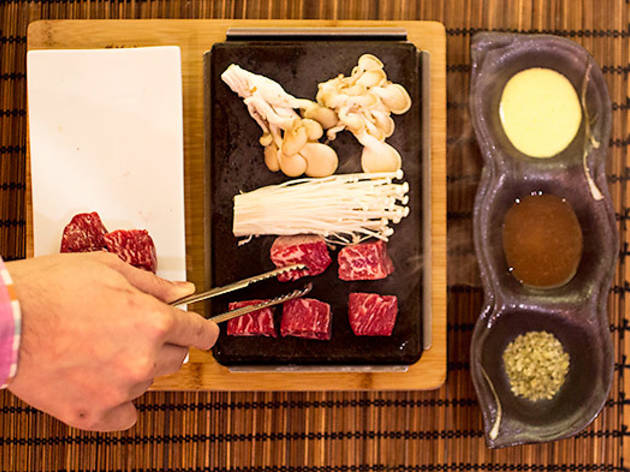 6/12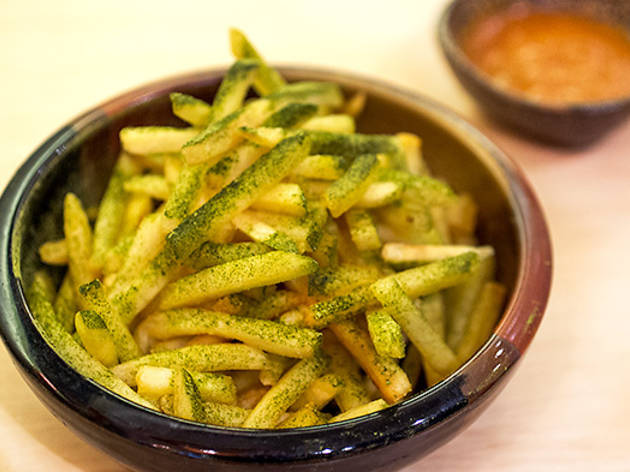 7/12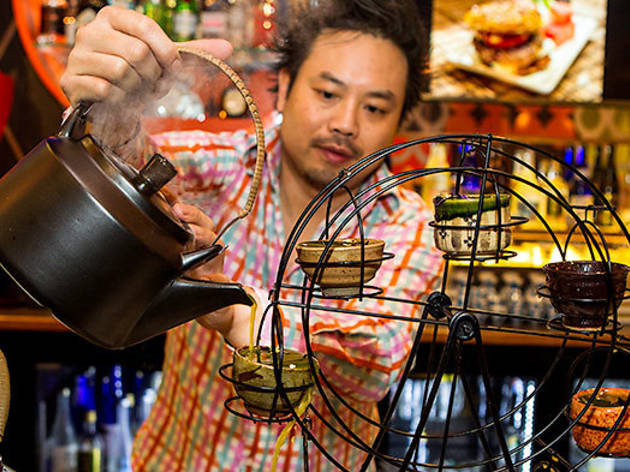 8/12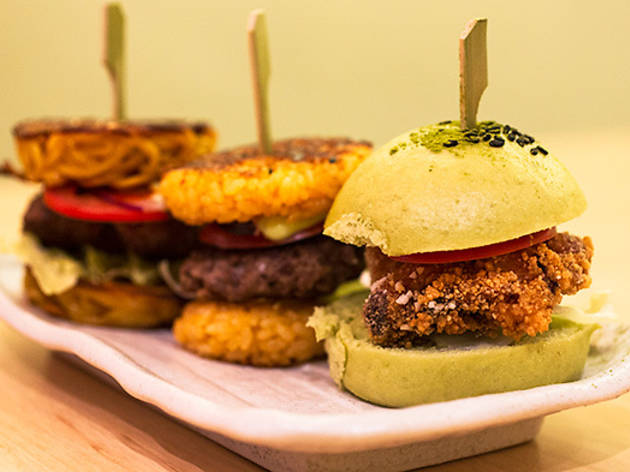 9/12
10/12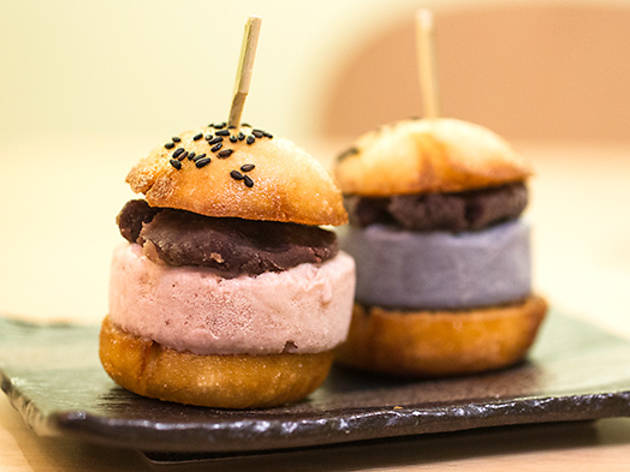 11/12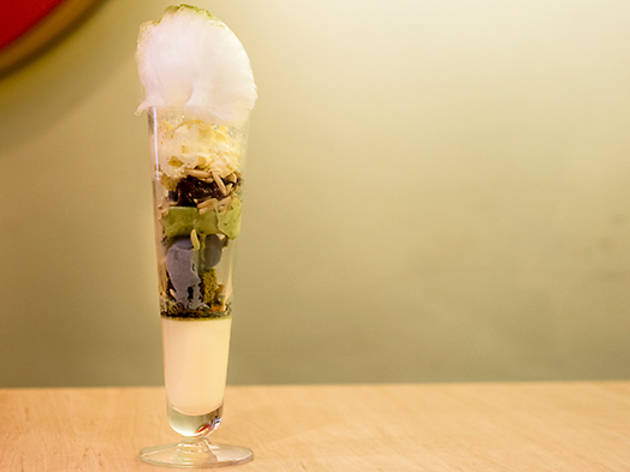 12/12
Time Out says
Ramen burgers, deep-fried ice cream sambos and matcha cocktails. Get ready, Sydney: Tokyo has landed
A ramen burger shouldn't be good. It sounds all kinds of wrong: these are two perfectly capable dishes all their own, so why throw them together into something that sounds too ridiculous to be delicious?
One Tea Lounge and Grill is doing it anyway – and surprisingly, it isn't awful. Having created a cult following at the Night Noodle Markets in 2013, owner David Yip set up a permanent space in the CBD this year, and ramen burgers are only the start of the fun.
The burger comes as a slider here (ach, please, stop it with the sliders already Sydney: it's a word that sounds horrid, and who wants a Barbie-sized burger anyway? Me hungry!). You get a choice of three types of buns to mix'n'match with four kinds of fillings. Skip the rice burger bun, which is like compressed, gluey, fried rice, and stick with the ramen and matcha baoger (steamed) buns. We like the ramen bun with the Wagyu burger. The bun has the texture of fried spaghetti: slightly chewy, with strands breaking away from the rest as you crunch into it. The burger is a bit dry if we're being properly critical here, but you didn't expect the best burger of your life, did you? It's fun, not elegant, and we're starting to see the point.
They don't have any braised pork rib to fill our steamed 'baoger' bun, so we go with teriyaki chicken, which is a bit stringy, but the soft, pillowy bun more than makes up for it. There's also a miso tofu filling for veggos, if that's your shtick. Whatever you do, though, order the matcha fries, which come shoestring-style, tossed with green tea salt and a hot shichimi spice blend, and a little dip of creamy curry sauce. It's weird and wonderful, and we finish ours in minutes.
Side note: you'll see on your menu that there are green leaf icons beside a lot of the dishes. This is to signify their inclusion of matcha (for the uninitiated, it's finely ground powder of specially grown and processed green tea), which is in practically everything, so if you don't like it, stay (far) away.
Other than weird-ass burgers, these guys seem to be making a killing in hot stone grill plates. Order the 'lava stone grill – 9+ Wagyu beef 180g'. The searing-hot stone arrives at the table with cubes of generously marbled meat and a selection of mushrooms on the side, as well as three rather delicious dips: one of soy, vinegar and sesame oil; one of matcha hollandaise and another of green tea-infused flaked salt. Cook the beef to your liking (we like it rare) then dip into one, or more, of the sides (the salt and hollandaise combo works well, and the soy has umami undertones that accentuate that of the beef).
For dessert, try the ice cream baogers. Yep, they're sliders again, but in this case, they actually make sense (a human-sized burger would be way too much for this level of sweetness). The black sesame one is good, but we love the red bean version: the buns have been deep fried so they're hot and sugary, there's a thick slice of red bean ice cream in there for creaminess, and even a red bean 'burger' (sweetened paste) to up the ante. This is not sophisticated food, but it sure is tasty.
Drinks are also rather good here. Our 'matcha made in heaven' cocktail, a blend of yuzu citrus, green tea, vodka and lime, is refreshing and not too sweet, balanced as it is by salted nori. For more of an intense matcha flavour, however, go for the 'so pre-tea' cocktail. It's all of the drama: a teapot cocktail of green tea, cucumber, elderflower and vodka, and – gulp – liquid nitrogen (wait till it stops smoking, kids!). But the sakes have us sold. Our attentive, warm waitress, Akiko, gives us a few tastes of each, so we can decide which one we want. We agree with her: the Denshin 'Yuki' junmai ginjo is the go: smooth, silky and served hot or cold.
The interior is pretty weird; my companion defines it as "jazzy airport lounge," which sums it up pretty well. And despite the menu boasting robata, there's none the night we venture in. The burgers aren't perfect, and everything feels a bit mental, actually. But each dish surprises in a different way, the place rings to the tunes of the Fugees and Backstreet Boys, and it's just a damn good time, whatever way you look at it. And would we go back for one of those ramen burgers? You're goddamn right we would.
Details
Address:
Ground Floor
73 York Street
Sydney
2000

Contact:
Opening hours:
Mon-Wed 11am-10pm; Thu, Fri 11am-midnight; Sat 5pm-midnight
Best selling Time Out Offers