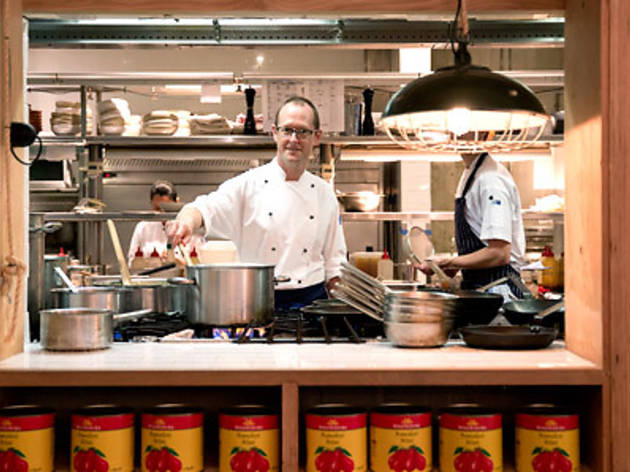 1/11
2/11
3/11
4/11
5/11
6/11
7/11
8/11
9/11
10/11
11/11
Time Out says
Mad Cow has taken a trip to the Chophouse, to be replaced with this easy, breezy casual restaurant. And did we mention it's enormous?
Say it with us: Palings rhymes with darlings. We got it wrong the first 50 times we said it too.
You know, since Mad Cow (the Hemmes' steakhouse, decked out like a 1960s Queenslander) closed its doors, we've given the lower levels at ivy a fairly wide berth. Don't get us wrong. We love ducking down Angel lane to access Felix and Ash Street Cellar. And hopping the lift to Uccello is always fun. But all that thumping bass and those requisite leggy blondes wasn't for us. Luckily, there's a new reason to enter the depths of George Street's restaurant-and-bar mega-complex: Palings.
Take the stairs up to level one. The Hemmes family have transformed the entire floor into a large, open dining area where the menu is as eclectic and huge as the room. On one hand, you might be ordering a surprisingly excellent kanom jeen from Sunee's – the little Thai cabana in one corner. The noodles are slightly thick, sure, but the mustard heat is spot on, especially when mixed with the light, fragrant fish-flavoured curry. And then on the other, you might kick back at one of the picnic tables dotted around the space with a bottle of rosé and a schnitzel finger sandwich. Soft, thick-cut white bread is spread with mayonnaise and scattered with pickles and sandwiches crisp slices of crumbed-and-deep-fried pork cutlet, scoring a ten plus on the delicious-o-metre.
For our dime, we'd make Palings a lunch destination. It's a beautiful, bright sunny spot and perfect for a casual business meeting. If dining at a wooden picnic table is a little too casual, take a seat at one of the tables near the open grills (where Mad Cow used to be). It's more civilised there, under the big wooden light installations.
Split a steak – they're reliably excellent, cooked by ex-Mad Cow head chef Christopher Whitehead. We go for a juicy Cape Grim rib eye on the bone, though we'd very happily lose the thrice-cooked chips. As crisp, golden and fluffy as they are, they're no match for the seriously excellent saltwater potatoes: creamy and briny with an almost weathered texture, like a dingy left on the beach too long.
There's a nicely dealt with salad of cauliflower, perfectly picked flat parsley and mint leaves and pomegranate seeds that also makes nice friends with the steak if you want a carb break. We give the smoked eel and chips a miss (next time) in favour of the pie of the day (pumpkin and pork), which turns out to be more like a giant empanada. It's a little wet and gooey, much like the enthusiastically dressed Caesar salad on the side.
Dessert is essential at Palings. And we'll sum up why in two words: Lorraine Godsmark. If you ever visited her Potts Point Patisserie, Yellow, you'll know what we're talking about. For everyone else, get yourselves front and centre for petite croquembouche – basically a slice off a grande version of the same dessert, it's all crisp, toffeed shell over delicious custard-filled puffs with vanilla ice cream and preserved cherries. If there's a few of you, you'll want to order everything on the menu, from a wedge of her coconut strawberry mascarpone cake to the classic date tart. The original made its (Gods)mark at Rockpool in the '80s, and you can try the same one here in more casual surrounds. You don't even need to order a massive meal to try it – just swing by for a glass of Champagne and order dessert. Even as you're reading this, she'll have opened Lorraine's Patisserie on the ground floor, for treats on the go.
Sweet.
Details
Address:
Ivy, Lvl 1
330 George St
Sydney
2000

Price:
$10-$50
Contact:
Opening hours:
Mon-Fri 11am-late; Sat 8.30pm-late
Best selling Time Out Offers