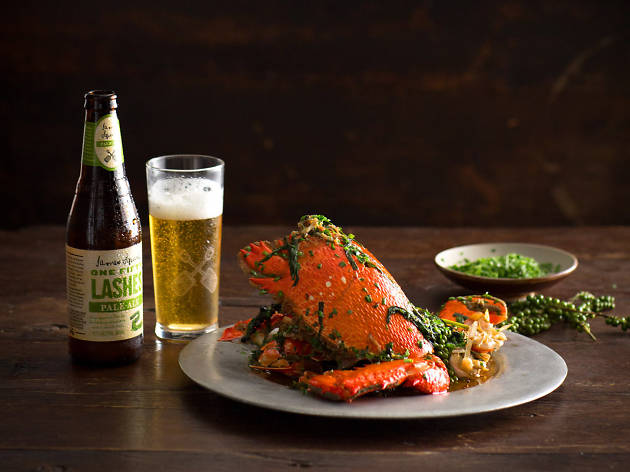 Recipe for pot-roasted spanner crab with pale ale
A feisty spanner crab dish with fermented chilli is inspired by James Squire One Fifty Lashes Pale Ale
It's peak season for spanner crab – those bright orange critters with goblet-shaped shells and succulent white flesh. In this recipe, citrus spice from the fermented chilli and fresh peppercorns are refreshed and cleansed with One Fifty Lashes Pale Ale for an Asian-style crustacean feast.
Ingredients
- 2-3 live spanner crabs, 700-900g each
- 3 tablespoons fermented chilli paste (or crushed chilli or sambal)
- 3 tablespoons fresh peppercorns
- 1 bunch garlic chives cut into 4cm batons
- 100g butter, diced
- 60ml olive oil
- 375ml One Fifty Lashes Pale Ale
- 1 handful warrigal greens (or English spinach)
Method
1. Put spanner crabs to sleep in the freezer for 20 minutes. Clean by removing top shell and cutting into quarters, then set aside.
2. Heat the oil in a pot (with a lid) large enough to hold the crabs. Once hot, add chilli paste and peppercorns and cook until fragrant while swirling the pot.
3. Add crabs to the pot and stir, coating the crabs in the fragrant oil.
4. Add the 150 Lashes Pale Ale to the pot and cover with the lid to catch the steam.
5. Continue to cook for 4-6 minutes, shaking the pot sporadically.
6. When the crab meat has turned from translucent to nice and opaque it's time to lower the heat and add the butter. Allow the butter to incorporate into the dish while gently shaking the pan and follow with the warrigal greens. Place the lid back on the pot and switch off the flame.
7. Arrange the crabs on a large platter and pour the remaining sauce over the top.
8. Serve with lemon wedges.
Watch the video tutorial below to learn more about making this recipe: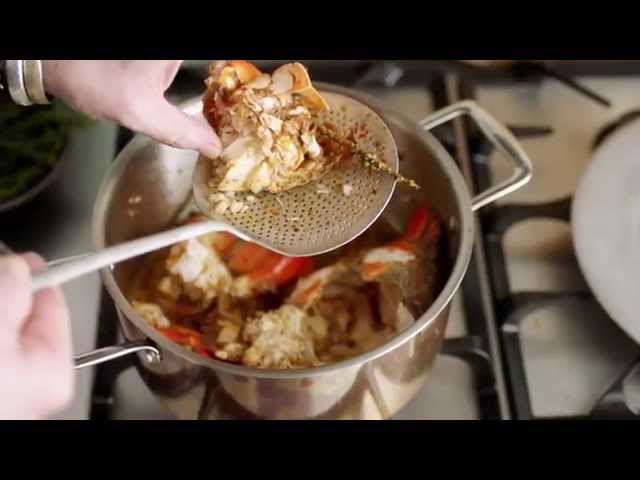 Best selling Time Out Offers