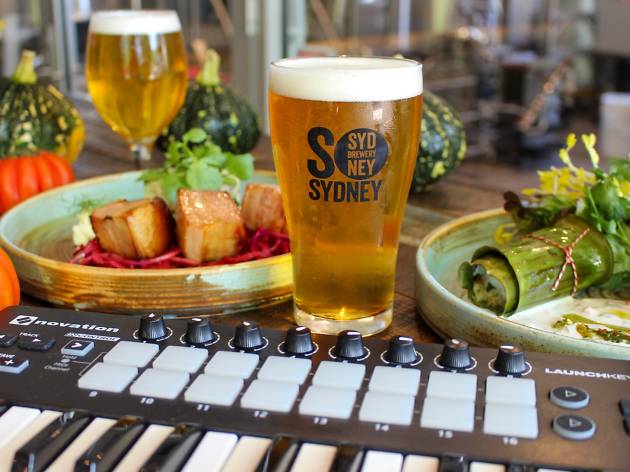 Time Out says
Beer boffins and sound scientists come together for an experimental dining experience
Taste is but one of the physical stimuli that play a role when we savour something delicious. A symphony of sensory information – the temperature on the lips, the scent that blooms in the nose, the texture and feel within the mouth, even the way something looks – comes together each and every time we eat or drink. Hearing, on the other hand, seems to take a back seat when it comes to our culinary experiences. Until now, that is.
Sydney Brewery's latest venture, a collaboration with music producer Hylander, is using a quirk of human physiology to hijack the senses for an event that brings together gourmet food and sonic science.
Research has shown that different notes and frequencies can influence the way something tastes, enhancing its sweetness, deepening its flavour, adding layers of richness to the palate. Known as "sonic seasoning," this field of gastronomic science is a passion of Connor McLeod, aka Hylander, who reached out to Sydney Brewery to develop a cutting-edge and highly experimental fusion of suds and sounds for an immersive dining experience.
The result is a specially created Session IPA, featuring Galaxy, Citra and Mosaic hops with notes of passionfruit, citrus and pine. This carefully designed brew has been crafted to work in tandem with Hylander-composed soundscapes, which will use the neurological phenomenon of synaesthesia to influence the way a drinker experiences taste.
It's a radical concept, but one Sydney Brewing and Hylander are so confident in, they are now inviting the public to try sonic seasoning for themselves on November 16. At Sydney Brewery's Surry Hills outpost, a four-course degustation with matching beers and ciders, including the newly brewed Hylander Session IPA, will be accompanied by four distinct sound worlds that will amplify the flavours of both the food and beverages.
On the curated $85 menu is a range of locally sourced fare, including a goat's curd king oyster mushroom tart, crispy honey smoked pork belly, snapper and crab fish cakes and a rich chocolate tart with a marshmallow and vanilla bean ice cream. Following the meal, Hylander will be treating diners to an intimate live performance as they enjoy a glass or two more of his namesake IPA.
Details
Best selling Time Out Offers