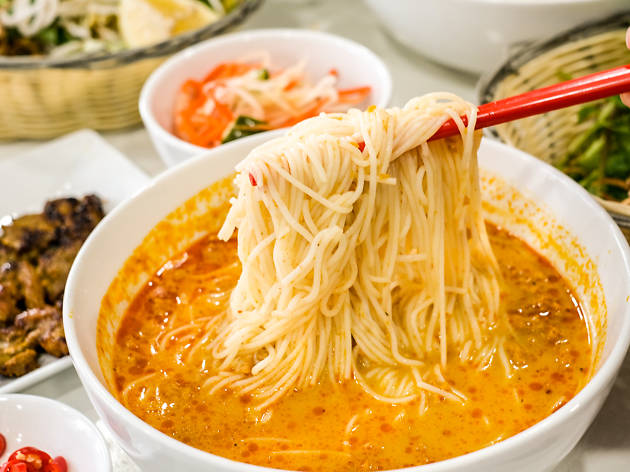 Time Out says
Transport yourself to Cambodia via the backstreets of Cabramatta
Where are all the Cambodian restaurants at? You need to know where to look. Take Siem Reap. You won't find it along the thoroughfares of Cabramatta, but head down one of the suburb's many laneways, and you'll spot the unmissable bright red signage opposite the bustling shopping complex that was once a council car park.
The decor is simple but functional, with a no-nonsense table set-up of self-serve cutlery and tea. On one wall is a pictorial guide to the short and sweet menu; on the other you can peek into the tiny kitchen via the cut-out service window.
Expect a constant stream of expats here for a Khmer taste of home. Most will be slurping bowls of nam banh chok, long and thin strands of rice noodles served in somlor (soup). The traditional version, nam banh chok somlor Khmer ($11), is not for the faint-of-heart – the turmeric and coconut milk soup's turbocharged with a salted and fermented fish paste called prahok. The flavour isn't overpowering, but it's definitely there, a lingering pungent funkiness that justifies its reputation for being the Cambodian version of blue cheese.
Prefer something a little more approachable? Order the nam banh chok somlor namya ($11) instead – its Thai red curry flavour profile will likely remind you of laksa. Both nam banh chok somlor variations are fortified with tender fragments of minced barramundi, pounded down to a fine paste and then gently boiled.
Cambodian chicken curry ($11) is more a noodle soup than a stew. In terms of protein value, it hits the jackpot, resplendent with hunks of chicken on the bone, a cube of pig's blood and a boiled egg.
The herb basket served alongside the soup makes all the difference. Add your preferred ratio of shredded banana blossom, bean sprouts, julienned cucumber and mint for a refreshing crunch. A splash of acidity from the fresh lemon wedge will amplify everything.
Still hungry? Get the Cambodian beef kebabs ($10), three skewers of tender grilled beef marinated in fish sauce and lemongrass.
Details
Users say