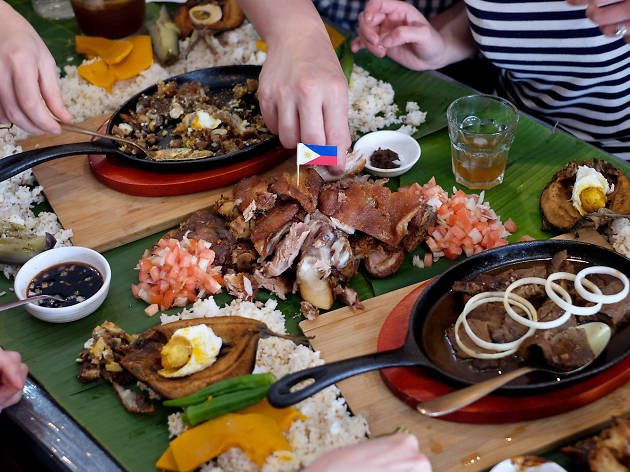 Time Out says
Who's up for a Filipino food fight?
No cutlery. No plates. Just one long table piled with food. This, my friends, is a boodle fight. It's how the Filipino military used to eat in an army mess hall, soldiers standing shoulder-to-shoulder battling to eat their fill before the food ran out. Eating together wasn't just about efficiency – it also represented equality and camaraderie for all troops.
Today's boodle fights have evolved into more of a communal feast for family and friends, while still acknowledging its traditional origins. So hand-to-mouth combat sounds like your kinda thing? Sizzling Fillo has ten different banquets to choose from, including special lovers' feasts for two. Sexy times. For a less intimate meal, it's worth rounding up at least three of your mates who won't freak out about eating with their fingers. And yes, they have a vegan feast too. Nobody misses out here.
Pre-book at least three days in advance and when you rock up, you'll find your table covered in banana leaves. The dining room is a happy hubbub of Filipino families and friends, with most ordering from the a la carte menu.
On your signal, staff will start bringing out your food, piling it up on or around fragrant garlic rice planted straight onto your banana leaf-lined table. You'll get everything from steamed crabs to sizzling steak to fried baby milkfish depending on the banquet you've ordered. Veggies are always included.
Sizzling sisig is a Filo specialty worth trying, a hot plate of shredded meat from the pigs head and liver mixed through with egg yolk. But the undoubted star of the show is the crispy pata, deep fried pork trotters that you tear apart and dip into vinegar and soy. If there's going to be a fight, it'll be over the hunks of crunchy crackling.
Relapse to childhood and get down and dirty with your fingers. It might feel weird at first but you'll be ripping apart that milkfish like a seasoned Survivor contestant in no time.
Finish up with deep fried banana fritters, leche flan crème caramel or halo halo, mixed fruits topped with ice cream. The sago't gulaman doubles as dessert too, a brown sugar drink served icy cold with tapioca pearls and cubes of agar agar jelly.
Details
Address:
36 Railway St
Lidcombe
Sydney
2141

Contact:
Opening hours:
Tue-Fri 5.30-9pm, Sat-Sun 11.30am-3.30pm and 4.30-9pm
Users say