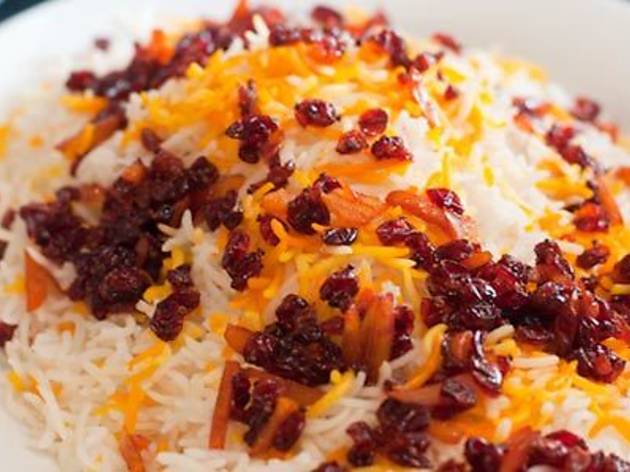 A suburban restaurant serving Iranian/Persian and Middle Eastern cuisine.
A row of colourful cushions on the front benches welcome homesick patrons or diners curious to try Persian cuisine. The menu is a double-sided A4 laminate with 18 dishes, each accompanied by a coloured photograph.
Zereshk polo ($10) is a popular Persian dish of barberry rice with chicken. A mountain of basmati rice is studded with sweet crimson barberries, toasted slivered almonds and a layer of saffron rice in golden yellow. Dig beneath the basmati rice – each grain fluffy and separate – and you'll find a large chicken leg, cooked so slowly the meat practically falls off the bone.
Ghormeh sabzi ($10) – often heralded as the national dish of Iran - is a dark and tangy stew of beef cubes cooked with kidney beans, herbs and dried limes. More subtle in flavour is the baghali polo ($10) – a tender lamb shin buried beneath basmati rice cooked with dill and broad beans. Meat lovers will want the Tehran special ($19) – a triple skewer meal of marinated lamb back strap, lamb mince and chicken fillets – all grilled to a smoky char and served on a huge plate of saffron rice.
Sides are priced so cheaply you'll want to order one of each. Kashk e badenjan ($5) is an eggplant dip made with onion, garlic, walnut and saffron, drizzled with yoghurt. The paprika-hued igra ($5) is the smoked eggplant version, a little spicier in flavour and garnished with a handful of black olives. The drinks fridge holds a mix of canned fruit drinks and bottles of Barbican, a non-alcoholic beer that isn't as bad as you'd think. Or go for the house-made ayran – a foamy yoghurt drink made from yoghurt, salt and water.
Venue name:
Tehran
Contact:
Address:
44 Railway Pde
Granville
Sydney
2142

Opening hours:
Daily 11am-10pm
Price:
Up to $25