1/13
Photograph: Cassandra Hannagan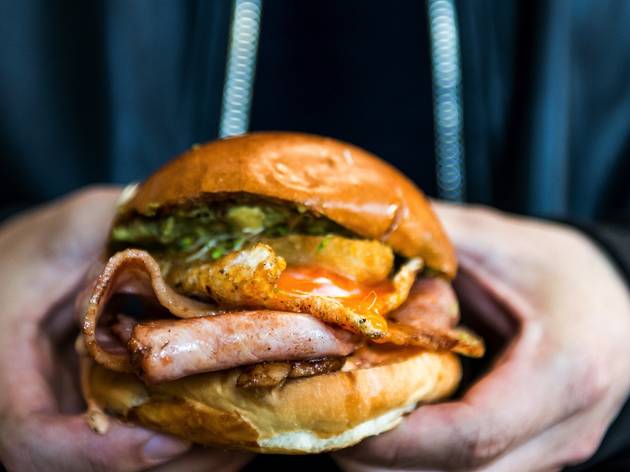 2/13
Photograph: Cassandra Hannagan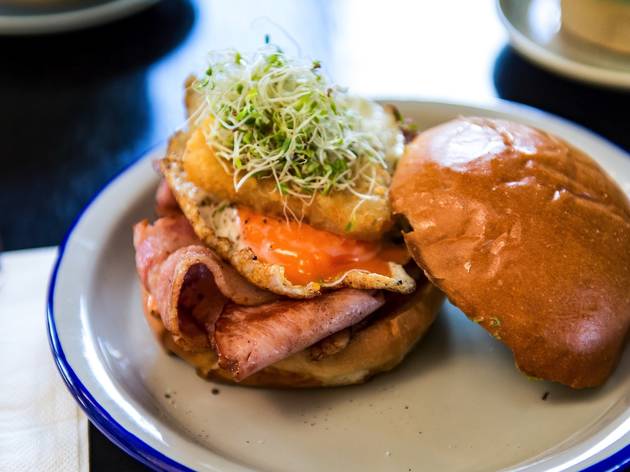 3/13
Photograph: Cassandra Hannagan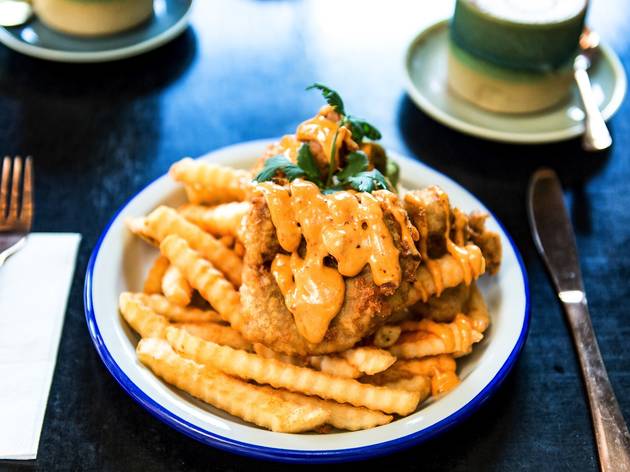 4/13
Photograph: Cassandra Hannagan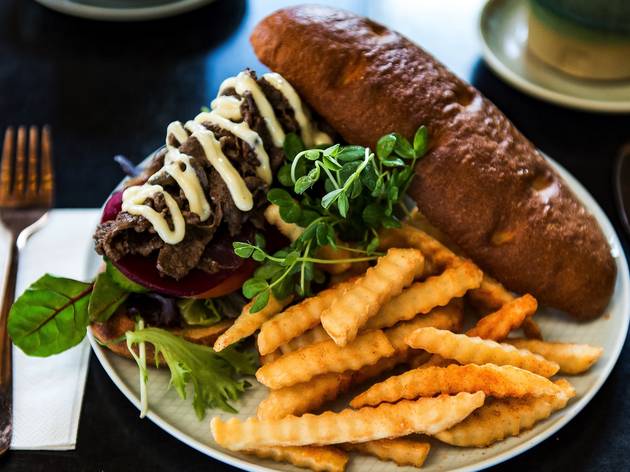 5/13
Photograph: Cassandra Hannagan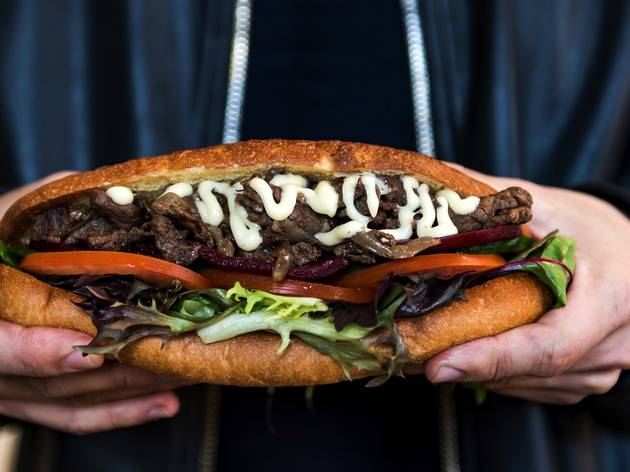 6/13
Photograph: Cassandra Hannagan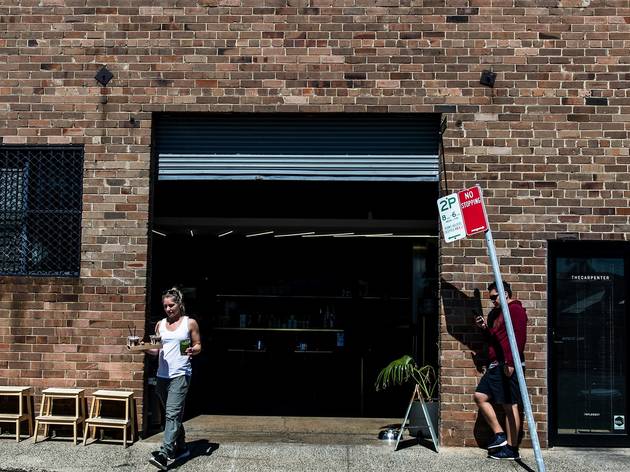 7/13
Photograph: Cassandra Hannagan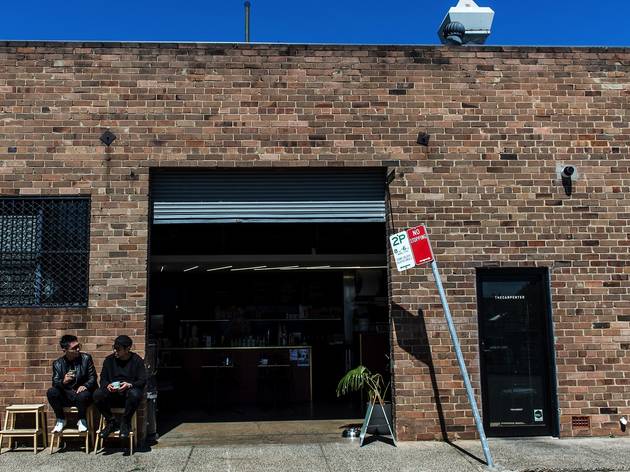 8/13
Photograph: Cassandra Hannagan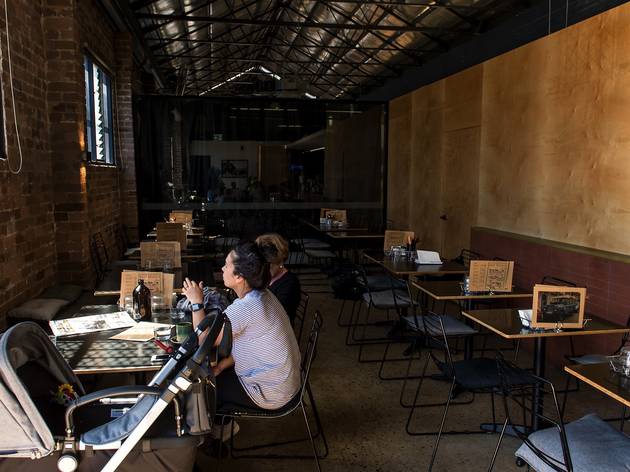 9/13
Photograph: Cassandra Hannagan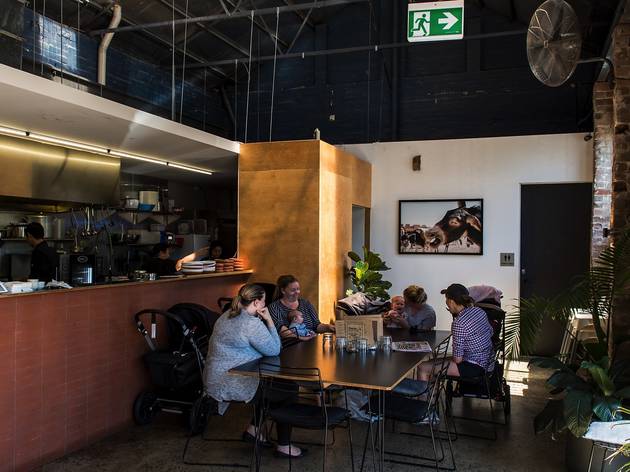 10/13
Photograph: Cassandra Hannagan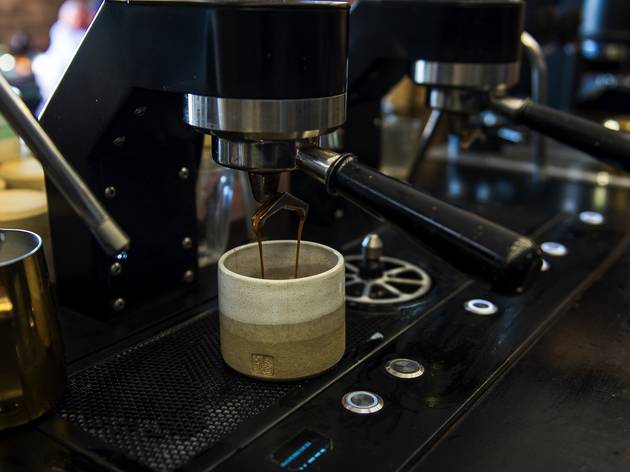 11/13
Photograph: Cassandra Hannagan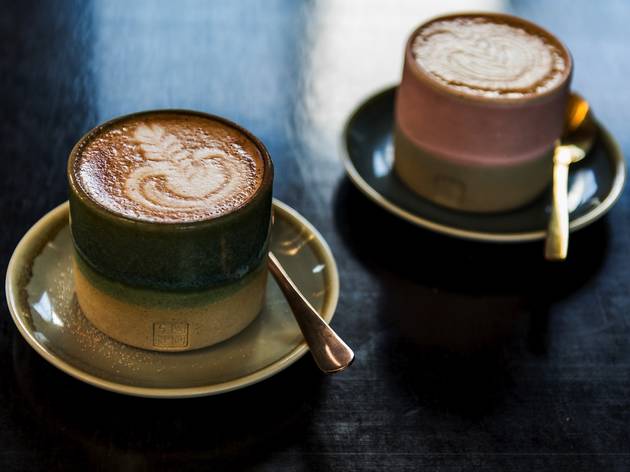 12/13
Photograph: Cassandra Hannagan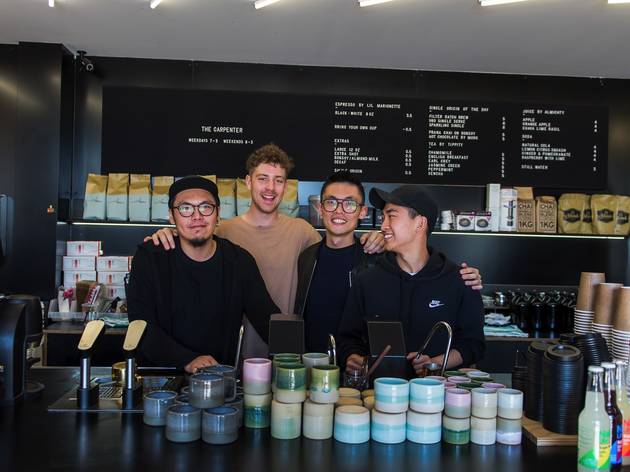 13/13
Photograph: Cassandra Hannagan
Time Out says
At this warehouse conversion turned cafe the tools of the trade include the cult Mavam coffee machine and Tetsuya's truffle salt in the eggs
Like many neighbourhood gems, from the outside the Carpenter is unremarkable. The exposed brick exterior and roller door are camouflaged on suburban Flood Street in Leichhardt, easily mistaken for a garage. But, from 7am to 3pm, this warehouse conversion draws clued-in customers inside. The décor remains industrial. You know the look: high corrugated-iron ceilings, grey concrete floor and minimalist metal hairpin table and chairs, softened by a warm terracotta-tiled bar and furry four-legged patrons drinking from bowls. The space, though small, is dog friendly, baby friendly (there are highchairs), and has communal and bookable tables for groups up to ten (including weekends). The vibe here is very much 'all are welcome'.
A brief scan of the menu might elicit a much of a muchness sentiment: hotcakes, truffle eggs, steak sangers, and the mandatory poached eggs and smashed avocado. But, a closer look (and taste) reveals subtle depths. The truffle in the eggs is actually the cult black truffle salsa by Tetsuya. Avocado and poached egg is sandwiched in a rich and flaky croissant, instead of plopped on sourdough, and comes sprinkled with feta for a sharp kick. Pillowy stacked ricotta hotcakes come dressed with whipped burnt butter (locally sourced from Pepe Saya in Marrickville) and tooth-achingly sweet and crunchy honeycomb; too sweet, if not for the balance of fresh, tangy seasonal fruits.
The piece de résistance is the trucker-sized 'ploughman's steak sandy'. Forget the traditional ham, pickles and cheddar: here you get a pile of finely sliced strips of tender beef, marinated to resemble sweet'n'savoury Korean bulgolgi. It's topped with a generous dollop of garlic aioli and the crunch of fresh salad and beetroot, served in a soft ciabatta. Kudos if you manage to finish the side of crinkle cut chips too. The menu also boasts a subtle homage to Momofuko New York's cereal milk, tasted in the buttery popcorn milkshake made with a nutty and slightly caramelised popcorn syrup. Chef Lisa Kusnadi (ex Anvil Coffee & Co, Firefly, Dose Espresso, Wellco), combines thoughtful and creative (but not flashy) flavour combos and ingredients. Nothing seems desperately trendy. Prices are affordable, portions are generous and the atmosphere is casual
Where they do go all in is with the coffee. The Carpenter uses the latest and most coveted gadget in beard-stroking coffee culture, the Mavam. It's a discreet under-counter espresso machine system invented in Seattle, and being relatively new there are only a handful currently in Australia. Will you taste the difference from the usual bulky countertop machines? Probably not, but it gives the café a high design edge. Using just two streamlined group heads that sprout from the bar, the baristas elegantly extract ristretto shots into the handmade Zuka ceramic cups (locally sourced from Glebe). The coffee from the Little Marionette is satisfyingly robust and worth seeking out, but, thanks its discreet location, your morning coffee run is going to be more like the big chill than rush hour, which is exactly what you want in a local café.
Details
Address:
76
Flood St
Leichhardt
Sydney
2040

Contact:
Opening hours:
Mon-Fri 7am-3pm; Sat & Sun 8am-3pm
Users say