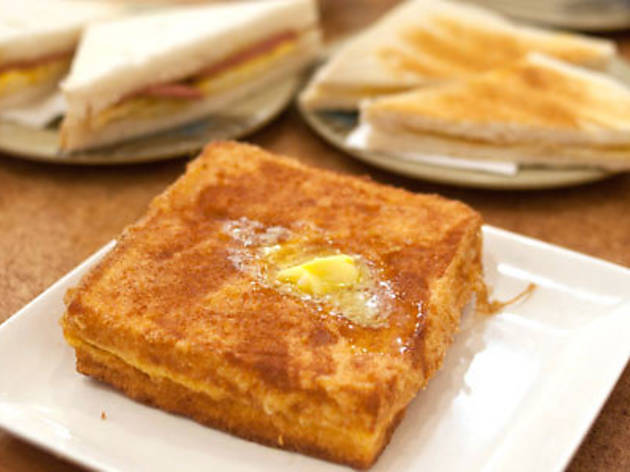 Time Out says
Eat this... French Toast with peanut butter
What is it?
It's the sort of snack that would make Elvis go weak at the knees. Two slices of soft white bread are slapped together with peanut butter, dipped in egg and then pan-fried to a rich golden hue. It's a little oily, especially with the extra dab of butter on top, but the insides are soft, fluffy and deliciously eggy ($3.60).
Where do I get it?
The Good Kitchen, a busy Hong Kong café (or cha chaan teng) serving Hong Kong-style Western cuisine. It's always chaotic during weekends, jammed with families and couples chattering loudly around tables or booth seating. This is Hong Kong fast food, where cost and efficiency are valued over décor and conversational niceties.

What should I order?
Expect your order to be taken within two minutes of being handed the menu and your food to arrive shortly after. Sandwiches arrive with the crusts cut off, including Asian classics like fried luncheon meat with egg ($4). Buttered toast with condensed milk ($2) will take you right back to your childhood.

What else?
Steak with pepper sauce on rice ($12.50) and baked Portuguese pork chops with spaghetti ($8.80) are a glorious mishmash of east and west. Au gratin is the order of the day, with pork chops and spaghetti swaddled in a thick blanket of cheesy white sauce, grilled until brown on the edges. The comprehensive menu runs through the usual suspects of stir-fries, congees and hotpots. Fried glutinous rice ($13) is a satisfying mix of sticky rice with slivers of omelette, mushroom, shallots and lap cheong pork sausage. Dig into the garlic chives with pork blood and pork skin ($10.80). It's one way to increase your iron levels.

Any drinks?
Instant coffee mixed with tea ($2.70) is a Hong Kong favourite, or curl up with a cup of hot Ovaltine or Horlicks. Hot lemon Coke ($3) is worth ordering – a bubbling elixir of soft drink boiled with fresh lemons – and said to be perfect for curing the common cold.
Details
Address:
171 Forest Rd
Hurstville
Sydney
2220

Transport:
Nearby stations: Hurstville
Contact:
Opening hours:
Mon-Fri 10am-10pm; Sat-Sun 9am-10pm
Users say