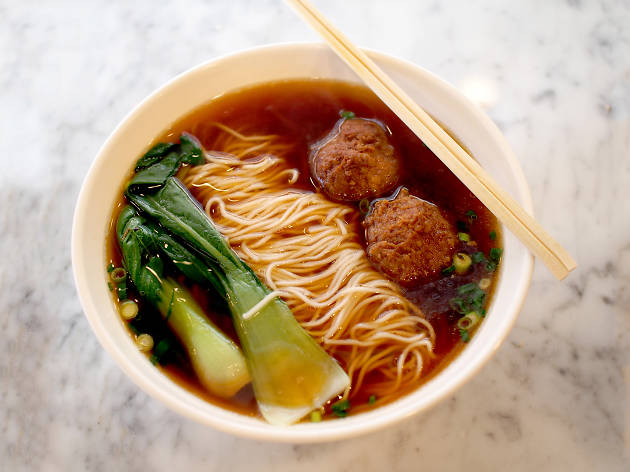 Time Out says
You've done Sichuan: now it's time to tick Jiangsu cuisine off your noodle adventure list
Chinese noodle styles and flavours are as varied as China is wide. While Sichuan is as fiery as possible, the eastern part of the country loves their noodle soup on the lighter side. The Noodle Pot in Chinatown specialises in this more subtle and sweeter Shanghai style soup and Jiangsu-style specialties from the neighbouring province. You'll find it sitting alongside the barbecue duck and fresh seafood stores on Ultimo Rd, where you can perch along the front counter seats and watch the traffic flow in and out of Paddy's Market across the road.

The menu has two speeds: there are the dishes that make up the core of either a bento-style rice box, or as a topping for the popular noodle soup. Braised pork chop balls are simply meatballs cooked in a tomato based sauce but added to a bowl of noodles they rise above their humble station. The finely diced mince in the balls is a little salty, almost like ham, and the coating of the slightly sweet, barbecue-flavoured sauce adds breadth to the light broth. The noodles are wheaty, wiggly and plentiful, a large portion laid neatly down the middle of the bowl with meatballs on either side.

Pork ribs are small cuts of soft bone pork braised in the same slightly sweet sauce, or pork intestines can be added for an intense offal flavour. Vegetarian styles mix textures with mock chicken (soft discs of gluten that often stand in for meat options), soaking in the vegetable-based soup with crunchy-yet-slippery wood ear mushrooms.

The more traditional Shanghai-style soup stock gets its flavour and cloudy appearance from the process of cooking bones down, long and slow. It won't overpower the flavours of the added meat and vegetables in the broth because here they leave out the stronger spices like star anise and simply add a touch of soy for some colour and salt. For heat there are pots of roasted chilli in oil on the table.

Add another regional experience to your visit with the Nanjing vermicelli duck noodle soup uses every part of the duck but the beak, feet and feathers and it's a customer favourite. Don't expect large pieces of duck meat in your bowl, this soup uses all the other tasty bits of the bird like liver, kidney and some intestine, while cubes of soft duck blood with the texture of tofu, add colour and a delicate iron tinged flavour that's easy to like.

And now that you've proven you're no white-meat-only diner, the final feather in your cap can be the sliced pig's ear in chilli, a side dish kept in the counter fridge. It has a slight crunch from the small amount of cartilage in the cured ears, while the chilli and oil coating leaves a heated tingle in your mouth, which is basically the culinary equivalent of a fresh stamp in your passport.
Details
Users say