Tuong Lai Vietnamese Restaurant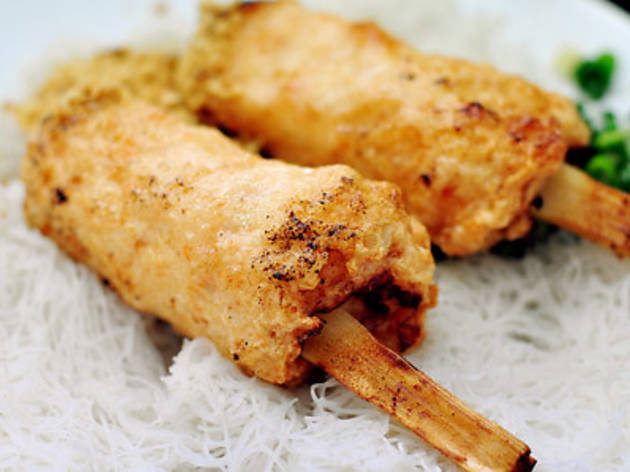 Time Out says
What is it? A poky little restaurant hidden down an alley off the main drag of Cabramatta.

What's it like? Tuong Lai is packed with Vietnamese nannas, couples, hungry workers and kids. The vibe is bustling and no-nonsense with the usual DIY cutlery, condiments and tissue boxes on every table. The menu on the wall (all written in Vietnamese) can be daunting at first but staff know enough English to provide guidance.

What should I order? Sugar cane prawns ($11), or chao tom, are a Central Vietnamese delicacy consisting of two skewers of light and fluffy shrimp paste wrapped around sticks of fresh sugar cane. First steamed and then grilled, the prawn paste is fragrantly sweet and deliciously caramelised on the edges.

How do you eat them? Cut the prawn paste off the sugar cane and into bite-sized chunks. Dig in with your hands and wrap the prawn paste into lettuce parcels with the accompanying bean sprouts, perilla leaves and mint. Don't forget the vermicelli noodles, stir-fried shallots and tumble of crushed peanuts. Dip into the sweet chilli, garlic and fish sauce dressing of nuoc cham. Then there's dessert - sucking and chewing the leftover sugar cane to get at the juice within.

What else? Com tam suon bi cha ($7.50) is a sweet grilled pork chop served on broken rice with pork mince steamed egg, shreds of pork skin dusted with roasted rice powder and a handful of cucumber and pickled carrots. Upgrade to com dac biet ($8) for the fried egg, sunny-side up. Bun thit nem ($7) is a refreshing cold vermicelli noodle dish topped with grilled pork, pickled vegetables and peanuts served with nuoc cham dressing. The pho dac biet ($8) is a commendable version of the beef noodle soup with beef and tripe. Chai gio spring rolls ($7.50) are even better when wrapped with lettuce and mint.


Details