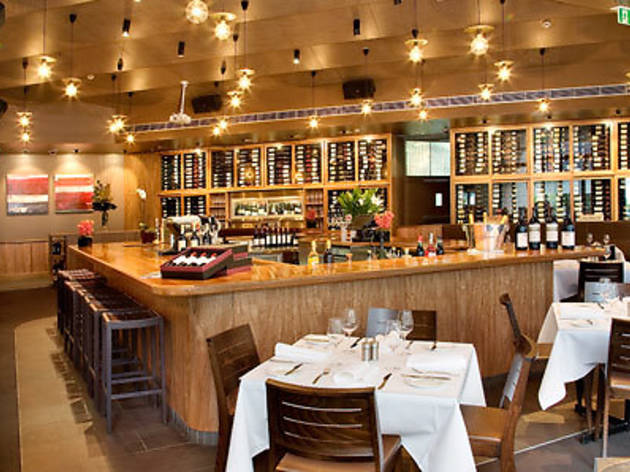 Usually with lunchtime restaurants like this, it's tables from here to eternity with men ordering The Steak. At the newly revamped Verandah, it's women with Guess bags, strings of pearls and "done" hair.

They fill an attractive room with thick, starched white tablecloths, walls of wine and the Rat Pack crooning in the background. Service gets off to a slow start but really picks up when we tell them we've only got an hour. To their infinite credit, neither the service nor the food suffers from this point on. Asparagus with hollandaise sees chlorophyll-rich spears hosting a poached egg that bleeds saffron coloured yolk when stabbed. The hollandaise, though a nice touch, is a little over the top – there's so much that most of it gets scraped to the side of the plate. A raw fish assiette of trout, tuna and salmon proves a safe selection but one nicely dealt with thanks to plenty of sourdough toast and the freshness of the fish, which carried little ado but still jumps off the tongue.

Verandah's chef Jonathan Ingram knows his stuff. Not in a pretentious, over-the-top, over-plated way, either. His food is intuitive, displays superior technique and a feel for fl avours that is bang on. Simple elegant touches like ultra-smooth mash and pan juices turn an excellent King Island scotch fillet into a steak apart. Likewise, an expertly pan fried piece of snapper with crisp skin and white tender flesh. The fragrant basil and mussel broth it sits on also boasts the most even dice of vegetables we've seen in a long while. Had none of this been enough to tame the savage hunger beast inside, the vanilla peaches with pistachio ice cream would have done it. The two elements make beautiful music together with the tang of new season peach harmonizing with musky, resinous pistachio.

Occupying an airy space above Castlereagh Street, Verandah is a happy house for ladies (and gents) who lunch. Better yet, it re-animates itself as a wine and tapas bar in the evenings after 6pm – very cool idea, indeed.
Venue name:
Verandah
Contact:
Address:
55 - 65 Elizabeth Street
2000

Opening hours:
Tue-Fri 6pm-late