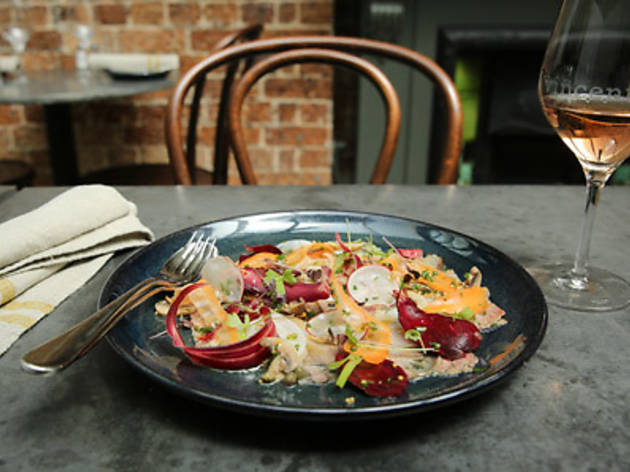 1/14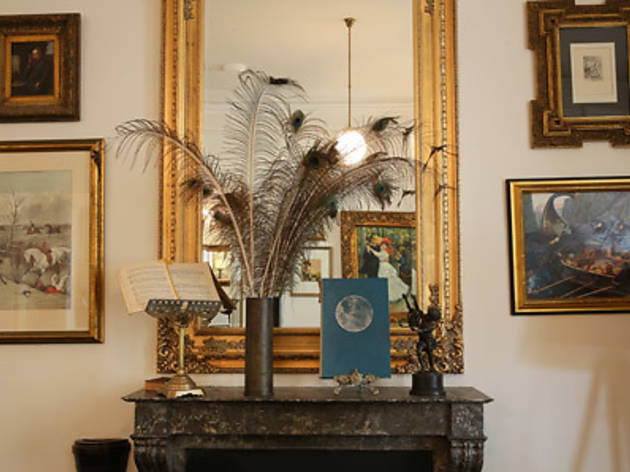 2/14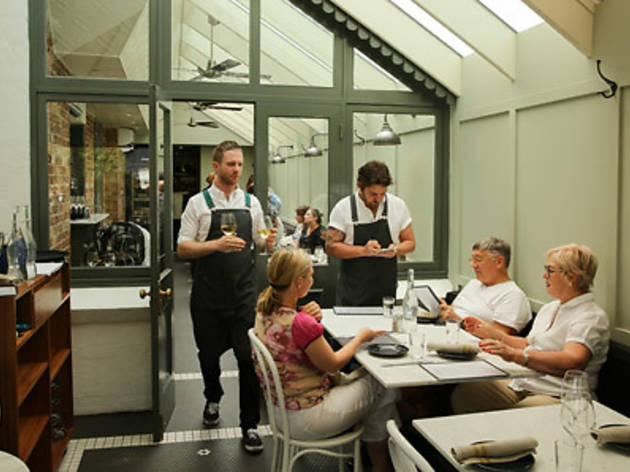 3/14
4/14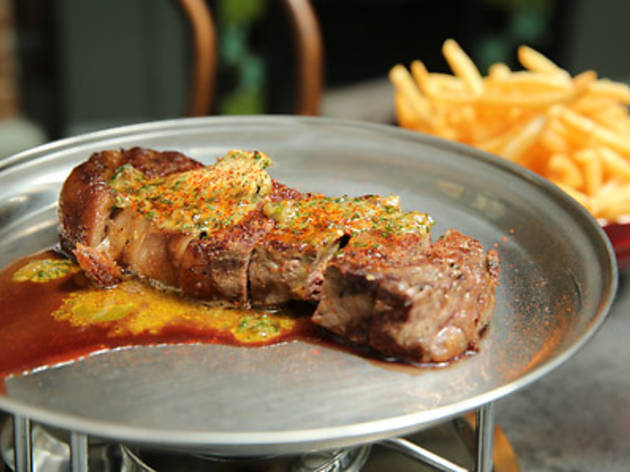 5/14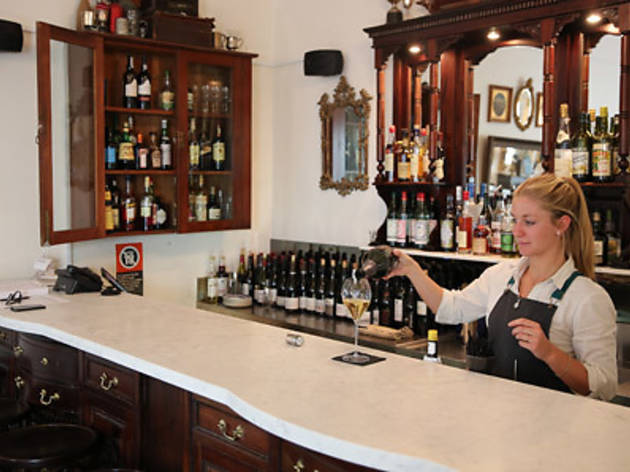 6/14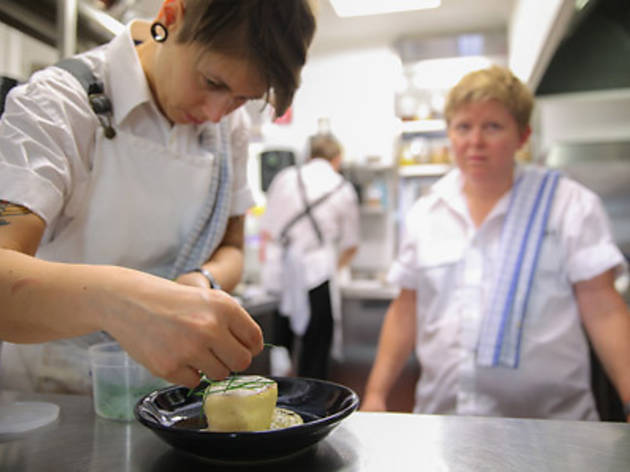 7/14
8/14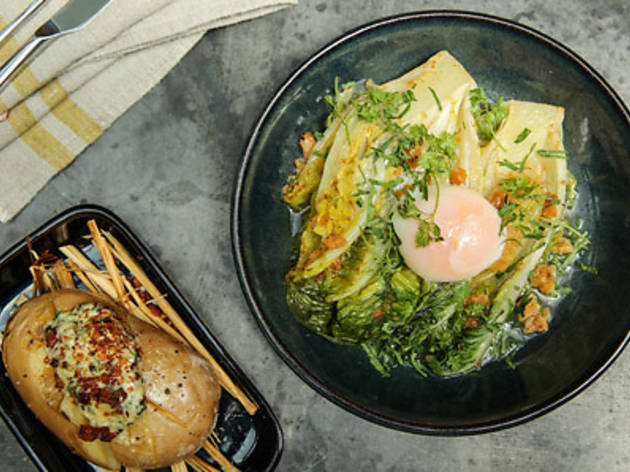 9/14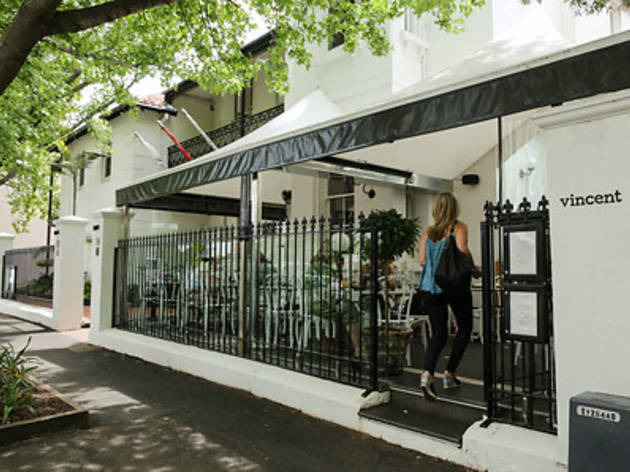 10/14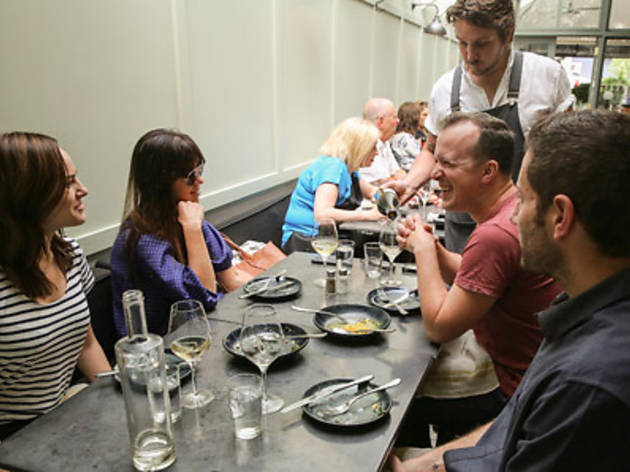 11/14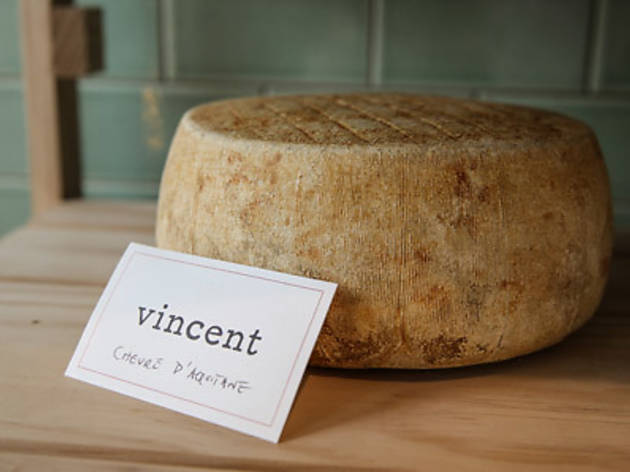 12/14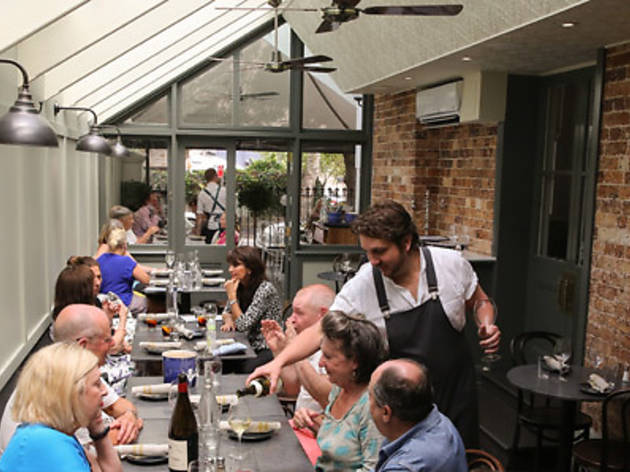 13/14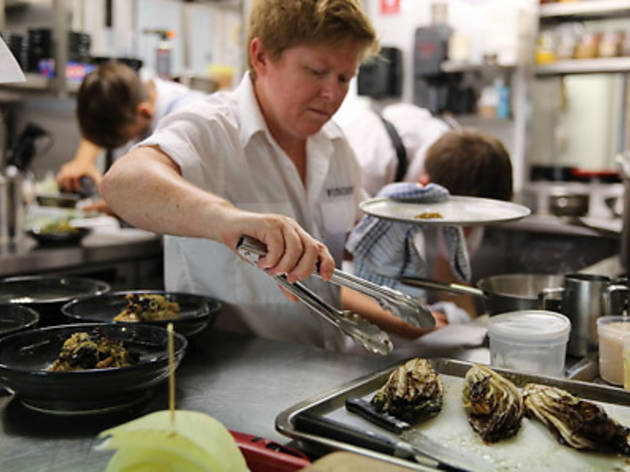 14/14
Time Out says
The Wine Library crew are back with a brand new place, and this time it's French
"Cheese," says chef, owner and sometime bartender James Hird, "is a hoax." Apparently, it's a deceptively easy thing to make. Though from where we're sitting in the long, tiled dining room (near the glass cheese cabinet filled with little individually hand-made cheeses – one type per service), we're reasonably sure Hird's underplaying his hand.
This is Vincent, the newest venture from the Wine Library's Todd Garratt, Traci Trinder and James Hird. You'll find the place inside the Hughenden, a classically styled boutique hotel just across from Centennial Park. You might choose to sit in the adjoining bar rather than the restaurant.
It's here you can kick back with a glass of Champagne laced with a little green Chartreuse or a glass of rosé, and maybe a bar snack or two. The thinly sliced pig's-head terrine wearing an avalanche of thinly sliced baby vegetables is a winner. House-cured olives come in an individual Le Creuset olive jar armed with a wooden olive fork and rough-hewn linen napkins.
Outside in the restaurant proper, you've got the choice between the aforementioned dining room and the dimly lit courtyard: a squish of white bentwood chairs and little round marble tables all lit by glass orbs. This is not an Instagram-friendly restaurant. It is, however, very people-friendly. The floor is run with assured professionalism by waitstaff who juggle tables large and small, running the menu like it's their own.
They're serving French-style wine food designed for sharing, like hunks of (quite salty) salt cod, with braised leeks and peas refreshed with a glass of La Sorga Chamillon semillon chardonnay. Or lettuce poached in parmesan stock amped with a little seaweed, a googy egg, browned butter and crisp, golden croutons and maybe a glass of chardonnay from the Arbois. Delicious stuff.
Jo Ward (fresh from Bloodwood) is working alongside Todd Garratt in the kitchen here, and the pair are turning out dishes to spend an evening chatting over, from lamb's tongues perfumed with the sweetness of fresh curry leaf to the toastiness of potatoes baked in hay, covered in butter flecked with striations of smoked eel. Just like a jacket potato with bacon bits, only classy.
So you could stick to those little wine-and-a-plate dishes or do total a palate reset and go for the ultra-comforting sticky beef tendon with spatzle (kind of like Eastern Europe's answer to pasta) and sweet little carrots. And then there's the hell-of-a-juicy steak served over its own tableside burner. Which, awesomely, you can adjust to melt your compound butter or keep your chips warm.
Depending on whether you're still standing/managed to keep your pants buttoned at this stage, you may need to flip for cheese or Vincent's version of a rum baba, which is kind of like a giant boozy doughnut with grilled pineapple and coconut ice cream. Eat your heart out, the Piña Colada.
Vincent is beautiful, charming and already hard to get into. Book early and eat everything.
More about Sydney's best French restaurants.
---
Details
Address:
14 Queen St
Woollahra
Sydney
2025

Contact:
Opening hours:
Lunch Thu-Sun from noon; dinner Tue-Sun from 6pm
Best selling Time Out Offers