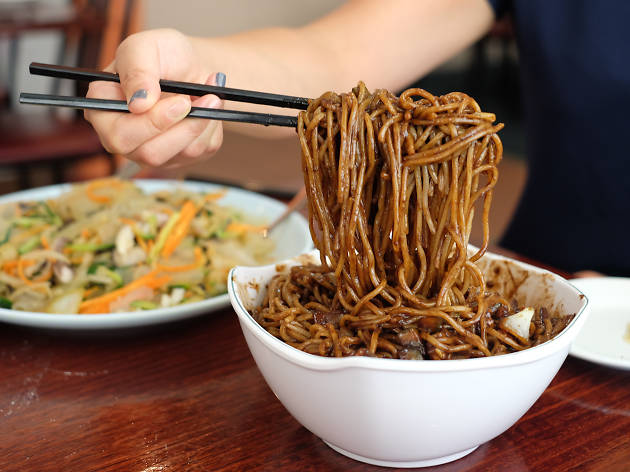 Have you eaten Korean Chinese food? You should.
If you've ever watched a Korean drama – and if you haven't, you should – there would have been at least one scene featuring black bean noodles. In South Korea, jajangmyeon is as ubiquitous as pizza – cheap, fast, home-delivered and hugely popular with anyone too lazy to cook. The dish has its roots in the Shandong dish zhajiangmian, but now it's a Korean Chinese classic made with thick ropes of wheat noodles sauced up with sweetened black bean paste, chunks of pork and loads of onion. Its near-black appearance also makes it a nationwide favourite on Black Day, when singles meet up to commiserate on April 14 each year.
But if you're not toasting to dinner for one you can try jajangmyeon and other Korean Chinese food at Yang Tz River in Eastwood (also spelled Yangtze on the door), one of the few restaurants in Sydney focussing on the fusion cuisine that dates back to the late 1800s. We bet most people walk straight past the entrance – there are two and both feature nondescript staircases leading up from the street. Inside the dated dining room you'll find the place filled with homesick Koreans getting their jajangmyeon fix, which is a very good sign.
Jajangmyeon is good, but for maximum credibility, upgrade to the fancier ganjjajang ($15) and the kitchen will panfry a load of diced vegetables into a thicker black bean sauce. Just like jajangmeyon, the sauce and the noodles arrive separately so you can mix them together in ratios that please you.
Traditional accompaniments to jajangmyeon and ganjjajang are kimchi, slices of yellow pickled daikon and raw onion that you dip in black bean sauce. Eat them in between mouthfuls of the oily noodles.
Like throwing your food around? Order the yang jang pi ($16) and you can mess up a neatly arranged rainbow of prawns, squid, mussels, jellyfish, octopus, vegetables and stir-fried noodles into one big glorious muddle. Then you need to add as much sinus-clearing mustard sauce as you can handle.
Sure you could cave into ordering lemon chicken, chop suey or shredded beef, but if you do you'll be missing out on what every other family in the joint knows, which is that you should order the ggan poong gi ($26). The reward is a jumble of deep fried chicken fillets drenched in a sweet and sticky spicy sauce.
Venue name:
Yang Tz River
Contact:
Address:
25 Railway Parade
Eastwood
2122

Opening hours:
Daily noon-9pm