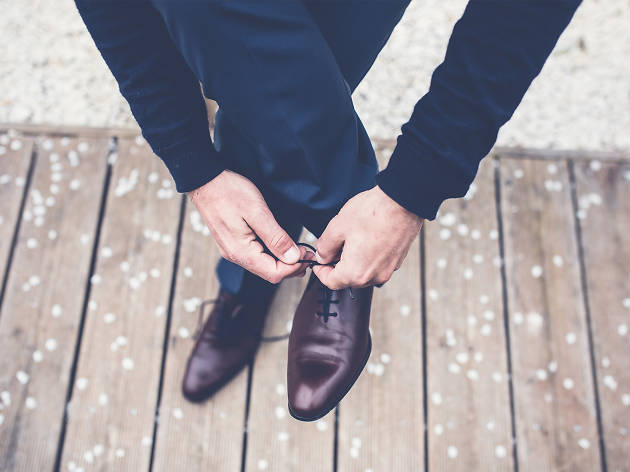 Five Australian menswear stylists on exciting developments in men's style
Menswear, likes the times, is changing.
There's more experimentation and more options for self-expression than ever before, with designers around the world embracing all different styles. Here, Australia's leading menswear stylists reflect on what they're seeing both locally and abroad — and what they'd love to see more of, too.
Sarah Starkey is one of Australia's most exciting young stylists. Having assisted at Wallpaper magazine in London before striking out on her own, she's lent her considered styling to magazines such as Museum, Russh, Manuscript, Hunger and Oyster, and recently signed to leading Australian agency Company1. Her menswear styling is highly directional — she definitely knows what she likes. "I like the use of different textured fabrics, embellishments, and colour, layered to create a strong silhouette," she explains. "Menswear is often about classicism, but I do think there's a tendency to play it too safe, especially in Australia. I like brands that know how to walk that line, where they're offering practical, classically good-looking garments with a playful approach to the details." She cites local underwear label GUY Lab — which offers classic men's underwear styles in beautiful organic cotton, with playful options on the waistband logo like "Nice Guy" and "Cute Guy" — as an example. "I also think Australian label Commas is great — they're primarily a high-end swimwear label although they also do tailored shirts, trousers and jackets in fabrics sourced from the best European mills. It's really interesting to see how these niche Australian labels walk that line between practicality and broad appeal given the small market here and finding ways to offer something interesting."
Kurt Johnson is a young stylist based in Sydney who likes to push boundaries both in his work and with what he wears. He's just been made Fashion Editor at the experimental King Kong magazine, and had previously contributed to independently minded titles like i-D Australia and Bullett Magazine. He also styled the most recent fashion week show of Di$count Univer$e, that most exciting of young Australian fashion labels worn by Sydney street kids and pop music heavyweights alike. "I'm excited about the deconstruction of really polar opposite gender binaries," he shares. "The line between menswear and womenswear is blurring and menswear is not always not so obviously masculine anymore. It's a little more gender fluid." Locally, Kurt loves recent graduate designers like Kiaya Daniels and Alex Peters, the latter of whom "uses a lot of lace and chiffon and made a backless shirt with a pussy bow at the back." Overseas, Kurt loves Hood By Air, Marni and Acne Studios. What does he thinks these very different labels have in common? "They're not afraid to play with our expectations, even if that means putting men in heals. They're not boring!"
Jolyon Mason is one of Australia's leading stylists, having contributed to everywhere from GQ to Russh to Vogue, as well being as one half of the duo behind independent men's quarterly Manuscript. "I think the most significant change in menswear is the sense of gender neutrality," he shares. "It's really hit hard with the likes of Alessandro Michele's Gucci collections. But we have seen it emerging for quite a few seasons with JW Anderson and Rick Owens really pushing the change. I recently read in The Guardian that over 80 state schools across the UK have removed the gender codes on school uniforms. The idea of menswear/womenswear is labelled so early on for children that removing these codes can only open things to more changes in the future." Jolyon believes there are no rules for menswear moving forward, and that brands like Chanel and Louis Vuitton are opening more doors for their customers by beginning to blur the lines between mens- and womenswear. And while Australia may take a little longer to catch up, he believes that local labels Strateas Carlucci, Song for the Mute, and Exinfinitas are ones to watch.
"I think there's definitely a bit more of a streetwear influence in what's in the market right now," says menswear designer Felix Chan, who co-founded Vanishing Elephant and now has a new label, New Albion Sports. "There's clean logo tees, a sports influence, and lots of softer tones to tie back to the black and white staples. Slowly I think there's going to be a slight shift back to a grungier aesthetic, but overall, I think there's a market for whatever you want to do, really. You just have to execute it well." For his label, navigating these shifts in the zeitgeist means making "small nods to these movements while being consistent with our direction." On top of his new label, Felix has also partnered with male-grooming brand LYNX to design the Find Your Magic Collection; a range of men's accessories which you can buy online right now. Locally, Felix admires the works of labels Zanerobe, Patrick Johnston Tailors, and even Song for the Mute, while looking to brands like Visvim, Wtaps, Gosha Rubchinskiy and Muji overseas. "I'm really big on wearing whatever you want," he concludes. "If anything I'd like to see less judgment on what people wear. I'm based out in Hong Kong now, and no one cares here, similar to Japan. I could literally step out in whatever I wanted and I wouldn't get a second look."
James Dykes has been styling in Sydney for years, and recently launched his own menswear website Virtual Man. He too believes the most exciting development in menswear is the breaking down of barriers between masculinity and femininity, barriers that he himself has been breaking in his editorials and his own wardrobe for years. "Menswear has never been so expressive," he shares. "Social media is celebrating those with unique personal style. Wearing a Balenciaga-logo stole over a suit with a pair of sneakers is cool, and wearing a oversized puffer jacket with track pants is suddenly acceptable dinner attire." Labels that he believes are pushing these boundaries include Song for the Mute and Strateas Carlucci in Australia, and Craig Green and JW Anderson internationally. "I'd like to see more men taking risks, while feeling comfortable," he concludes. "You should have fun when you're dressing, without taking clothes too seriously!"