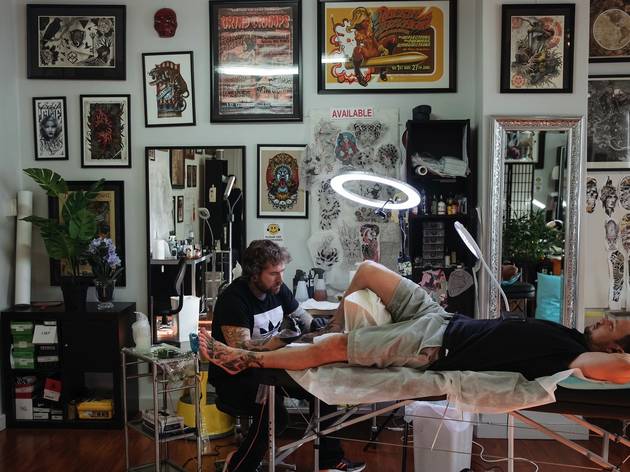 1/5
Photograph: Daniel Boud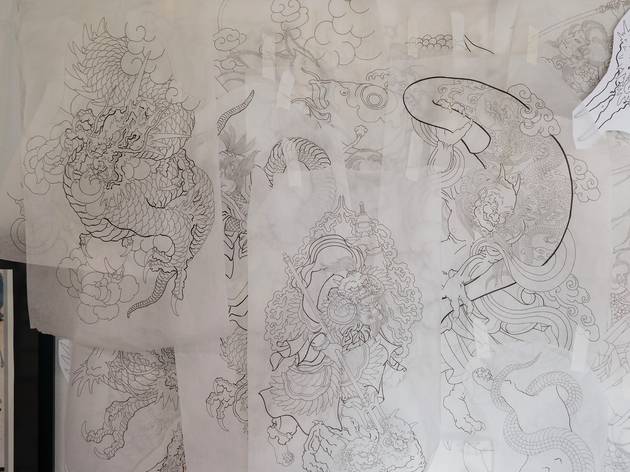 2/5
Photograph: Daniel Boud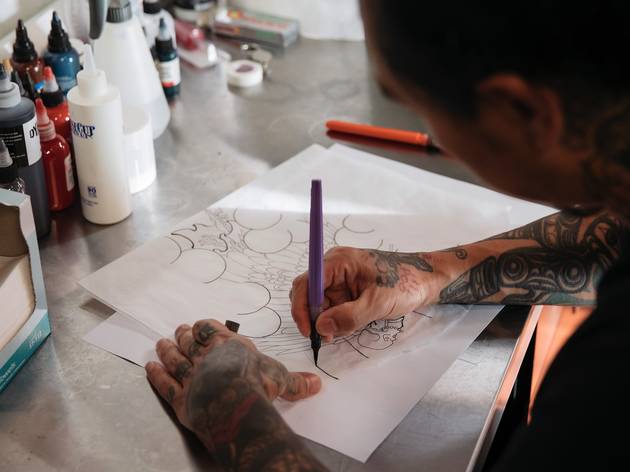 3/5
Photograph: Daniel Boud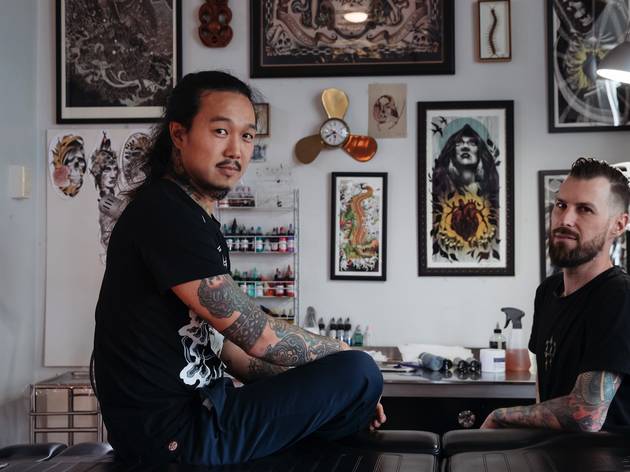 4/5
Photograph: Daniel Boud
5/5
Photograph: Daniel Boud
Time Out says
A small but mighty studio for those in search of bespoke designs and personal service
At first glance, Hibernian House – a 1913-built heritage-listed block on Elizabeth Street – looks like it's seen far, far better days. Every surface, from floor to ceiling, is scrawled in graffiti and texta, stickers and paint. If you were to accidentally stumble into this labyrinth of concrete stairwells and corridors, you'd be forgiven for thinking this run-down pile must be abandoned, or worse, condemned. But you'd be wrong.
In truth, beneath its grungy paint job, Hibernian House is a thriving haven for creative businesses – an outpost of an artist vanguard that somehow survived the gentrification of Surry Hills. Among them is Dean Carlyle, founder of Hibernia Tattoo, who set up shop in the building in 2010. And much like the underestimated address of this studio, Carlyle and his team quietly yet confidently defy expectations.
Forget the hackneyed stereotype of the spit'n'sawdust ink den: scary blokes and bikie types covered in faded Sailor Jerry flash, the rusty rattle of tattoo needles drowned out by thrash metal. Hibernia is an altogether more sophisticated operation, with a bright, clean, welcoming space kitted out with some of the most advanced tattoo tech available.
In fact, Carlyle has developed a business that has a habit of doing things differently to the status quo of the tattoo scene. For a start, Hibernia is a by-appointment-only studio, meaning only serious ink-seekers pass through its doors. While this may result in next to no passing trade, the clientele who come here do so in pursuit of major pieces of bespoke body art, created in collaboration with a specific tattooist, rather than mere cookie-cutter flash designs picked from a catalogue.
Hibernia also has a relatively small stable of in-house artists – just five including Carlyle, plus the occasional apprentice – who each specialise in different aesthetics, although (as is increasingly standard in Australian tattooing) Japanese influences are a prominent theme, along with neo-traditional and figurative styles. When clients engage one of Hibernia's team, it's a process of close consultation and refinement, ensuring the final concept is a piece that the punter will be proud to wear for life, while also playing to that particular artist's strengths.
However, Hibernia does not accept every commission; there are certain boundaries its team are not prepared to cross. Tattooing faces and more intimate parts of the anatomy are off the table, along with subject matter that could be offensive or harmful. This isn't to be a buzzkill – rest assured, there are plenty of tattoo joints out there that will happily etch any bump, lump or appendage you can think of. Rather, it's part of a responsible ethos that respects the calibre of work produced at Hibernia and the diversity of its clientele: a belief that a tattoo should be worn with pride, not potential regret.
The design process differs from artist to artist. Carlyle, for example, works digitally, so his clients can get a sense of the colours and shading of the final piece, as well as making small adjustments and rough drafting more time efficient. On the other hand, Yoshio Honjo, Hibernia's traditional Japanese specialist, designs using the more time-honoured method of pencil on paper, in keeping with the pedigree of his particular tattooing craft.
The average hourly rate at Hibernia is $200 of actual tattooing time – sitters aren't charged for breaks or set up, to ensure they get the maximum bang for their buck. Bigger pieces can be done over several sessions, to help prevent cash flow issues.
As is standard practice across the industry, Hibernia's website features an extensive library of images showcasing the work of its in-house team, so punters can find the artist whose work best suits their needs. Each artist handles their own bookings, so the service is as personal and prompt as possible, from the initial enquiry to the post-inking aftercare.
It's this level of service and an unmistakable passion for the art form that has made this studio a go-to for those looking to forge long-term partnerships with a specific artist. The easy, chilled out vibe here also makes it a great option for tattoo first-timers ready to invest in a top-quality piece of custom body art. Hibernia may be small, but it is mighty, with a reputation that easily keeps pace with the heavier hitters of the Sydney tattoo scene.
Details