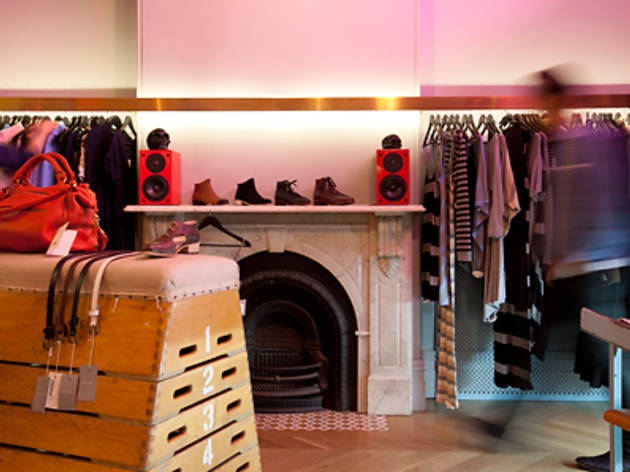 Tanya Stevanovic has set up shop in a beautiful old terrace that does absolute justice to the pieces she stocks. But more importantly, those Karen Walker, Romance Was Born, Dion Lee and Tristan Blair designs need to be taken for a whirl around the room, even if you can't afford them all.
Tanya Stevanovic's thoughts on Sydney fashion:
Sydney's a style town – we take more risks than the other state capitals, even the rest of the world. We're adventurous in what we wear and the way we wear it. I think it's because we're a very vain city – even vainer than New York, some say – but I also reckon it's because we're so confident in our own skins and the skin of the city we live in.
When I walk around town, I can't help but be struck by how daring Sydneysiders are, how unafraid we seem to be of expressing ourselves. Even the boys are open to the latest designs – maybe it's their women's influence or the lead of Sydney's gay population – they're committed to keeping up appearances.
Sydney's confidence in itself is everywhere. There's so much individual style around. Maybe it's because we're a beach city and so used to showing our bodies off. Either way, we treat our streets as catwalks and really strut our stuff. I speak to friends who live in the UK and they say, "You guys get away with so much!"
Even though people in Sydney are really daring and unafraid of expressing themselves, our attitude to what we wear is really relaxed. The biggest Sydney style icons are thongs, sunglasses and jeans – because all three are trans-seasonal. It's summer thumbing its nose at winter – an attitude that's very Sydney, no?
Thongs we wear all year round – with jeans or sarongs, bikinis or Speedos. I mean, where else in the world can you wear thongs into bars and restaurants and have no one bat an eye
Sunglasses really symbolise Sydney – fun in the sun! Whether it's hot or cold or we're indoors or outdoors, sunnies are everywhere. And in Sydney the wilder they are, the better.
Jeans might seem universal but we love them more than anyone, particularly the designer models. Sydneysiders don't think twice about spending $300 on a pair of denims.
For me, fashion is a lifestyle. From the moment I wake up in the morning and choose what to wear from over 200 pairs of shoes and room after room of clothes, I live and breathe it. Maybe that's why I can't throw anything away. Even if I look at things and laugh at them, I keep them because they've either cost me an arm and a leg, they're timeless and I think they'll come back into fashion within five years, or quite simply, they're a part of me.
I'll spend hours poring over rare fabrics I can't have in magazines like Duke, Italian Vogue, Lula, British Elle and Nylon USA. I'll spend hours walking around bookshops like Published Arts in Surry Hills and Gould's on King Street. I'm as moved walking down Erskineville Road and its beautiful village atmosphere as I am on the coast walks from Coogee to Bondi or Bundeena to Otford.
I find inspiration everywhere in Sydney and I see style everywhere I look. Angie Hong who owns the Thanh Binh Vietnamese Restaurant in Newtown is 60+, but is the biggest fashion whore! Satellite has a great buzz and is a fantastic hang out for up-and-coming musicians. Everyone there always looks groovy but, being Sydney, it's still really relaxed.
Fashion Week does tend to bring it all to a head though – it represents such a great melting pot of styles. But there's Sydney style in the malls of Miranda and Parramatta too. Personally I think the Opera House, painted black, would make a great shop front. We could use the Harbour Bridge as the racking and wall space!
They say you're either born with style or you're not. I think style can be taught but one thing's for sure, it can't be bought. I see girls come in to my shop with no idea, others who are very aware. Some just want their labels, some want character in their clothes. They take it very seriously – there hasn't been any blood shed but I've certainly seen claws come out!
I never go into other boutiques, I never have, I never will. I don't want to know what other shops are doing. I don't study fashion, I just love it and live it. I guess what that means is: I go with my gut feelings. That's what I advise people who come into the store – be they aged 16 or 66 – wear what suits your personality and style yourself in a way that makes you happy.
Venue name:
Pretty Dog (CLOSED)
Contact:
Address:
5A Brown St
Newtown
Sydney
2042

Opening hours:
Tue-Sat 11am-5.30pm; Sun noon-5pm
Transport:
Nearby stations: Newtown