Sterling Hairdressing Parlour and Barber Shop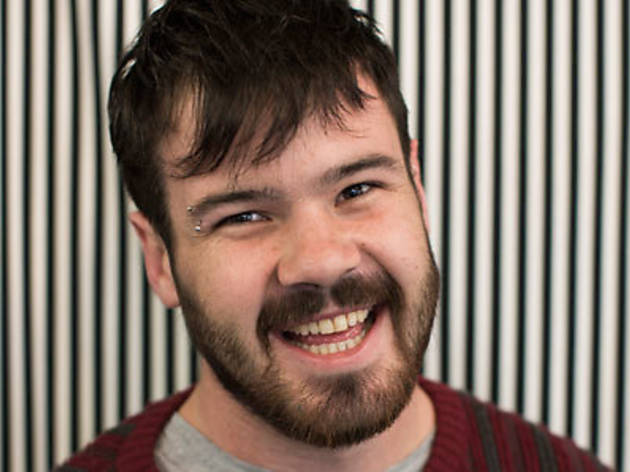 1/12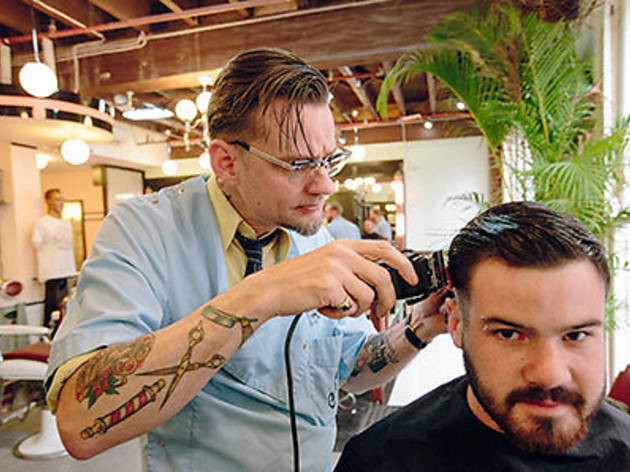 2/12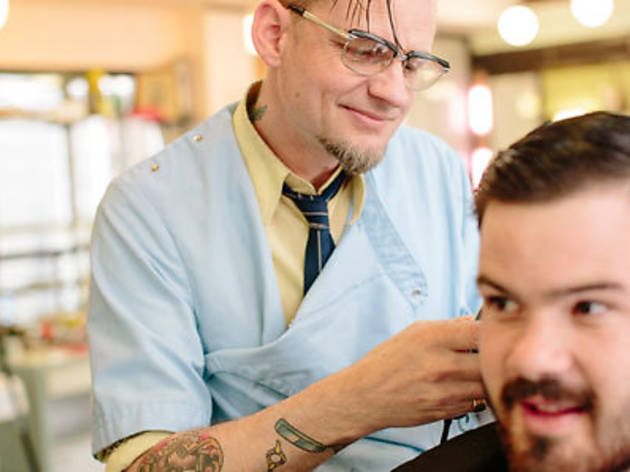 3/12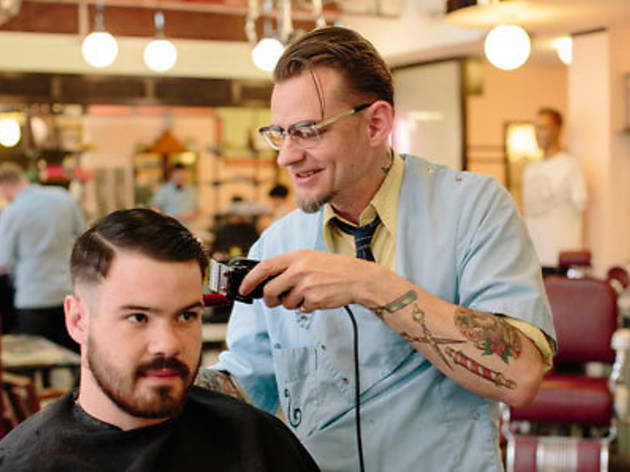 4/12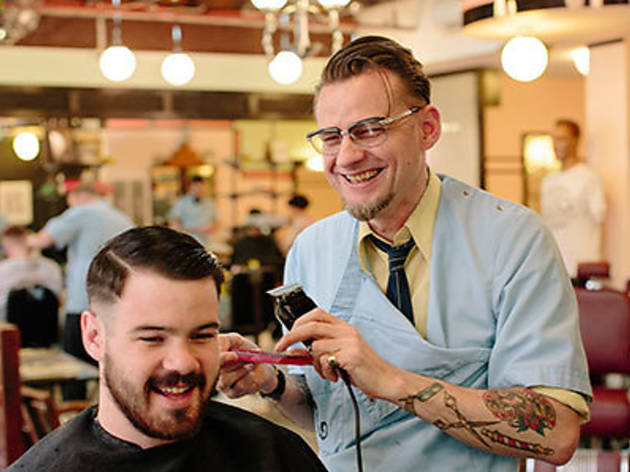 5/12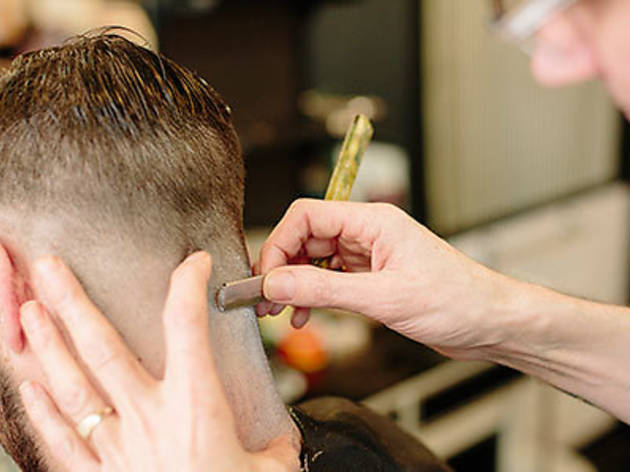 6/12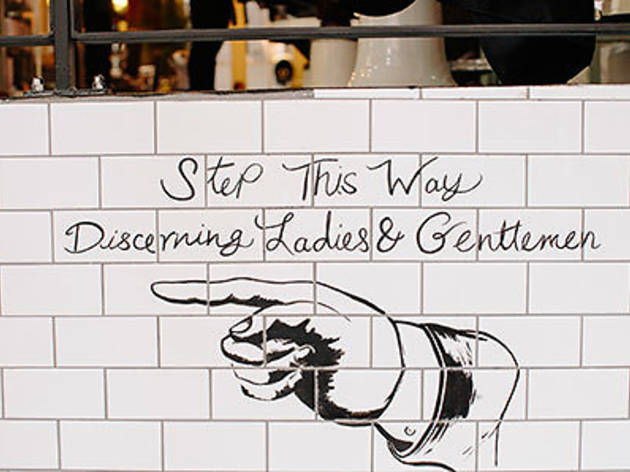 7/12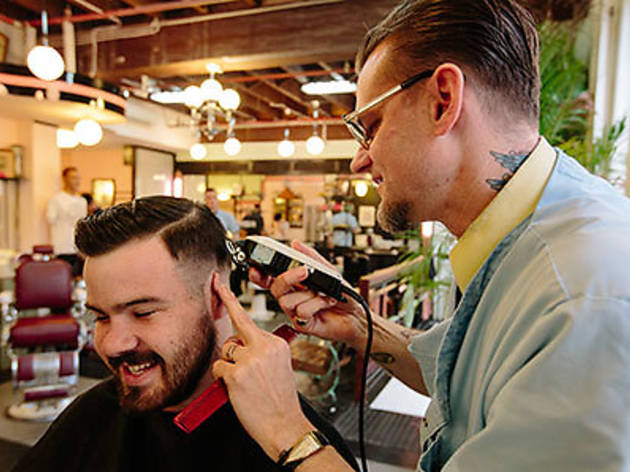 8/12
9/12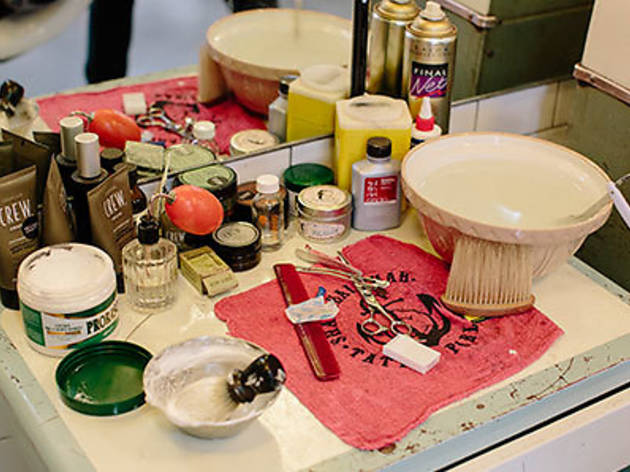 10/12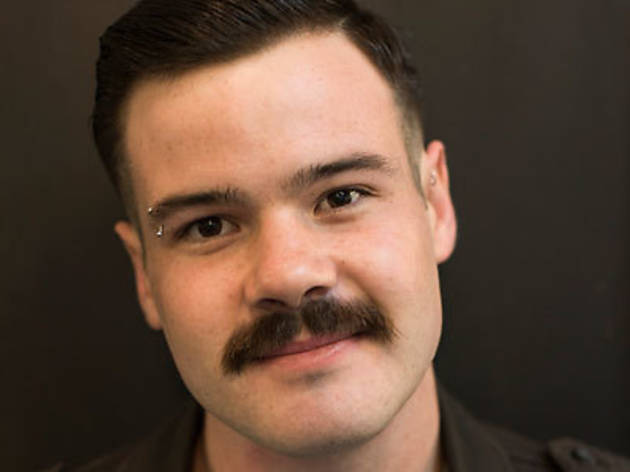 11/12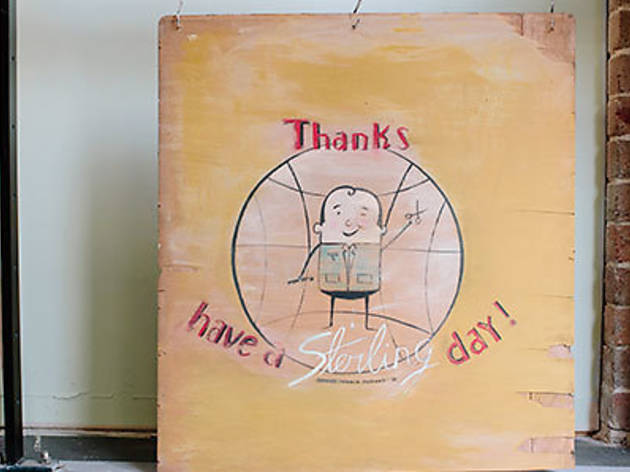 12/12
Time Out says
Sam Egan heads to Sterling Parlour for some research, restyling and Time Out's first makeover montage
Hipster ethnography is exhausting, and inevitably flawed, but it seems fair to say there are two notable aesthetics in whatever you want to call Sydney's alternative-mainstream. There's the scraggy, pseudo-grunge look, and then there's the more polished rockabilly style. The latter has been growing in popularity lately – a cultural phenomenon spearheaded by bars like Tio's, Baxter Inn and Porteño and tattoo parlour Shanghai Charlie's. Never one to shy away from bandwagon-jumping, I decided it was time to lose the beard and join in.
On Brisbane Street in Surry Hills, the 'burb's former industrial precinct, lies Sterling Parlour, the barbershop of choice for the aforementioned set and the legacy of Londoner Tony Vacher. It's a million miles from the blue-filtered headshot and stale gum-filled joints I was dragged to as a kid. As soon as I step inside there is a dog by my side and an espresso in my hand. Traditional barber chairs in rich brown and green line the walls, sweet '50s tunes are pumping and the place smells like Christmas.
Vacher emerges from behind a curtain sporting a huge smile, glorious ink and some serious been-around-the-trapsness. And indeed he has. Despite some reluctance, he divulges that in his 31-year career he has cut the hair of Ryan Adams, Duran Duran and the Cure, and worked on the music video for Sting's 'Englishman in New York' with his lifelong idol, writer and gay icon Quentin Crisp.
Having trained under Vidal Sasson in London, Vacher came to Australia in 1989 for a holiday and, like so many of his compatriots, never left. But there wasn't much demand for his brand of boutique barbering in Sydney at the time. "It wasn't really happening here at all back then," he explains. "There was just a small clique of people who were into it. Really just the rockabilly scene." Now patrons are struggling to get in without an appointment, but, as is his nature, Vacher will do his best to never turn anybody away.
When I'm in the chair, Vacher thinks and clips and explains how his style stems from the Continental school of barbering, introduced to him by his uncle. As opposed to American barbering – the short-back-and-sides approach that took off in World War II, the Continental method is slower and focused on fuller shapes. And despite the recent revival of the craft, proper education is hard to come by unless you end up on Vacher's books. Sterling is as much a college as it is a business. "I try to get people that are completely fresh, that have never been in the industry before. What we do here is very different so it can be hard for people to re-learn."
I've decided to go the whole hog with the clean-cut look, and as Vacher makes his final snips, I grow unnerved as the cut-throat shave looms. This hot shave is to be my first, and I can't help but wonder how one learns this potentially deadly act. "You start off on a balloon," explains Vacher, "and when you stop popping the balloons, you get your best mate to come in."
In the case of Connor Keighran, one of Vacher's protégés and the young lad set to de-bristle me, it was his brother. "He mustn't have been too stressed," says Keighran. " He actually fell asleep." Initially I find the anecdote hard to believe, but far from the scrapey, testosterone-testing affair I'd imagined, the shave is a beautiful ritual. Keighran rubs a Eucalyptus cream through my beard to soften the hair and rests two hot towels over my face. Then, he massages cloudy coconut shaving cream through the hairs and I'm so blissed-out that the blade feels like a baby's finger. This process is repeated three times.
I return from the heavens to see the new me. Slick hair and a "don't eff with me" slug on my upper lip. Just before I leave a gentle mist falls on the nape of my neck. "It's my own Bay Rum Spray," explains Vacher. "I was given a bottle from the '30s and I found a compound chemist who could remake it for me." I enquire about the ingredients, but all he'll give up is "cloves, cinnamon and a lot of alcohol". It's the aroma I noted on the way in and I jest at taking a swig. "It doesn't taste so good," Vacher warns. "I've tried it."
Details