The back room of a convenience store would strike most people as an unwise location in which to open a business. But when Joelie Zhou saw the storage area at the back of Bondi Square Tobacconist, she decided it would be a perfect location for her tea shop.
"In China, tea shops are usually hidden in secret, quiet places – like at the end of a street," says Zhou, owner of Taishan Tea Club in Bondi Junction. "Tea shops are quiet places where people go to relax. They stay for the whole afternoon drinking tea and talking with friends."
She took over the space in June 2019, opening her shop-within-a-shop along the pedestrian strip of Oxford street mall where hundreds of people pass by daily en route to the train station. Most do not notice the tea shop, but for the ones that follow the green neon "tea and cake" sign in the window, there is the joy of discovering the unexpected, that wonderful feeling of curiosity having paid off.
To reach it, you must first walk through the unremarkable, fluorescent-lit shop out front. Just beyond the usual rows of refrigerated soft drinks and snacks, a decorative wooden archway, quite out of place in your common-or-garden convenience store, draws you into another space. As you pass through, there is a perceptible change in the ambiance: the lighting softens, the noise of Oxford street fades behind you, and a long wooden table beckons.
For this is no ordinary tea shop. It's more like a tea museum, filled with rare and collectible items, where you can easily while away the better part of an hour sipping fine Chinese tea and learning about the culture that surrounds it.
There's a lot to learn, for those that are interested. "Chinese tea is just like Australian wine," says Zhou. Different teas require different preparation and serving methods, different temperatures, different drinkware, to bring out their flavours and aromas. Like wine, Chinese teas are affected by terroir and time, maturing as they age and developing more complexity. "You have champagne, we have green tea. You have Grange, we have superaged dark tea," says Zhou.
The parallels are not that far fetched. In a locked glass cabinet are some of the most expensive teapots and tea leaves that you've ever seen: a Ching dynasty cup that never tips over, a white ceramic tea set that's also held by the V&A Museum in London, and bricks of aged pu-erh tea, also known as dark tea, from 1986.
The unremarkable-looking tea bricks are a drinkable collector's item, prized by tea aficionados and status-seeking elites around the world. They're priced at $8,888, eight being the luckiest number in Chinese culture, but it's a token price tag that doesn't reflect the true market value. According to Zhou, a similar brick from 1988 sold at auction for one million Hong Kong dollars – around $185,000 Australian. And the bricks in her shop, she points out, are two years older, making them even more desirable.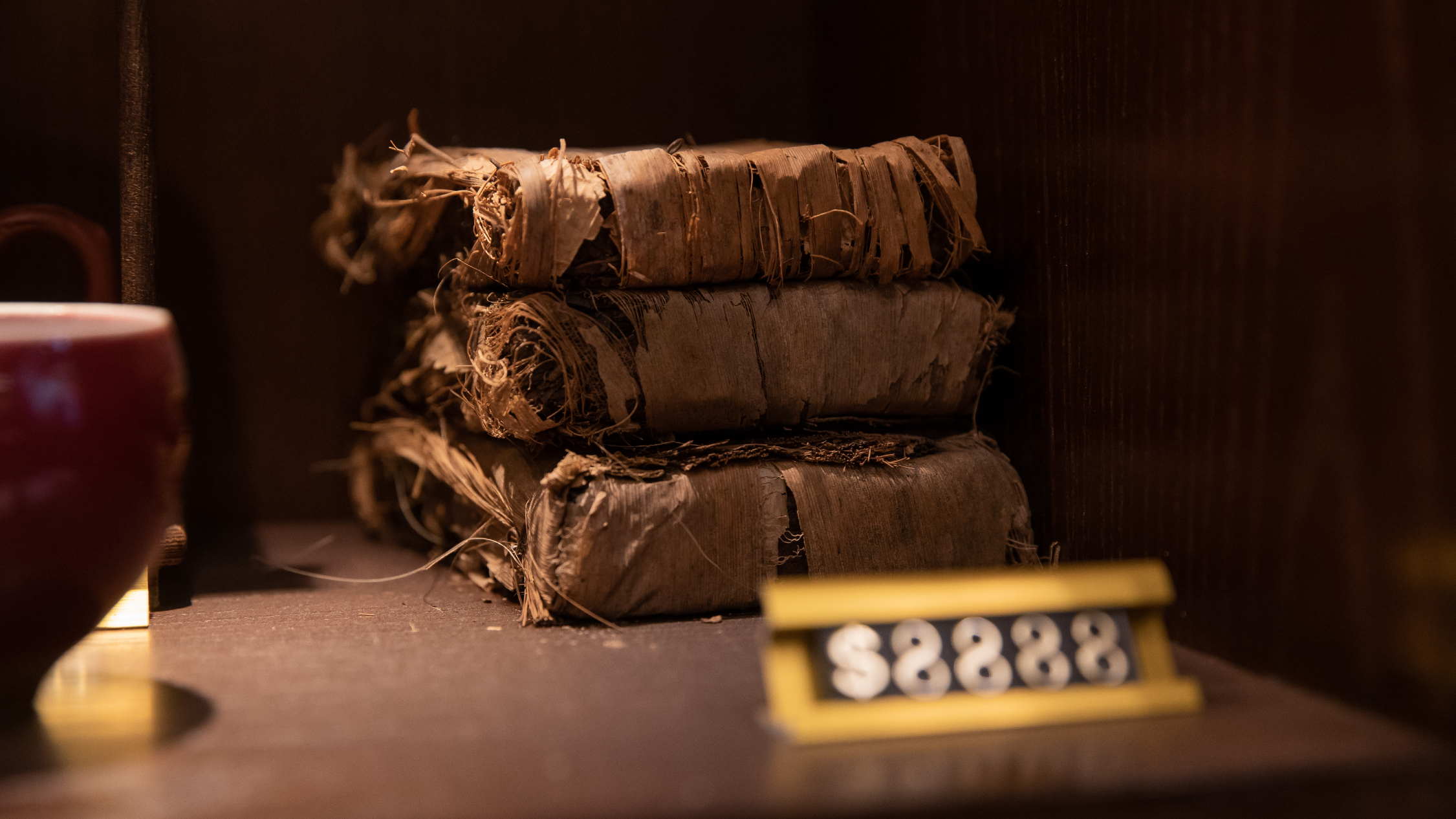 Photograph: Daniel Boud
Still, there's no need to be intimidated. Zhou is well-practiced at introducing the uninitiated to the joys of a simple pot of loose leaf tea, her customers being mostly average Aussie Lipton drinkers who stuck their heads in while buying sodas and cigarettes from the convenience store. Enough of them have become regulars that she even has a shelf on the wall for their personal cups, which they use whenever they visit.
If you are a tea novice, they say the best way to learn is by doing, and in this case that means taking a seat at the long tea table and letting Zhou brew you something off the menu. The handwritten English and Chinese menu lists about 15 teas across two categories, regular ($10 a pot) and premium ($15 a pot). They have names like Golden Buddha and White Peony, and Zhou will happily guide you through the seasonally-changing selection of white, green, black and oolong teas.
By sitting down and drinking a pot of tea in the store, customers get to try the products before buying; experience the slow, leisurely enjoyment of Chinese tea; and importantly, learn how to brew the stuff at home.
Chinese tea is brewed in small pots, with the leaves steeped for just a few seconds before the tea is poured out into even smaller cups. Since the tea leaves are dried in the sun and open air, the first pot of tea is considered a washing of the leaves, and the liquid is discarded rather than consumed. After that first rinse, a pot of tea leaves may be refilled 20 or 30 times, the flavours changing and deepening with each round.
You can easily spend an hour or two savouring a single pot, the same way you might linger over a good bottle of wine. And like wine, it's best enjoyed with good company and conversation, which is why Zhou provides seating, tea cakes, and occasionally plays the guzheng (a traditional stringed instrument) for customers.
"Chinese tea is for relaxing, not for running away," says Zhou. And she's right, this is not the place for a quick cuppa on your way to the train station or Westfield. Rather, it's a little oasis of calm in the middle of Bondi Junction. You just need to know where to look.