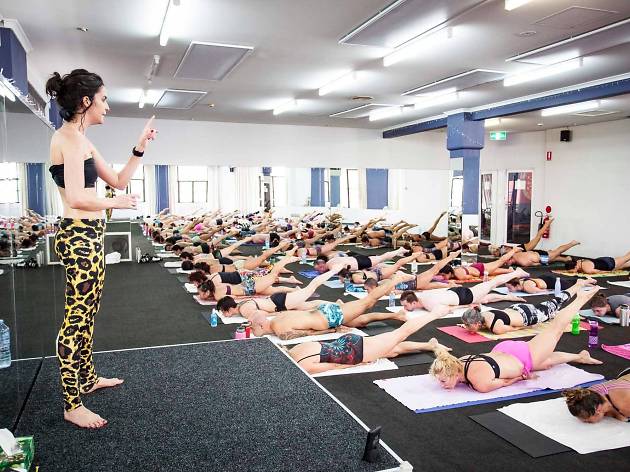 Be prepared to sweat through 90 minutes of the popular yoga method
Bikram Yoga Darlinghurst is one of thousands of studios across the world dedicated to the practice and teaching of Bikram Yoga, a specific form of Hatha Yoga involving 26 postures that are performed over 90 minutes in a heated room of 40 degrees. With its intense heat and long duration, Bikram Yoga is not for the faint of heart, a truth made evident from the beginning of my first ever class. Even the initial breathing exercises are physically testing in the sweltering conditions, and we still have 89 minutes to go.
What keeps me powering through is what I've been told about the purported benefits of Bikram Yoga. It is said to promote detoxification, burn fat more effectively and speed up the breakdown of fatty acids and glucose, as well as contribute to the strengthening of willpower and self control. If I have to contort myself into awkward shapes whilst bearing an uncomfortable degree of heat to achieve these ends, so be it.
As we sweat through the postures, our instructor is upbeat and encouraging. She praises individuals when they achieve a tricky pose, or calls them out when they need to adjust their alignment. She seems to know everyone by name, a familiarity that is testament to the number of loyal regulars that frequent Bikram Yoga Darlinghurst on a daily and weekly basis. Despite the controversies associated with founder Bikram Choudhbury, which include allegations of sexual assault, the practice has garnered an immense fan base. Bikram Yoga Darlinghurst thrives off this sense of community. Newcomers are offered a $59 intro pass, which provides unlimited classes over a month and encourages regular practice for the best benefits. Alternatively, a drop-in class is $25.
The studio has been around for over 14 years and feels slightly dated when compared with the some of the newer luxe yoga studios in the city. It's clear that the focus here is on the yoga, not necessarily the green juices and trendy activewear that accompany it. In Sydney's increasingly gentrifying inner-east, this is a refreshing anomaly.
Venue name:
Bikram Yoga Darlinghurst
Contact:
Address:
256
Level 1
Crown St
Darlinghurst
2010

Opening hours:
Mon-Fri 6am-8.45pm; Sat, Sun 8am-7pm
Price:
$20-$25
You may be interested in: