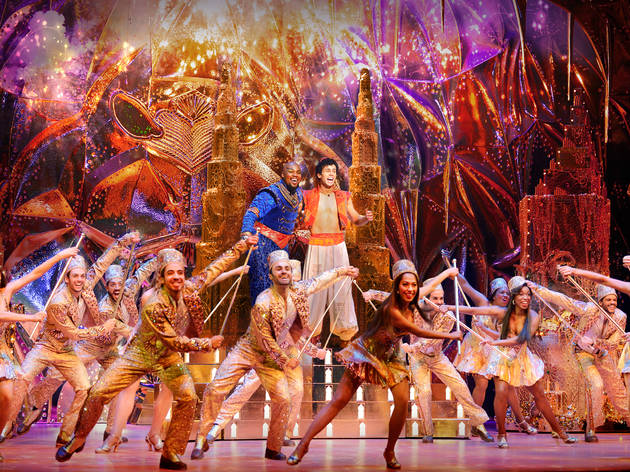 1/7
Photograph: Deen van Meer
'Friend Like Me'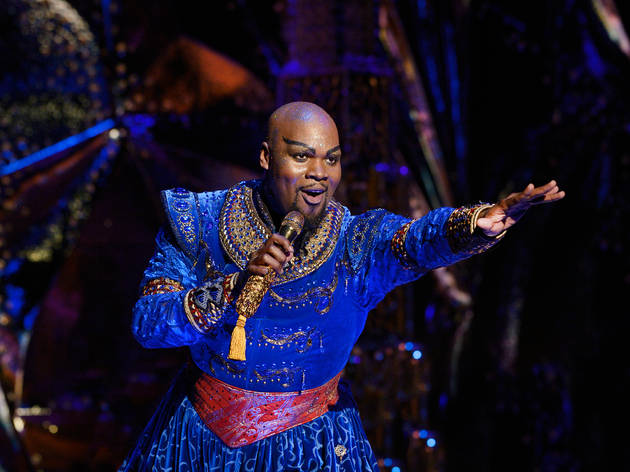 2/7
Photograph: Deen van Meer
Michael James Scott as the genie
3/7
Photograph: Deen van Meer
Arielle Jacobs as Jasmine and Ainsley Melham as Aladdin
4/7
Photograph: Deen van Meer
'Arabian Nights'
5/7
Photograph: Deen van Meer
6/7
Photograph: Deen van Meer
Arielle Jacobs as Jasmine
7/7
Photograph: Deen van Meer
Ainsley Melham as Aladdin
Disney's cartoon-to-stage Broadway hit about a boy, an uncorked spirit and an aerodynamic rug comes to Sydney
In Aladdin the Musical, the flying magic carpet really does feel magic. And the dazzling fantasy wish-fulfillment sequence 'Friend Like Me' is drenched in glitz, music theatre references, and sleight of hand. It's dizzying and ambitious – and on opening night, it received a spontaneous standing ovation. Many of the spirited musical numbers – especially ones about adventure, revenge, and the first blush of love – are genuinely engaging. The cast, led by Michael James Scott's indefatigable Genie, Ainsley Melham's appealing Aladdin, and Arielle Jacobs' pure-voiced Jasmine, deliver consistently impressive performances.
The rest is more complicated.
Disney's animated Aladdin was released in 1992 in the middle of its feature 'renaissance period'. It immediately captured young hearts and minds with its sweet and clever music (by Alan Menken) and Robin Williams' frenetic, winning performance as a powerful genie who helps the hero win the girl.
Now that Disney Theatricals is a well-established brand (responsible for transforming Times Square and Broadway into a family-friendly tourist district) it makes sense that they would attempt to transform their Aladdin success into a musical theatre spectacular, with music by Menken (including original numbers but also new songs and songs cut from the film) and a book by Chad Beguelin.
But this show is no Lion King. Disney's original Broadway behemoth had a sense of respect for its source location built into its core, and an alluring dignity to its storytelling. Aladdin the Musical is the sparkliest, glitziest, most theatre-magic musical you might ever see in your life; it's also a troubling display of retrograde exoticism and orientalism – the act of presenting foreign cultures as more 'backward' or 'dangerous' than the Western world.
The story on which Disney's Aladdin movie was based is widely credited as coming from 'One Thousand and One Nights' (sometimes called 'Arabian Nights'), a collection of folk stories from the Islamic Golden Age. But in fact the Aladdin story wasn't in the original compendium, published in Arabic – it was added by the first translator of that work, Antoine Galland, who adapted the book into French. Ever since 'Aladdin' entered Western cultural consciousness, it's been peppered with stereotypes that range from lazy to harmful.
Disney's Aladdin movie is rife with these stereotypes, and represents the kind of orientalist world-building that repurposes a culture for Western enjoyment (see also: The King and I and Indiana Jones). Consequently, it faced backlash at the time.
But 21 years later, the stereotypes and the orientalism have survived and thrived in the musical version, which debuted on Broadway in 2014. While Genie and other characters in the musical are quick and careful to describe "Agrabah", the setting, as fictional, Bob Crowley's set design is full of visual cues to firmly place the show in the Middle East, and recognisably stereotypical jokes about the bad-smelling and blood-thirsty characters populating the city persist.
To be fair, there are fewer of these kinds of jokes in the musical version, no doubt thanks to the hiring of Arab-American cultural consultants. But the framework within which they are working is fundamentally flawed, and the changes are not wide-reaching enough. In the opening number, 'Arabian Nights,' the Genie no longer identifies Agrabah as a place where "they cut off your ear if they don't like your face." (This change was also made on the VHS and DVD releases of the original Disney film). However he still describes the city as "barbaric," a word that is loaded when talking about people and places situated in this region.
Aladdin the Musical is regressive in other ways, too. There's only one female character with a name – Princess Jasmine. The other women seen onstage are either in servitude, scammers, or focused on nothing more than sighing over men (or all of the above). Jasmine's three servants/ladies-in-waiting barely have lines; in contrast, Aladdin has been given three best friends who are named, given clearly defined personalities, and musical numbers devoted entirely to their adventures.
All this makes Jasmine's fight to have more rights than she is afforded as a woman in the royal family a hollow plotline; the show pays lip-service to Jasmine's proto-feminism, but isn't concerned with her story enough to give it much time onstage.
Aladdin the Musical wants to be harmless, family-friendly fun. But it's a hard pill to swallow in a country where the building of mosques is protested, and we indulge parliamentary inquiries into supposed 'Halal food conspiracies'; and it doesn't feel so harmless or so fun against a backdrop of discrimination and racially-charged hate towards asylum seekers, refugees, and new immigrants, particularly those who are Muslim or from the Middle East.
In this context, AladdinThe Musical feels like a missed opportunity: a positive story about love and self-respect conquering all, set against a backdrop that paints Agrabah and the countries it represents as barbarian, dangerous, and nothing like the homes and people we know.
It's also worth mentioning that while the cast is one of the most diverse we've seen in Australia of late, it doesn't seem like the show has opened up more opportunities for actors of Middle Eastern descent, or local actors of colour. Two of the show's leads are Americans, who regularly perform on Broadway.
It's hard to separate our theatre, even the guilty-pleasure kind, from our current socio-political climate. Even when the localised jokes are more successful than most and tap into local cultural history (specifically, a certain Cate Blanchett commercial). Even when the performances and production values of the show are strong. Even when it's just two and a half hours of your life.
As long as we support shows that present the hegemonic view that our lives are normal and everything else is 'the other,' to be exaggerated and co-opted and framed as a little scary and exotic, we're missing out on two of the best things that art can provide: empathy and different perspectives.
Disney is Disney, sure. But Disney can and should do better than this – and so should we. Don't give this one an easy pass because you don't want to re-examine a beloved movie from your childhood. Let's use this as an opportunity to grow and to leave bad habits behind.
Average User Rating
4.7 / 5
Rating Breakdown
5 star:

2

4 star:

1

3 star:

0

2 star:

0

1 star:

0
Couldn't agree more with the below posts. The show was fantastic and I highly recommend it. I stumbled upon this review after having recently watched the show and am surprised that the review essentially offers nothing more than weak commentary rather than a actual review of the show.
Very weak review, expected more from Timeout. If this disappointing style of reporting continues I certainly will not be coming to this website for any serious reviews in future.
This is my first response to a "professional " critic and I cannot agree more with quilton18.
The show was wonderful and thoroughly enjoyed by the children ,who formed a large proportion of the audience . Obviously they did not arrive laden with the hang ups of the Time Out reviewer .
Well done Disney and all involved in the performance.
I do not often comment on articles however could not help myself this time as I could not disagree more with this article and the contents of it. I believe that the author's views are reflective more of their issues concerning the story line itself, and don't accurately review this show which I personally came to this page looking for.
I recently saw the Sydney show of Aladdin and thought it was an excellent on-screen performance, with no expenses spared for costumes and set which were AMAZING. The show is vibrant, fun, interactive, and a true theatrical overload. My only reservations related to the actual casting of the two lead characters was a little on the lacklustre side however the Genie is a true natural and was the star of the show.
There is nothing about this particular performance that portrays anything other than exactly as it is portrayed in the original movie. i.e. there are no connotations of 'backward'-ness nor 'dangerous' foreign cultures anymore than in the actual movie - which attempts to set a certain scene by emphasising various elements of the geographical location and the characters' own backgrounds including that Aladdin is by his nature a poor thief chasing a princess. Similarly in the movie no other female character has a name - again nothing unique to this performance.
I personally would have been very disappointed had the story line been modified and very much appreciate when theatre performances follow original stories.
There is absolutely nothing political about this show - it indeed is family friendly and simply a well done onstage rendition of a classic Disney story. Well done to the cast and crew.