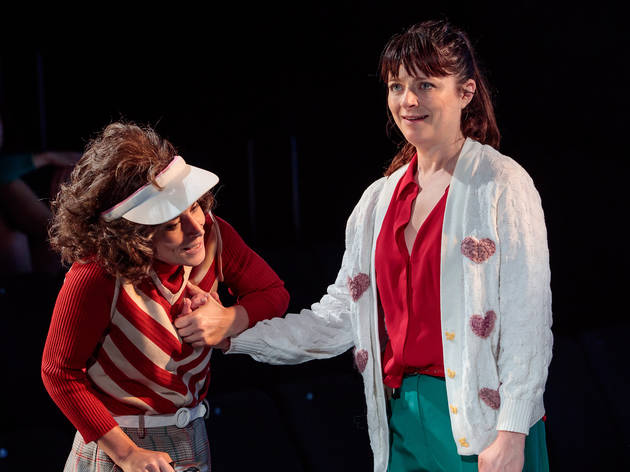 1/3
Photograph: Daniel Boud
Amber McMahon (right) plays Lally Katz in Atlantis, at Belvoir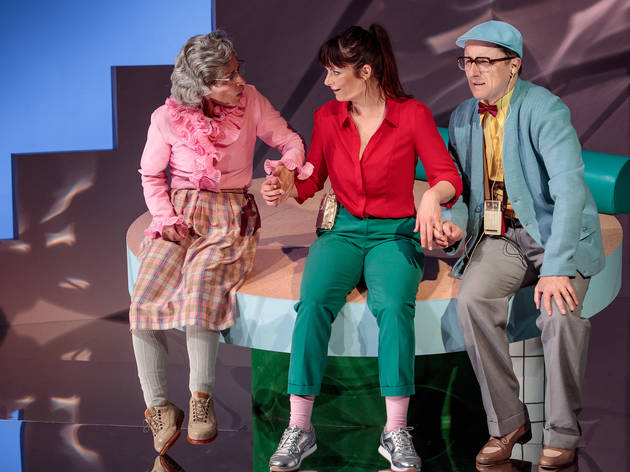 2/3
Photograph: Daniel Boud
Lucia Mastrantone, Amber McMahon and Matthew Whittet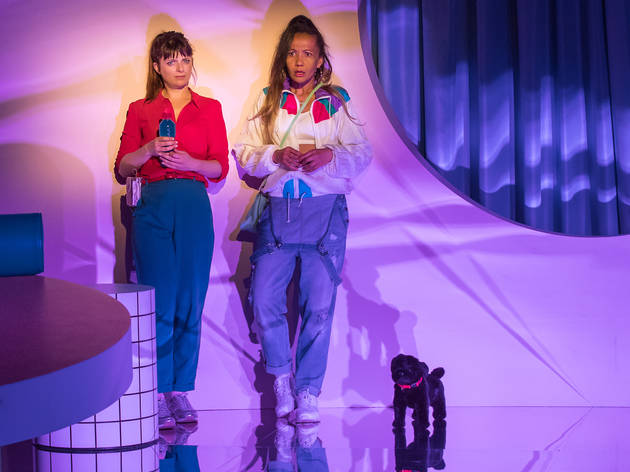 3/3
Photograph: Daniel Boud
Amber McMahon and Paula Arundell
Lally Katz returns to Belvoir with a new semi-autobiographical work tinged with fantasy
Lally Katz is one of Australia's most-produced playwrights. She's an open-hearted, sly storyteller who draws heavily on her own life for her work: Back at the Dojo (at Belvoir in 2016) was her parents' love-story writ large; and Stories I Want to Tell You in Person (2013), a one-woman show starring Katz (which has since been adapted for the screen by Matchbox Pictures), is about the playwright using the money from a Belvoir commission to pay for psychics.
Atlantis is something of a chronological sequel; it picks up on the action as Stories was set to open at Belvoir. The run was cancelled when Katz developed a cyst on her ovary, and it's this threat to her reproductive health that drives Atlantis; Lally (played here by Amber McMahon) is told that if she wants to have a baby, it would be best to do that soon.
Pity, then, that she and her boyfriend Dave (Matthew Whittet) have just broken up. In Stories – quoted in the opening scenes of Atlantis – a New York psychic/scammer tells Katz there is a curse on her vagina, and Katz pays to have it lifted. But now, Lally is convinced that the curse wasn't removed after all, and she heads to New York to get a refund, find a husband, and have a baby.
To say she has impossible expectations for the trip is an understatement.
Atlantis is fabulist romantic comedy, blending the mundane (an Airbnb host who doesn't close the door to the bathroom when she uses it) with the fantastic (an imaginary panther who was Lally's best friend as a child) as Lally darts from New York to New Jersey (where her grandparents live), and then to Kansas, where she's told she can cheaply freeze her eggs, and where she meets and falls for Diego, a Mexican-born Southern cowboy.
The play requires a juggler of a director with a finely-tuned affinity for magic, and Rosemary Myers, the artistic director of Windmill Theatre Company, more than fits the bill; she has a keen sense of whimsy and keeps it balanced with emotional truth. She can take the audience from an over-enthusiastic, Vengaboys-soundtracked sex scene to a moment of grief – and have both scenes sing; you'll see audience members laugh and cry. The play is better for having her at the helm.
Jonathon Oxlade's set design is playfully abstract with a dash of camp, all bold shapes with a colour palette of sunrise, sky, and water. Damien Cooper's lights and Harry Covill's sound build locations around the static set pieces, conjuring the movement of traffic, a nightclub, even a Las Vegas stage show.
The cast – led by McMahon's high-energy, sparkling Lally – is packed with around 50 characters, played with gusto by Paula Arundell, Lucia Mastrantone, Hazem Shammas, and Matthew Whittet. We see all of these characters through Lally's eyes, giving everyone from her grandparents to a Red Bull-guzzling Uber driver a twinkle in their eye and a collection of quirks. It works, but these characters only exist within Lally's perspective, so they often appear more like two-dimensional playthings than real people.
This is also true of the issues that intersect with Lally's American journey: talk about climate change and rising tides glances off her as soon as something more interesting pops up; the complexity of fertility, feminism and family are flirted with but never explored. The lingering ghosts of her childhood home, which she refuses to visit, are intriguing; but even when Katz devotes more time to her nostalgia, it's left hanging outside the central plot. Atlantis consequently feels like a play that isn't fully integrated, like it's chasing its own ideas rather than having control of them.
It also really feels like a sequel; if you haven't seen Katz's other plays, especially Stories, you might feel as though you've missed a chapter packed with important backstory.
Still, there's a disarming confidence to Katz's writing. It's a little self-indulgent, but male playwrights have been reconstructing their own lives onstage for hundreds of years and Katz has every right to do the same. And its hyper-specificity may grate if you're not a straight white woman desperate to have a child, but we quash the voices of women often enough that it's refreshing to see this story told with such assurance that it belongs onstage.
Even if Katz isn't your cup of tea, and even if you can't get past its self-involvement and narrow focus, Myers' work is excellent; she directs the play with a merry rhythm and a sense of adventurous abandon. You'll at least laugh.