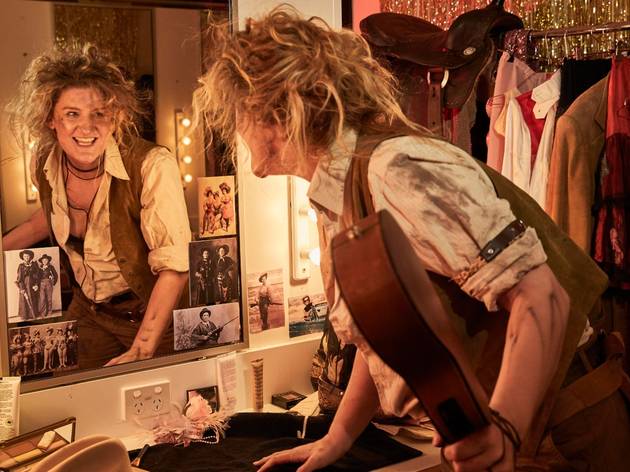 Time Out says
Calamity Jane star Virginia Gay leads an all-star iso line-up
I'm not sure who's more excited about stage and screen superstar Virginia Gay hosting this weekend's free Belvoir in Concert gig: the Calamity Jane lead or her "apoca-puppy", Digit. The latter did poop on a neighbour's lawn while we speak over the phone, but Gay's pretty pumped, too.
Currently in lockdown in LA, she'll be emceeing the free, online-only affair. It's a way for the company to say thank you for all the support it has received so far, including from theatregoers who waived refunds.
It promises to be a sparkling showcase of musical numbers from a bevvy of brilliant Belvoir shows. Each song will be performed by the original stars, all from the safety of their own homes. It's fair to say Gay's quite emotional about it. "The show is so beautiful and vulnerable, it's made me cry twice," she reveals. "And because we're all in this weird time together, there's an incredible intimacy about like presenting Belvoir's musical hits."
Performances include the legendary Ursula Yovich stepping back into the shoes of Barbara and the Camp Dogs and Xavier Samuel meowing the 'Cat Rap' from Lally Katz' The Dog/The Cat. The young cast of Yve Blake's joyous musical Fangirls will also bring the fun. "Yve Blake is one of my massive talent crushes," Gay says.
Even Belvoir artistic director Eamon Flack was taken aback how much musical excellence they had to draw on for the thank-you gig, Gay says. "They've produced a lot of great new Aussie music over the last couple of decades. There's something so intimate and really valuable about seeing these performers sing from their kitchens and other mocked-up spaces. This is something truly special and extraordinary, with a classically Belvoir quirk."
Viewers might also be treated to a tune or two from a certain whip-crack-away box-office bonanza. "There just might be a little tiny bit of a queer immersive reimagining of a classic movie musical by the name of Calamity Jane," Gay teases. Who on Earth could deliver that? "No idea," she goofs. "Somebody in buckskins."
The sort of person who can command a room's attention with a dazzling smile and an impeccably timed aside, Gay says adjusting to digital hosting is something of a challenge. "Part of what we've all discovered during this time is that yes, we have found different ways to connect, but it's also just reminded us all of the extraordinary quality of live performance."
Until you test a joke in front of an audience, you don't know they'll feel, she adds. "After a sad song, you don't quite know how much you need to help them out of it. With live performance, you can do that in an instant. You run on adrenaline and you work quickly. And it's such an extraordinary high for the performer and for the audience, because you know that this is happening in real time in front of you, and that is fucking magic."
But she'll do her darndest to make that magic sparkle for every audience member who tunes in on Belvoir's website, Facebook page or YouTube channel.
"It's important to show a kind of solidarity and compassionate spirit," she says. "To go, 'you're not alone. Your story is not alone. It's here'. To feel united, and to also provide, of course, distraction and entertainment and silliness. In situations of great loss and pain, these are the very skills that artists have. And they are the most important skills right now, because we are physically separate. So we desperately long to be together, and we have to use whatever forum we can."
She thanks her lucky stars she has Digit right now. "This asks so much of you, this time, and after resisting it for a while and being very confused and confounded and scared, I started to accept this is the new norm. How do we connect with the people who are really important to us? How do we show up for people without literally showing up?"
Creativity has been key to navigating that for Gay. She's been working on several of new projects, including writing a show that she hopes to stage at Belvoir at the end of next year. "It's very much in the family of Calamity, so it's very joyful, very much about community and hope, and the joy of theatre."
Sounds just the tonic. For now, we'll have to content ourselves with Gay and co brightening up our laptops until we can rub shoulders in the Belvoir foyer once more. "There's a part of me that longs for the simplicity and magic of a live performer and a live audience, and we'll get there again. Just nobody knows when."
And with that rousing thought, Gay (on request) breaks into a bit of Vera Lynn, complete with gramophone warble. "But I know we'll meet again some sunny day."
Find out more about the Belvoir concert here, and you can donate to help them get through these tough times here.
This article is supported by the Judith Neilson Institute for Journalism and Ideas.
Details
Best selling Time Out Offers