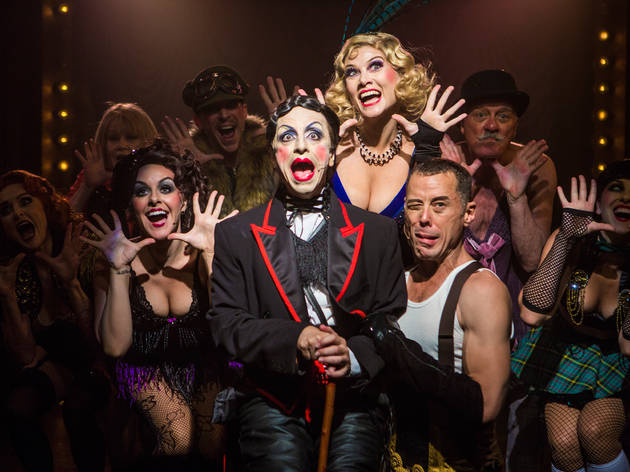 1/9
Photograph: John McRae
Paul Capsis (centre) and ensemble in 'Cabaret'
2/9
Photograph: John McRae
3/9
Photograph: John McRae
Jason Kos and Paul Capsis
4/9
Photograph: John McRae
Chelsea Gibb
5/9
Photograph: John McRae
6/9
Photograph: John McRae
Nick Jones, Michelle Barr, Matthew Manahan and Michelle Smitheram
7/9
Photograph: John McRae
Debora Krizak
8/9
Photograph: John McRae
Jason Kos, Chelsea Gibb, Kate Fitzpatrick and John O'May
9/9
Photograph: John McRae
Paul Capsis and Chelsea Gibb star in Kander & Ebb's musical tale of the last days of bohemian hedonism in pre-Nazi Berlin
It would be near impossible to exit the theatre after seeing this new production of Cabaret and not feel shaken. More than one academic, literature critic or regime survivor has written about the parallels between catastrophic autocrats from history and US President Donald Trump, and this dark musical, about Berlin's last breath of daring, beautiful life before its fall to Hitler's Nazis, has always been haunting.
On opening night, audiences were still reeling from Trump's immigration ban and our government's lack of response; and closer to home, news that WA Liberals are considering listing One Nation as high as second place on their preference ballot, another signal of our growing right-wing conservatism. Cabaret is no escape from this grim reality. Rather, it can be read as a warning: ignoring politics is dangerous. While you're dancing and clinging to ignorance, it could be the end of the world as you know it.
The story is simple enough to ensure its circumstances are clear and tragic. Clifford Bradshaw (played here by Jason Kos, and who represents writer Christopher Isherwood, whose short novel Goodbye to Berlin is the inspiration for the show) has come to Berlin to write. He discovers the city's sexually and morally liberated cabaret scene and meets Sally Bowles (Chelsea Gibb), a not-quite-great, but charismatic, performer. He falls for both, in a way. An Emcee (Paul Capsis) serves as a Weimar-era Puck, our guide to the world of the Kit Kat Klub and the creeping darkness.
It seems like the perfect show for right here and right now. It could be a warning, or a plea.
But this Cabaret was programmed well before most Australians were taking Trump's bid for presidency seriously; producer David M. Hawkins explains in the program that the idea for the show was born in 2014. It seems the general template for this production has been set in stone since that time, because this Cabaret, directed by Nicholas Christo in his professional musical theatre directorial debut, is a stunning example of how a good show can only take a production so far: it's too confused to be considered a political or activist work of theatre or even a humanist cry in pain for present dark times.
Instead, it's a confused bumble through a near-excellent book and score, never quite able to commit to making a statement.
The production does not respond to or reflect the crypto-fascist movement that has built in the US: at the moment in the play when that similarly underground but broad support for Hitler is revealed at Fräulein Schneider's engagement party – arguably the most important turning point in the show – Christo doesn't linger on the moment; his actors coalesce centre-stage, but there's no real climax or comment beyond their literal togetherness. It's an opportunity lost.
Christo often seems unsure of quite how to highlight one moment over another, and his unsubtle production operates on only two levels: austerity or high-energy theatrics. Musical numbers are either frenetic (as in 'Two Ladies', where the physical gags come so quickly that the joke feels overplayed from the beginning) or static (Fräulein Schneider's clever 'So What' is so still that it's almost boring). With no room for discovery or nuance in these two planes, the plot has diminished impact. Even some of the jokes don't land, because there's no sense of timing to dialogue exchanges ;you can't rush through a line like "You should see the other two guys – not a mark on 'em!" without losing the set-up before the payoff.
Part of that disconnect between the production and today's political situation is that Christo never takes Berlin seriously before its fall. Capsis' Emcee – who is, aesthetically, something of a cross between a cymbal-banging monkey and a circus skit where the clown dresses up as the ringmaster – doesn't so much offer seduction and social freedom as he does performed, artificial, and ill-advised pleasure. No one looks very happy in this so-called sanctuary (especially in James Browne's baffling costumes – think late 80s pop music video meets steampunk), and the cabaret club feels as sinister and irritating as this Emcee does.
Are we supposed to mourn the loss of sexual freedom in Berlin? Christo's production has a bizarre relationship to sex: nothing in the show is actually sexy. It's frequently grotesque; the musical numbers set in the Kit Kat Klub are aggressive and never sensual; everyone looks angry. When no one seems to enjoy their dancing or their sexual expression, it seems like we're supposed to judge everything Berlin stood for before it was overtaken by a new and chilling leader. Are we supposed to just condemn the artists and the lovers of the world for not being soldiers? Are we supposed to believe that Sally and her friends deserve their inevitable, horrific end?
Kos is a relative newcomer, and Cliff is a deceptively challenging role to pull off. He needs to be interesting and understated, and while Kos telegraphs more of the latter than the former, his voice is in fine shape and his workmanlike, generous performance allows the bigger personalities – the Emcee and Sally – to command full attention.
As Sally Bowles, Gibb is appealingly restless; while we never quite feel that quality that leads Cliff, and everyone else, to fall in love with her, she delivers a game, defiant performance. Christo has placed Cliff into musical numbers of the Klub through which he usually observes. This is fine, but it does challenge the show's narrative framework: that Cliff is an observer and not necessarily a participant; that he is outside the action enough to notice the threat of ignorance; and that he is less interested in chasing pleasure than he is in chasing inspiration. The Emcee now seems like our sole observer, complicit and unapologetic.
There are a few good things about this production. Kate Fitzpatrick and Debora Krizak are great character actors, and as Fräuleins Schneider and Kost they elevate the production into a more polished and well-rounded work – Krizak is the best, last remnant of Cabaret's original black comedy, and Fitzpatrick represents its pathos. Lindsey Partridge's musical direction is appealingly bold, and cuts through the dull staging and choreography (Kelley Abbey) to bring liveliness and much-needed momentum to the stage.
But it's not enough.
It is not difficult to feel the weight of Cabaret as the world worries, organises, and resists in the face of significant threat. It will land like a gut-punch because so many of us are afraid, despairing, and angry. But that's because of the world we live in, not because of this muddled production.