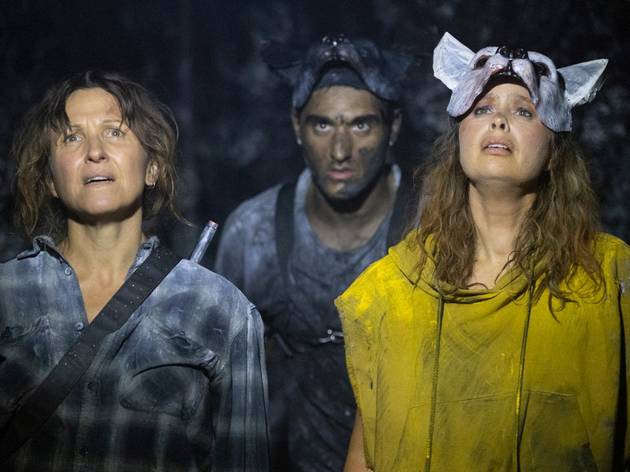 1/4
Photograph: Supplied/Brett Boardman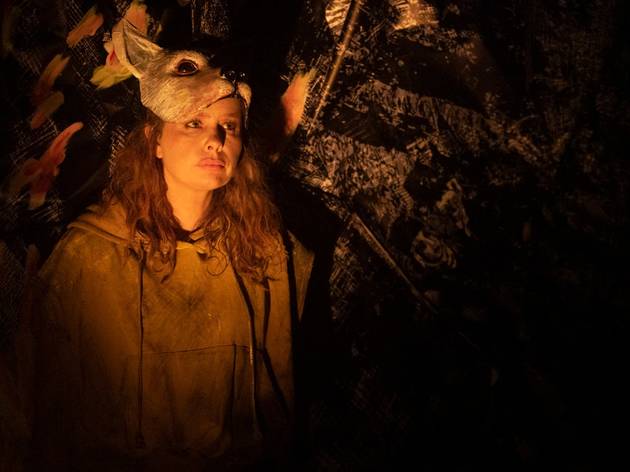 2/4
Photograph: Supplied/Brett Boardman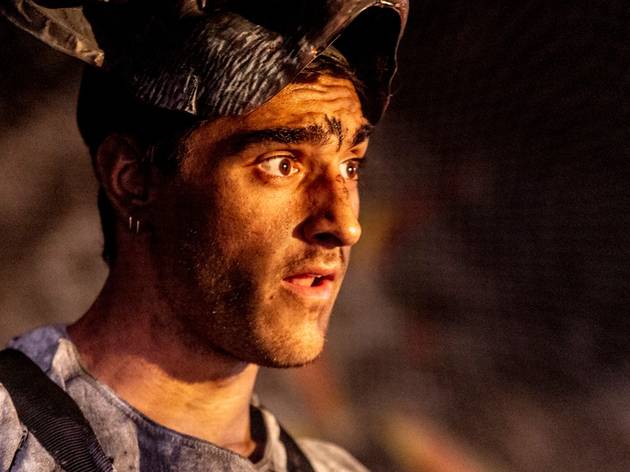 3/4
Photograph: Supplied/Brett Boardman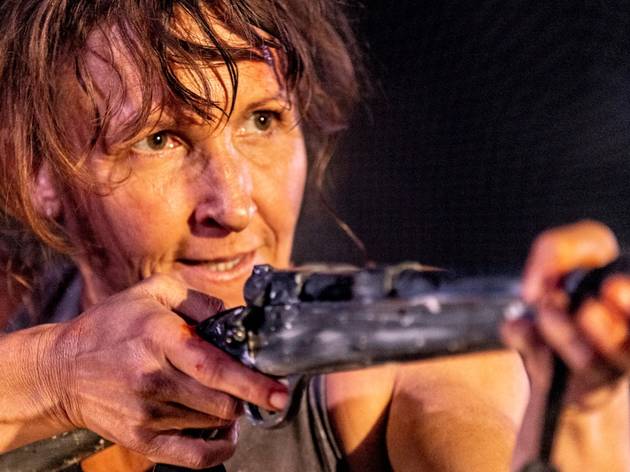 4/4
Photograph: Supplied/Brett Boardman
Time Out says
Contested country lies at the heart of this nerve-wracking Australian Gothic
Dogged's story begins with a dingo looking for her babies in the lands of alpine Victoria, on Gunaikurnai country. During her search, she encounters a dog and his human owner, a white woman hunter on the prowl for wild dogs like her to collect their skin for profit. Writers Andrea James and Catherine Ryan explore the broken relationship between contemporary humans and nature, as well as the difficult bonds between Indigenous Australians and colonisers.
The 80-minute play is ambitious in scope, with a complex structure that reflects its creators' desire to encapsulate many discussions. In addition to environmentalism and racism, Dogged also touches on feminism and capitalism. It's a work about injustice that cares to be vastly inclusive, with an allegorical approach that is sometimes obvious but mostly obtuse, suggesting it will speak more intimately to those already invested in these ideas.
The action-packed production incorporates energetic sequences choreographed by adept movement director Kirk Page, providing an exquisite dimension of visceral excitement to the narrative. Three extraordinary performers hold us captive for this strange and sometimes bewildering tale of inter-species adventure. First Nations actor Sandy Greenwood (Matriarch, Stolen) is spectacular as Dingo, conveying incredible detail between the lines. A transmorphic genius, we watch her as dingo and human simultaneously, illustrating the parallel plights of being Indigenous and female, and in a bigger picture way, of Mother Earth. Even though her main concern is the portrayal of desecration in its many forms, it is Greenwood's defiant strength that really mesmerises. She summons depths of emotion at will, replete with intensity and flabbergasting authenticity.
Also impressive is Blazey Best (Summer of the Seventeenth Doll) who plays the unnamed human Woman with a fierce mental concentration accompanying an excellent capacity for nuance, successfully preventing the hunter from devolving into simple villain. Anthony Yangoyan (The Shape of Things) does a marvellous impression of a dog, both physically and in his attitude. The actor is completely believable playing canine in this fantastical thriller, with an endearing sprightliness that introduces a layer of tenderness to an often-brutal landscape.
Director Declan Greene, working in collaboration with Danielle Micich of physical theatre company Force Majeure, uses the writing's complexity to deliver an exciting show that's gripping on several levels. Dogged can be received as an intellectual piece, one that is highly critical of our reprehensible values and confrontational in addressing our immorality. On the other hand, its dramatics are also taut, with characters that interact deliciously in the telling of a story whose stakes remain high from start to finish.
Design work on the production is inventive and skilfully implemented. An intricate set by Renée Mulder and Peter Waples-Crowe guides our imagination into dark bushlands, mysterious and scary as though stepping into a living nightmare. Mulder's costumes convince us of the roughness of these creatures' existence and the danger that constantly surrounds them. Lighting design by Verity Hampson meaningfully amplifies every resonance of the text, bringing focus to all the profound messages that fundamentally anchor the show. Along with sound and music by Steve Toulmin, mood transformations in Dogged are accurately and intuitively accomplished. The way Hampson and Toulmin collaborate to keep the staging unpredictable is truly praiseworthy.
The colonisation of this land must not be seen as anything but cruel, unjust and inhumane. Commencing with European invasions in the 18th Century, the incremental and devastating dispossession that First Nations people have had to suffer is unforgivable. With the destruction modern technology, industrialism and commerce have conspired to enact on nature, we have arrived at a point of apocalyptic discombobulation, where we have no choice but to better understand the impact of many of those sins, past and ongoing.
Dingo tells Woman to "fuck off!" but one wonders if we are already in too deep? Can the idealistic wish for a simple reversion to historic purity can ever be possible. So much of the damage is permanent. There needs to be a rebuild, as though from ashes, a rebirth that centres all the reparations that must be made. If the moment of reckoning does not take place today, we are only waiting for things to get worse, before the dreaded inevitability happens. Those ideas haunt the bones of this play.
Details
Best selling Time Out Offers