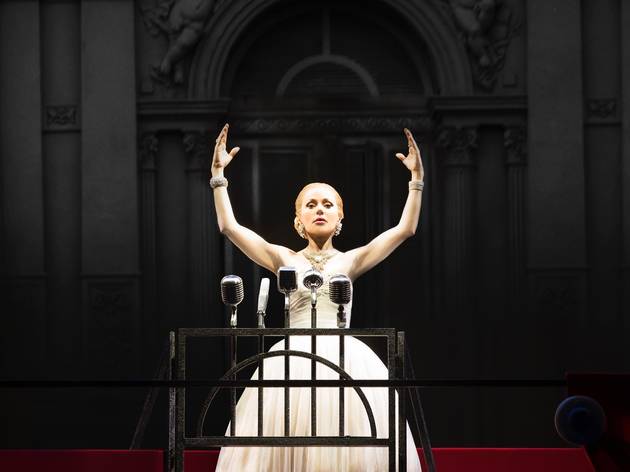 1/8
Photograph: Jeff Busby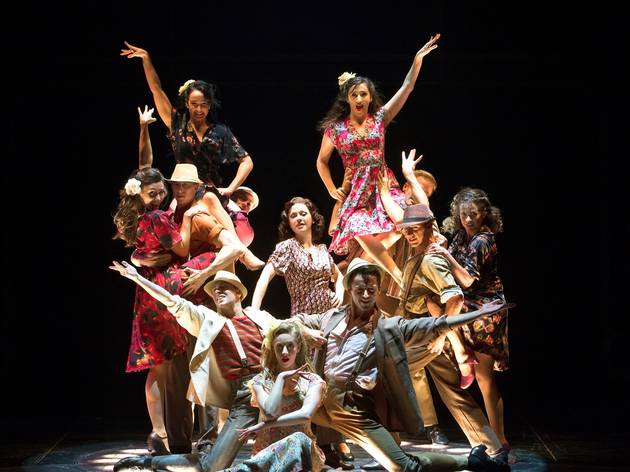 2/8
Photograph: Jeff Busby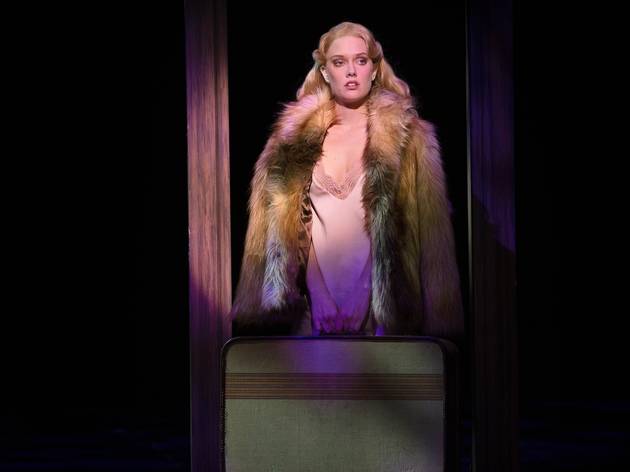 3/8
Photograph: Jeff Busby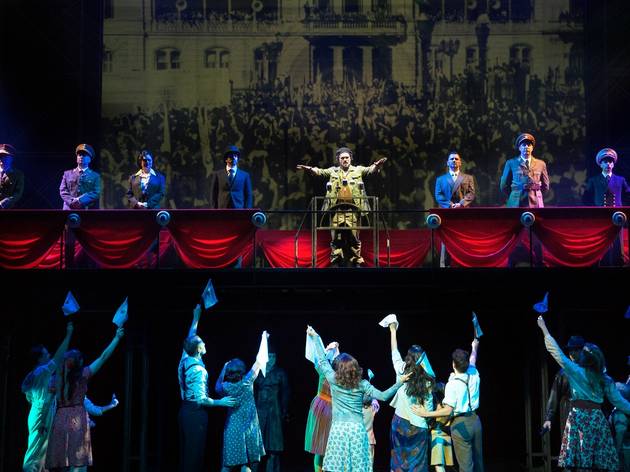 4/8
Photograph: Jeff Busby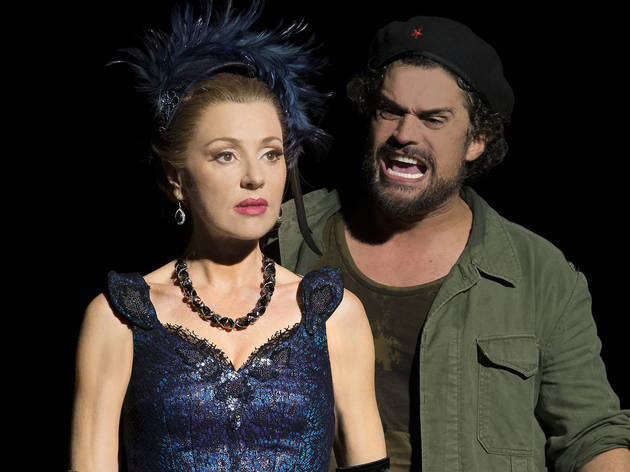 5/8
Photograph: Jeff Busby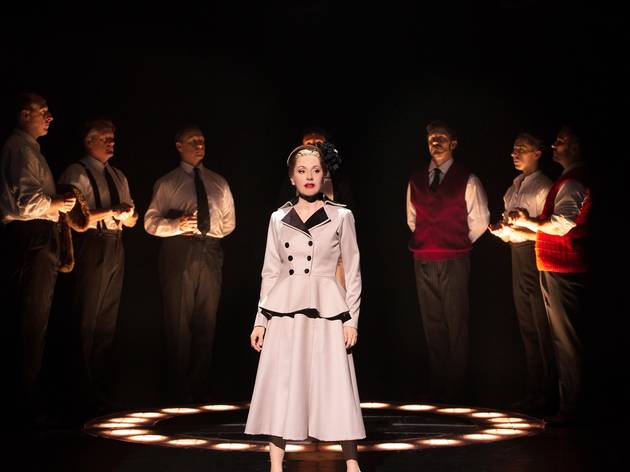 6/8
Photograph: Jeff Busby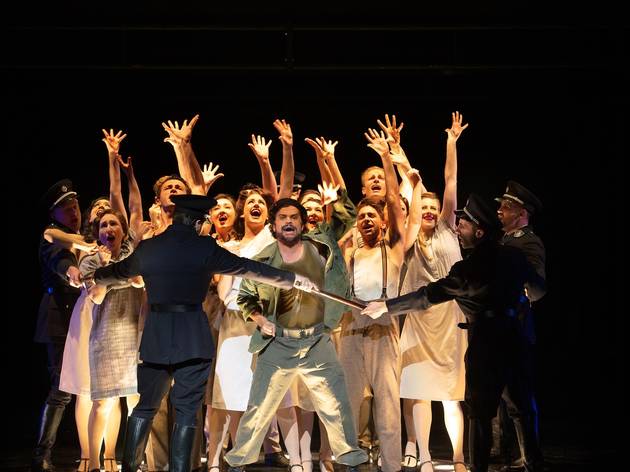 7/8
Photograph: Jeff Busby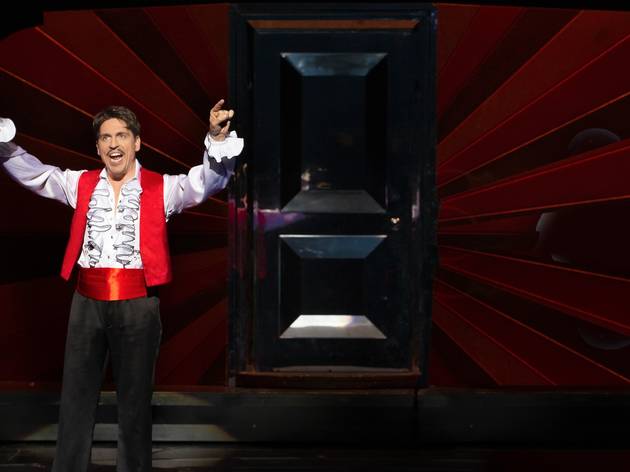 8/8
Photograph: Jeff Busby
Time Out says
This Tina Arena-led production is seductive, powerful and completely rewarding – but you need to work for it
There are few musical theatre songs that have attained the anthem status bestowed upon 'Don't Cry for Me Argentina'. Most composers dream of creating just one tune so universally hummable – the kind that keeps the money rolling in in the form of royalty cheques long after the composer has passed on. Andrew Lloyd Webber, who penned that earworm for his 1978 musical-cum-rock opera, Evita, is responsible for a handful of them.
So it's quite a moment when, at the start of Evita's second act, Australia's own Tina Arena steps forward on the balcony of the Casa Rosada as Argentina's controversial first lady, Eva Perón, to deliver the song. The clarity and warmth of her voice is astonishing as she, along with the Opera Australia orchestra, weaves a musical tale of triumph and yearning. And, of course, it's glorious. Wrenching. The kind of singing that makes you hold your breath, anticipating the next phrase. The stuff that musical theatre dreams are made of.
Eva is declaring her love to the working-class people of Argentina, who've just elected her husband to power. She appears to be pouring her heart out and seducing the nation.
And then, something unexpected happens. She turns away from the crowd, her whole demeanour changes – the spell of seduction is broken – and she sings nefariously to her husband: "Just listen to that, the voice of Argentina. We are adored, we are loved."
That cynicism and winking eye is a large part of the appeal of Evita, which tracks the meteoric rise of Eva Perón from Argentina's working class to the highest echelons of its society before her early death in 1952 at the age of 33. But this production – Hal Prince's original 1978 West End staging – might come as a surprise to those who only know 'Don't Cry for Me Argentina'; it's a prickly, esoteric, and often deeply ironic exploration of an icon. It's also entirely sung-through, which means you'll have to listen pretty closely to Tim Rice's acerbic lyrics.
Peron is hugely divisive and an unlikely subject for a musical. In Argentina, she's still considered a working-class hero, known for championing labour rights and women's suffrage. But she's also been criticised for all sorts of things: the violent political tactics tied to her husband, her alleged skimming of money from her charity, and, as Rice makes rather a lot of in the musical, her deployment of sexuality to gain a position of power.
She's neither hero nor villain in this rendering, which constantly throws questions about Eva's motivations back to the audience. In one moment, you're blown away by her sheer tenacity and the middle finger she extends to the bourgeoisie, refusing to be crushed by the poverty she grew up with. In the next, you're almost wincing at her cruelty and the single-mindedness of her ambition.
Hal Prince, the most accomplished director in Broadway history, ingeniously incorporates Brechtian theatrical techniques: there's a narrator, knowing glances to the audience, not a single touch of naturalism, a mostly sparse set that doesn't feel like any real space, unnatural lighting, heightened movement, and a giant screen projecting images of the real Eva. It all reminds you that you're watching a world and a story constructed by artists; you're not there to be swept away by the emotional experience.
That might sound like anathema to what a Broadway musical does – and Prince and Lloyd Webber's other collaboration, The Phantom of the Opera, is all about heart – but there's something intoxicating in the clash between the emotional coolness of Prince's Brechtian style and the vivacity of Broadway.
This new Australian remount of that original production mightn't always have the dramatic sharpness you'd hope for, but it remains a uniquely intellectual piece of musical theatre. The score sounds exquisite with this cast and orchestra, under musical director Guy Simpson, and Larry Fuller's highly stylised, Latin-inspired choreography still packs a punch in numbers like 'Buenos Aires' and 'And the Money Kept Rolling In', and in quieter moments, establishes the class structure of Argentina.
Arena rises to the challenges of the score at every step, belting her way through an impossibly high score, tracing the character's evolution with a rich and perfectly even tone. She's always been a step above most pop singers of her ilk, but it's impossible to ignore her prodigious technical skill when unleashed on this score.
Broadway's original Eva, Patti LuPone, once famously said that the role could have only been written by somebody who hates women. It's not just a challenging sing, it's absolutely punishing – potentially the most taxing in all of musical theatre. And the dim view that Rice and Lloyd Webber seem to take whenever Eva steps outside the expectations of her gender is a bit uncomfortable in 2018.
But in the role, Arena is a kind of advocate for Eva, refusing to pass judgement on her actions. She mightn't always be the most immersed actor – at the opening night performance you could see the cogs were still turning a little – but Arena draws a character with plenty of colour.
She's well supported by Kurt Kansley as the narrator, Che, guiding the audience through what can be a dense story. Even if some narrative details might be missed, he puts the audience at ease. Paulo Szot is perfectly cast as Eva's husband, Juan Perón. His Tony Award-winning operatic baritone matches Arena's singing punch-for-punch; it's true luxury casting to have him in this smaller role.
That combination makes this Evita unmissable for hardcore musical theatre fans. Whether those unfamiliar with the show will be willing to dive into something that demands so much of their concentration and consideration is another matter. If not, there's always 'Don't Cry for Me Argentina', performed by our Tina. Who wouldn't be seduced by that?
Details
Best selling Time Out Offers