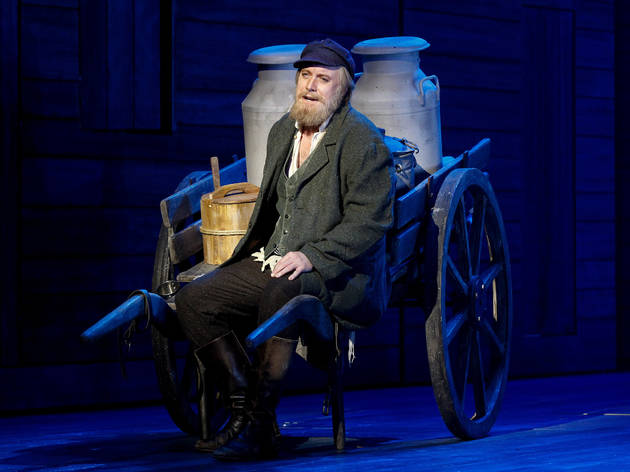 1/12
Photographs: Jeff Busby
Anthony Warlow as Tevye
2/12
3/12
4/12
5/12
6/12
7/12
8/12
9/12
10/12
11/12
12/12
Can't make it to New York for Bartlett Sher's hit Broadway revival? Anthony Warlow's Tevye will (almost) make up for it.
It takes musicals a very long time to make their way from Broadway to Australian shores. So, it can feel frustrating when Australian productions dust off blockbuster books from the annals, rather than bringing new material to the stage.
But at 52, Fiddler on the Roof has aged with remarkable grace. Replace the tichels with hijabs, dress the children in skivvies and trousers, and the closing scene – filled as it is with heartbreak, and a faint glimmer of hope – could be happening right now.
Based on Sholem Aleichem's book of short stories Tevye and his Daughters, Fiddler on the Roof is set in the Pale of Settlement in 1905, a time of massive upheaval. Though hundreds of thousands were affected by the pogroms, the story focuses on one man, his family, and his tiny village. Tevye, a poor milkman used to the old ways, must contend with the onrush of modernity, as each of his three oldest daughters pursue increasingly anti-traditionalist marriages. Outside the village square, persecution at the hands of the Russian Empire looms ever closer.
Although it ends on a solemn note, there's much joy to be taken in this production. Most sitcoms have followed Robert Kaufman's edict to "write Jewish, cast gentile", so even audiences unschooled in the Torah will find the patois of Anatevka immediately familiar. Tevye's relationship with God, filled with kvetches like "I know we're the chosen people, but could you chose someone else for once," still hits the mark. Under the direction of Roger Hodgman (Dirty Rotten Scoundrels; Rigoletto), the production achieves a knife-edge's balance between mirth and menace.
Choreography by Dana Jolly sticks close to the original (1964) production's work by Jerome Robbins. The dance is at its best when a rambunctious celebration by the town's Jewish menfolk is disrupted by a group of Russian soldiers. The contrast between the Klezmer and Russian folk moves highlight how similar and yet different these two groups are, while at the same time creating intense tension. Three straight dance numbers in a row at the wedding of Tevye's oldest daughter Tzeitel to tailor Motel Kamzoil, while important for advancing the narrative, lacked the precision to remain consistently riveting.
Any production of Fiddler lives or dies by its Tevye, and in this role, Anthony Warlow is outstanding. His presence fills the stage, bringing a freshness even in songs as familiar as "If I were a rich man". He plays humour, anger and tragedy with command and dignity. Restrained and subtle, he even nails the hard-to-pin down Yiddish accent. Attempts from the rest of the cast often sounded more Schwarzenegger than Shtetl. Sure, it's not that common to come across a Yiddish speaker in Sydney in 2016, but when mimicking a persecuted minority, more caution is required.
Rather than mirroring the original production's moody purple palette, inspired by the art of Marc Chagall, the staging is awash in shades of beige. Transitions from interior to exterior are seamlessly executed, and the sets complement the action, without pulling focus. The final scene, when the village of Anatevka is literally pulled to pieces, is particularly effective.
Propulsive, catchy, and with a modern message, Fiddler comes at just the right time, with just the right Tevye.