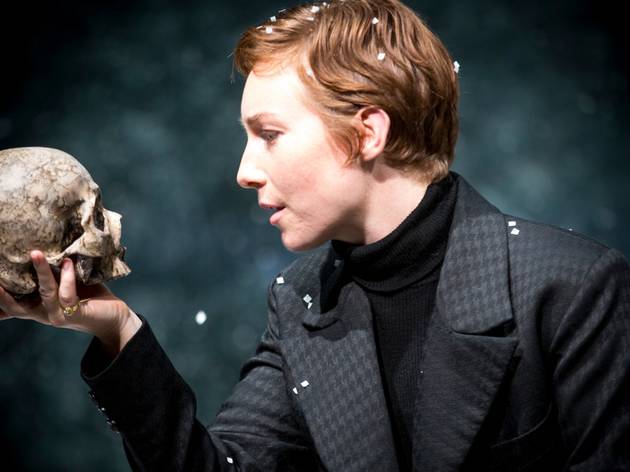 Time Out says
This Bell Shakespeare production has been cancelled in line with COVID-19 related restrictions
Have you ever just wanted to give Hamlet a hug?
Bell Shakespeare's latest take on one of the most produced plays in the world relocates the action to the 1960s. Swallowed up by grief, the prince of Denmark is played with elegiac vulnerability by Harriet Gordon-Anderson (The Miser). You can almost see his heart gnawing away at itself.
Directed by Peter Evans, this is an emotionally driven Hamlet. It has a suppleness and clarity that makes it both refreshing for those who know the play well, and winningly accessible to those who don't. With the imminent invasion of Denmark by Norway's Prince Fortinbras excised from the plot, the production sticks close to family, and closer still to Hamlet's inner life. It wears its heart on its sleeve.
The King is dead and his spirit haunts the castle. Queen Gertrude (Lisa McCune) is remarried to the new king Claudius (James Lugton) and Hamlet is at an utter loss. It's all cold and rotten, and when the newlyweds show each other affection, it feels grotesque. We are in Hamlet's story, and we see their union through his eyes.
And through the eyes of Gordon-Anderson's Hamlet, we see this whole thing anew. It's a tremendous performance. Hamlet is frequently near tears; his mood swings feel earned. Forcing his shoulders down from around his ears and straightening his spine, he frequently reminds himself and others that this crushing outpouring of emotion is not fitting behaviour for a man like himself.
Hamlet calls Elsinore a prison, but so too is masculinity. The 'fatal flaw' that brings out tragedy is not, in this production, his indecision. It's that he moves out of time with the world around him. He dares to feel deeply.
In this way, you can view this Hamlet through a queer lens. Sophie Wilde's Ophelia is possessed of a stunning vitality and matches Hamlet move-for-move until she, too, is undone by grief. There's a depth of longing in Hamlet's rejection of her that reads differently when the gender binary has been subverted. It casts a more sympathetic shadow, too, on Hamlet's complicated relationship with his mother and his rejection of her femininity.
There isn't really a way, in 2020, to reckon with Shakespeare's frequently shallow and victimised women, but this production does try to ameliorate those problems, and the actors assign the women as much agency as they can within the script.
This subtle exploration of feeling is what makes this production sing. Here, Hamlet is alone in a sea of falsity, and he has no time for it. When it appears that his friends Rosencrantz and Guildenstern (sharply funny dream team Jeremi Campese and Jane Mahady) are aligned with his parents, Hamlet makes short work of them. He's so single-minded in ending all the lies in his life that steadfast ally Horatio (James Evans) seems to follow him like another ghost – unable to intervene, unnecessary to neutralise, still impossibly loyal.
The '60s setting creates a warm aesthetic that's supposed to evoke feelings of nostalgia, according to the program notes, which of course only works if you are of a certain age. But there's a shadow behind all the colour-blocking costumes that works no matter who you are. Anna Tregloan's stylish set brings the forest inside the castle, with fir trees painted on the walls and snow that falls inside the metal structure demarcating the walls. Max Lyandvert's sound design wraps around Hamlet's ankles like fog, while Benjamin Cisterne's lighting never stays warm for long.
For a show that seems to weep tears of snow, there's a streak of humour that cuts through and balances the heaviness – from the players, whose moves come right out of 1960s performance art to the studied ensemble, who manage to make jokes land that are now more than 400 years old. But we can thank Robert Menzies' sterling take on Polonious for the lion's share of laughs. His performance is so hapless, good-natured and singular that his senseless death feels all the more devastating to Hamlet and the audience alike.
It's easy for Shakespeare to feel completely worn out or overdone. As you read this, someone somewhere is absolutely reciting "to be or not to be," and it can be so frustrating that we can't seem, theatrically, to let go of this story and give our stages to new voices. But Evans makes the case for his Hamlet by leading with Gordon-Anderson's complex portrait of an old icon and by building a generous ensemble. This Hamlet is more emotional than action-packed and more heartfelt than ego-driven. It will disarm you.
Details
Best selling Time Out Offers