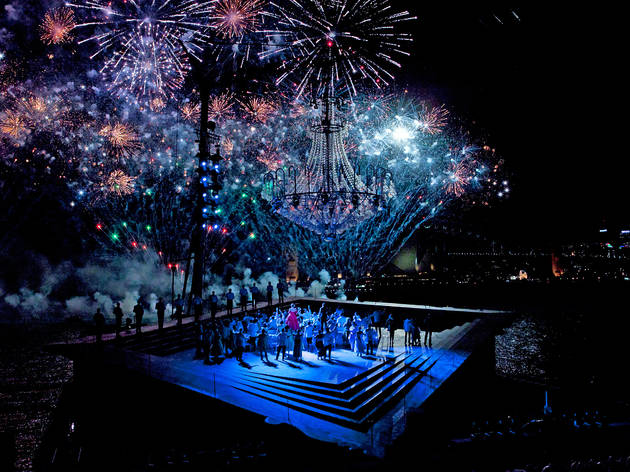 Handa Opera on Sydney Harbour 2012: La Traviata
Opera Australia's inaugural opera on the harbour is pure pleasure, for all the tragic pain
La Traviata is an audience favourite for its high-emotion, high-stakes narrative (taken from The Lady Of the Camellias, by Alexandre Dumas) about ultimate love, sacrifice and death, and Verdi's unrivalled modulation between frothy excitement, ravishingly beautiful melodies and heartbreakingly mournful minor-key moments. It's a formula that promises comedy one moment, tears the next – "croce e delizia" indeed – which is a lot more than can be said of many nights at the opera.
Handa's take on the piece doesn't mess with this formula or modernise it beyond the costumes and set, which channel elements of 1950s Rome or 80s New York rather than the original 19th century – an extravagance of colour, gaiety and excess (gold patent-leather couches, diamond-encrusted dames, and a mid-scene fireworks display) that only serves to heighten our sense of the personal anguish happening 'behind the scenes', in the hearts and minds of Violetta and her estranged lover Alfredo.
The stage is a massive tilted silver mirror, above which is suspended (by crane) a massive Swarowski-encrusted chandelier that lowers and raises throughout the performance, most memorably doubling as a bird-cage from which Violetta serenades the audience. During the pivotal party scenes, the stage presents as a candy-box of competing bon-bons, whose bright and sparkling wrappers belie the bittersweet romantic tragedy beneath the surface.
So engaging is the staging at these moments that you'll find yourself forgetting to read the subtitles – which is only a problem if you're not familiar with the story, as there's nothing in the staging that indicates that our heroine Violetta is a courtesan, which fact is essential to accepting the central narrative premise: that Violetta's association with Alfredo risks damaging his reputation, and by association, that of his younger sister, who is of marrying age and disposition.
With all the scenery (and it has to be said that the sliver of moon peeping through the clouds during Violetta's 'E strano!' aria is about as good as atmosphere gets) the real stars of the night are leads Rachelle Durkin and Ji-Min Park, whose performances as the doomed young lovers are so full of desperation by the third act as to bring tears to your eyes. They sell the tragedy and romance of La Traviata, and their youth lends a certain poignancy that perhaps the alternate leads for this production (the older Emma Matthews and Gianluca Terranova) would not.
Best selling Time Out Offers