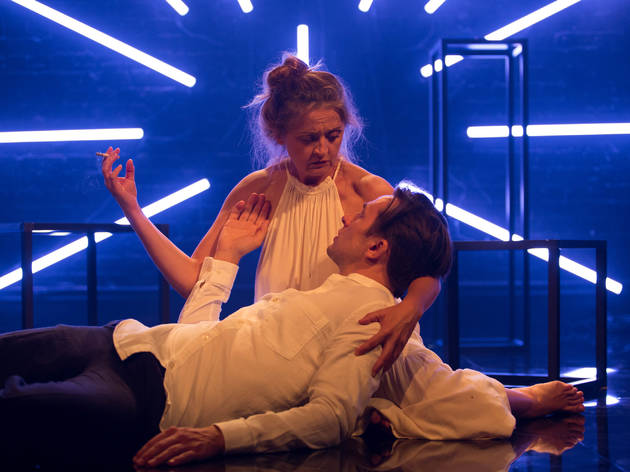 Important issues and brave performances can't rescue the script problems in this new Australian work
Crownies/Janet King star Jeannette Cronin has a long association with the stage, and this year, two plays penned by her will premiere in Sydney. The first, I Hate You My Mother, is an attempt to trace the trauma of sexual abuse through generations and across time and space.
Connected by a pocket watch (an elegant visual but a heavy-handed metaphor for the passage of time) and a genetic marker (every woman in the play has webbed feet), Cronin tells four stories at once, switching between them in neat order. Two actors play all eight roles – Cronin herself, and recent NIDA grad Simon Glømmen Bostad.
At Morriset Psychiatric Hospital, Patricia is leading Simon through difficult memories of his babysitter. In a manor in Warwickshire, Lady Makepeace is confronting Benjamin, who she once abused – he now plans to marry her teenage daughter. In a Liverpool nursing home, Alzheimer's patient Gaylene relives a painful memory while her carer, Tarak, grows impatient with her unreliable cognition. And in an interview room at the Oklahoma Correctional Centre, murderer Tamora-Sue might hold the key to finding a missing child.
Every story hinges prominently on sexual abuse and its subsequent trauma. In Cronin's program notes, she says these women have all learned the same lesson: "get them before they get you." It's a justification or explanation for the rage of women who act in self-defense; it's a reminder that women themselves can be abusers; and it's all lightly mythic, hitching magic to the stories of these women via their webbed feet and interwoven references to the Bean Nighe, the Scottish washerwoman fairy (known in Ireland as the banshee).
The play is brave and often brutal, but lacking sophistication. There are no particularly new insights here, and while you might feel compassion, despair or disgust for any of the characters onstage, it's difficult to get invested in their vague stories, told as they are in short snippets, one after another, in unchanging order.
That structure seems like it's designed to add cliff-hangers to each vignette, but these cliff-hangers are superfluous and curb rather than heighten the drama and tension of each scene. We don't gain new information or see the stories differently based on what we learn in the ones surrounding it; it probably would have made more sense to just present the stories in full as complete vignettes, and allow us to take a broader view of the assault and abuse issues that sparked the play.
Director Kim Hardwick navigates the scene transitions with changes in lighting (by Martin Kinane) and the score (2016 Sydney Theatre Award winner Nate Edmondson), and the actors drop and change accents and shift their posture before beginning anew. Here, Cronin's years of experience have made her nimble; she switches between characters with the kind of ease that comes with time, and though Glømmen Bostad is on the back foot here (it's nearly impossible to keep apace with Cronin) he catches up quickly.
The writing rests on clichés; the dialogue in each scene is almost exactly what you would expect, particularly between therapist and patient and cop and prisoner. As the stories all head toward climax, the characters slip into verse – reciting a poem that picks up from where the previous scene left off. It's a poor choice; it's not a compelling poem or even an evocative one, and it feels like a writer trying too hard to build symbolism into their play.
For this work, less would have been more. It can be easier to find poignancy in simplicity, or empathy in naturalistic dialogue. There are pertinent and urgent social questions at the heart of I Hate You My Mother, but it needs more work before it heads back to the stage for a follow-up season.