Update, Jul 25 2022: the return Sydney season of Alanis Morisette's rip roaring rockin' musical will end early. The producers said in a statement: "Despite glowing reviews, rapturous audiences and the tenacity, talent and commitment of our company, due to the combination of the new covid wave and uncertain operating conditions, we have made the difficult decision to close the Sydney run on 14 August and suspend the planned tour."

"We will continue to tell the Jagged Little Pill story – with the North American tour commencing in August, and productions planned in the UK and Asia — and remain committed to finding a way to bring this vibrant and vitalizing musical back to the Australian stage. We want to thank our company for their courage, talent and brilliance, and the audiences who have experienced Jagged over the past six months." All ticket holders for performances after August 14 will be contacted by their point of purchase.
Read on for our four-star review:
While it is, on paper, a jukebox musical in the same vein as Mamma Mia! or We Will Rock You, the red-raw, heart-on-her-sleeve lyrics from Alanis Morisette's generation-defining album allow for a far richer narrative to emerge in Jagged Little Pill. It tells the story of an American family coming apart at the seams, and weaves in a tapestry of urgent social issues. But it's also a show about the hope that springs from facing such challenges, and that's surely something to cling onto.
All the hits of the Canadian singer-songwriter's 1995-released megahit record are present and accounted for: 'You Oughta Know', 'Hand In My Pocket,' and 'Ironic' (a song much debated by grammar nerds, which gets its own self-aware nod in the show). But as a bonus, Morissette has written two brand-new tunes especially for the show.
Ahead of Jagged Little Pill's Broadway debut, Morissette worked on the music with fellow Grammy-winner Glen Ballard, with Oscar-winner Diablo Cody (Juno, Tully) on story duties. Rounding out the all-star creative team is director (and Tony Award-winner) Diane Paulus (Pippin), with choreography by Olivier Award-winner Sidi Larbi Cherkaoui and musical direction by Tony and Pulitzer Prize-winner Tom Kitt.
In this electrifying Australian premiere production, the whole cast have their moments to shine – but it is Natalie Bassingthwaighte as the soul-cycling, pill-popping mother Mary Jane Healy and Maggie McKenna as genderqueer teenager Jo, who really steal the show with their powerful, gutsy vocals and megawatt stage presences.
This could be our Nat Bass's best stage role to date. She brings her best 'Voodoo Child' belts, a nod to the brilliant manic energy she pumped into her performance as Roxy in Chicago, and evocative acting chops that help crack the uptight shell of Mary Jane and draw out the hurt, traumatised human within, topped off with a gloriously waspy wig.
McKenna is best known for originating the role of the "terrible" titular heroine in Muriel's Wedding the Musical, and in Jagged they amp up the queer soft-masc energy they won our hearts with in Fun Home, clearly drawing on their own nonbinary identity and trans experience. They channel a scrappy and loveable energy as the love interest of Mary Jane's daughter Frankie (played by the dynamic Emily Nkomo, in her mainstage debut). But as it turns out, they are not Frankie's only love interest, leading to a rousing and rocking rendition of 'You Oughta Know' that had the opening night audience whooping and cheering into a mid-show standing ovation.
Recommended: read our pre-show chat with stars Maggie McKenna and Tim Draxl.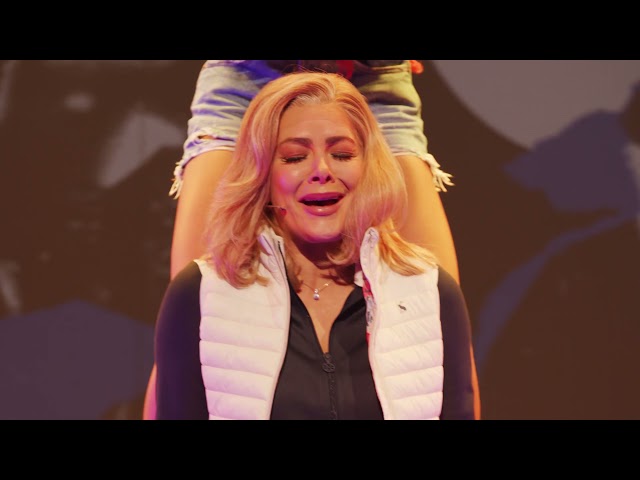 The staging is in a state of near constant flux, consisting of sliding screen panels with transformative video projections, and moving set pieces framed by a luminous outline of a house. The business of the staging echoes the franticness of the characters' lives, and only slows its roll when tragedy strikes in the second half and the story gradually builds to a resolution.
Some will say (and many critics have) that this show attempts to squeeze in too many hot button issues – including the opioid crisis; gender identity; the prevalence of divorce; parental pressure; rape culture; sex positivity; and the Black Lives Matter movement. But I would argue that the patchwork of issues intersecting in Jagged is reflective of everyday life, where we rarely have time to sit still with any one problem or experience before we are spun out by another. The touchstones of this musical are clearly viewed through an American lens, especially under the hyper-religious shroud of Connecticut where the story takes place, but there are many issues that resonate just as strongly here in Australia. (And unlike many musicals that transfer onto the Aussie stage, they resist shoe-horning in an out-of-place Vegemite joke.)
The ensemble is refreshingly diverse, and surging to the choreography of Marc Kimelman and Adam Blanch, they swarm around the protagonists in a riotous cohort of attitude and grunge-influenced outfits that look like they were torn straight out of a Dangerfield editorial. They are the physical embodiment of the feisty pop-rock energy that underlies Morisette's music, and also the inner turmoil that exudes from each of the main characters – including the overworked and affection-starved husband Steve Healy (Tim Draxl of A Place to Call Home and The Newsreader), the high achieving golden son Nick Healy (Liam Head), the misunderstood adopted child Frankie (Nkomo), teenage heartthrob Phoenix (Aydan), and vulnerable teen Bella (Grace Miell).
During scenes of activism and protest, it is stark and emotional to see people march on the stage holding up placards decrying issues that affect myself and people I care about, from gay rights to trans rights, women's rights, Black rights and land rights. Many mainstage shows will nod to these types of issues without directly naming them, but seeing them so literally put forward is powerful. Sitting in the theatre on opening night, during Jagged's initial Sydney run in December 2021, surrounded by people you'd see on the tele and the freshly re-elected mayor Clover Moore, one can only hope that the people observing these messages for entertainment are also choosing to engage with them actively.
The musical gives new context to Morisette's deeply personal, hyper-autobiographical songs. By drawing on both universal experiences while focusing the storytelling on social issues that are reaching a fever point in the American public consciousness, this show introduces Morisette's genius to a whole new generation, while re-stoking the fire for die-hard fans who remember these bangers from the first time around. Any self respecting musical theatre lover or Alanis stan should not miss this show. You'll laugh. You'll cry. You'll live. You'll learn.
Jagged Little Pill the Musical returns to Sydney from July 9, 2022. Get your tickets here.