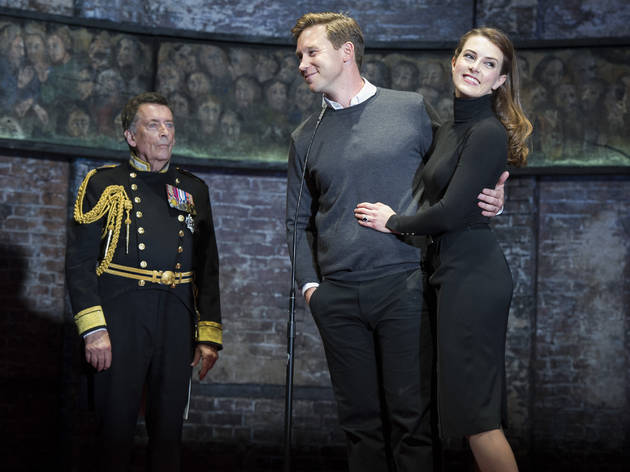 Royal-watchers and Shakespeareans will relish the provocations of this slick and blackly funny production of Mike Bartlett's "future history play"
We're accustomed to thinking of Britain's Royal Family as a tawdry soap opera. Mike Bartlett's fiendishly clever King Charles III instead makes of them high drama viewed within the sweep of history, just as Shakespeare approached his sagas of various Henrys and Richards. This portrayal of a post-Elizabethan England comes complete with dialogue in blank verse, metaphoric language, a comedic subplot, and a hero with a doozy of a tragic flaw. As staged by London's Almeida Theatre, hosted locally by Sydney Theatre Company, it's an extraordinary treat for audiences, whether their preferred choice of reading is Hamlet or Hello magazine.
In the wake of the queen's funeral Charles (Robert Powell) is already fretting that he should have shown more emotion by her graveside and soliloquising that he "is better thoughtful prince than King". Always the over-thinker, the new monarch is unhappy merely to sign his name to laws brought to him by Prime Minister Evans (Tim Treloar), expecting to exercise "some small but crucial influence" – which brings to a disastrous tipping point the contradiction of a democracy with a royal head of state. Meanwhile Prince Harry (the hilariously giddy Richard Glaves) begins a romance with a commoner, Jess (Lucy Phelps), and finds that life outside the prison of privilege and duty is a revelation.
There is a lot of naughtiness in the way Bartlett applies Shakespearean tropes to the current House of Windsor. The well-meaning Charles is part bad boss like Richard II and part dithering Dane – he even experiences prophetic visitations from the ghost of Diana (Beatrice Walker). There's more than a touch of the Macbeths, meanwhile, to the machinations of Kate (Jennifer Bryden) and William (Ben Righton), and snatches of dialogue are deployed that are pointedly similar to quotes from the Scottish play and King Lear.
Powell lacks the height and physiognomy of Charles, and does not attempt to impersonate the future sovereign, but his stature as UK stage-and-screen royalty helps make him a natural for this part. His solemn and human performance is a very flattering portrayal of the current Prince of Wales as a man who has thought deeply about what it means to be king.
Tom Scutt's set is more Games of Thrones than Downtown Abbey. Its gloomy brick façade is bisected by a band that is like the curve of a massive crown, except that it contains the faces of the populace – emphasising the question of where power really resides. The cast add their live voices to stately, mournful, pre-recorded music by Jocelyn Pook, but otherwise direction by Rupert Goold and Whitney Mosery avoids overtly theatrical touches. It's simply a very West End, eminently tourable production of a brilliant text – the play's the thing.
But for how long? King Charles III is nothing if not a play with a shelf life. Queen Elizabeth II is 90 years old and events could at any moment overtake those postulated here. Unless things pan out exactly as Bartlett predicts, the play is unlikely to enjoy revivals or be remembered as anything other than a satire people found amusing at the time.
All the more reason to see this production in Sydney and wallow in its many ironies. As Republican feeling grows in Australia, the monarchy remains an important UK cultural export – even in packages as delightfully subversive as this one.