1/4
Photograph: Matt Beard / © 2012 Cirque du Soleil
Costumes: Marie-Chantale Vaillancourt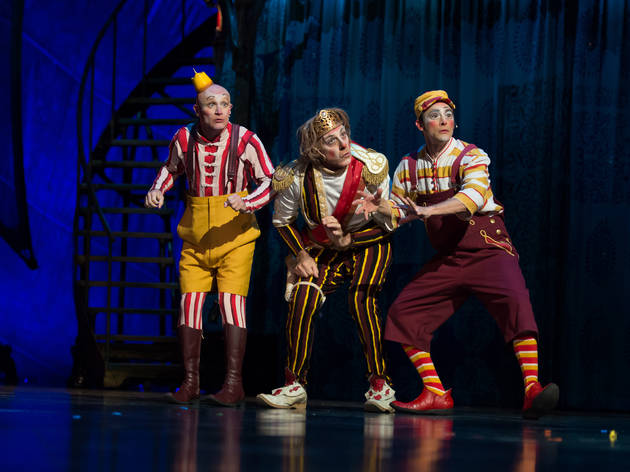 2/4
Photograph: Annika Franco © 2015 Cirque du Soleil
Costumes: Marie-Chantale Vaillancourt
3/4
Photograph: Matt Beard © 2012 Cirque du Soleil
Costumes: Marie-Chantale Vaillancourt
4/4
Photograph: Matt Beard © 2012 Cirque du Soleil
Costumes: Marie-Chantale Vaillancourt
Cirque du Soleil, the world-acclaimed Québécois circus troupe, miss a trick with this old-school show
In Kooza, Cirque du Soleil purport to return to their roots: clowning and acrobatics. Created by American master clown David Shiner, the show takes its name from the Sanskrit word 'koza' (or 'box') and the basic conceit is a circus-in-a-box.
The storyline too takes its lead from this concept: at the outset, a man-child ('The Innocent', we are told in the program) takes delivery of a box, out of which springs a candy-striped 'Trickster', who reveals a world of magic to him – with various different characters/acts.
The other key characters are three male clowns, who act as functionaries in the world of Kooza but also act as emissaries to the world of the audience, breaking that fourth wall to work the crowd. There's an old duffer and self-styled 'king clown', a lewd brattish one, and a tubby, more guileless fellow.
This show premise is in some ways refreshingly straightforward: Cirque du Soleil offers a mix of tricks, glitz, comedy, sex appeal and puerile humour. We might as well call it how it is. In attempting to be all things to all audiences it inevitably falls short at times (can you be simultaneously great for five-year-olds with their parents and 30-somethings on a date? It's hard), but it seemed on opening night to be ticking many boxes for many people.
David Shiner and his team missed a trick, however: within the old school circus show paradigm, there are obvious ways they could have subverted the tired representation of gender and race. Instead, we're offered a regressive vision of the circus in which men perform feats of strength with testosterone-fuelled swagger, women are objects of beauty and desire dressed for that purpose, and people of colour are underrepresented even while orientalist visions persist (for a show that trades in Indian culture, you could wish for at least one Indian performer on stage, or at the very least some kind of outreach program in the country when it comes to hiring).
We're not being pedantic: this is a story in which all the key characters are men: the Innocent, the Trickster, the three clowns… When Australian drummer Ben Todd is wheeled out for a solo, you can't help thinking: how hard would it have been to subvert even one of these gender stereotypes?
Are the tricks good? Mostly yes. Particular highlights are the Mongolian contortionists, the Columbian 'Wheel of Death' duo, and the four-person hire wire act.
But in a world increasingly hip to issues of representation, and with an increasingly diverse audience, how long can Cirque du Soleil afford to be so old school?