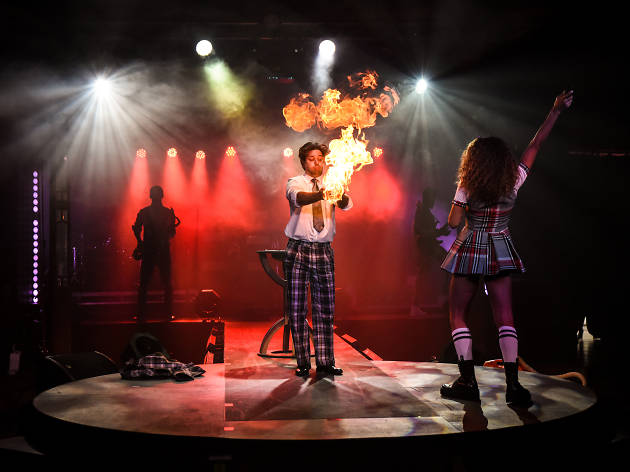 Time Out says
Head to Sydney Festival's spiegeltent for this cocktail of circus, music, dance and clowning
With the number of raunchy cabaret-meets-circus shows that have popped up in Sydney Festival's spiegeltents over the last decade, it can be difficult to bring much new to the formula. But have you ever seen two aerialists perform a spectacular duet in a giant condom-like plastic tube hanging from the ceiling? We thought not.
It's the most memorable part of Life: The Show, the latest offering from Australian production company Strut & Fret, who specialise in this sort of entertainment, having previously produced alt-cabarets like Limbo and Blanc de Blanc. And it makes for a stunning effect, conjuring up images of a sperm desperately chasing an egg (so perhaps it's actually meant to be a fallopian tube?) which is rather appropriate for a show that takes something as broad as "life" as its central concept.
The protagonist is an ordinary worker played by Dutch circus artist and clown Goos Meeuwsen, whose life is filled with little but waking up, going to work, coming home, masturbating and sleeping (although not always in that order). He's desperately unfulfilled, and even his marriage to a slightly deranged housewife (played by Helena Bittencourt) brings him little more than anxiety.
But where better to inject a little thrill and colour into your depressing grey life than a spiegeltent? This is a colourful confection that springs from the drudgery of everyday life, with a scorching live soundtrack led by saxophonist Blaise Garza, drummer Attis Clopton and singer Fatine Pritoula. There's a cast of properly gorgeous performers, including dancers Hilton Denis (who reminds just how cool tap dancing can be) and Rechelle Mansour, and acrobats Oscar Kaufmann and Elke Uhd, who both have heart-stopping solo aerial acts, as well as the plastic tube act mentioned above.
No other moment in Life matches the inventiveness of that act, but director Scott Maidment has created a slick and streamlined piece of entertainment, even if it doesn't really have the depth that it's aiming for. Meeuwsen does a good job of pulling everything together, and does some fabulous work with Bittencourt to create the lens through which we see the performance. He'll probably be a divisive figure; not everybody will find him particularly likeable, and there's something uncomfortable about the heteronormativity at the centre of the show. And you might not want to sit in the front row if you're not a fan of audience participation.
Despite Life's riches, we were left with a lingering feeling that this banquet of acts hadn't left us totally full; like we were a moment of genuine connection (maybe one heart-wrenching ballad from Pritoula?) away from a totally satisfying experience. There's a lot in this show that works brilliantly and will genuinely thrill you. As a whole, it just may leave you hungry for more.
Details
Best selling Time Out Offers