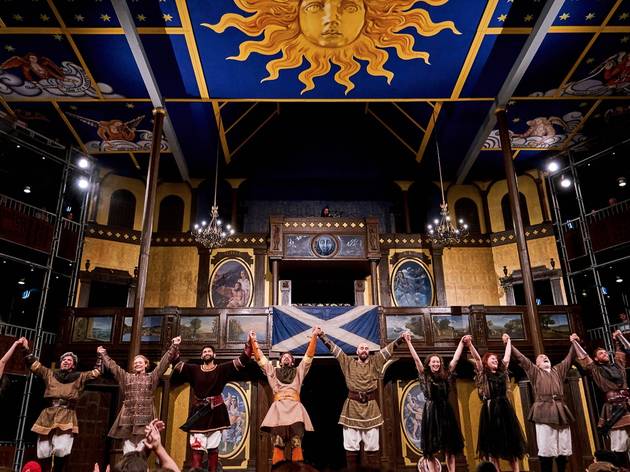 1/4
Photograph: Supplied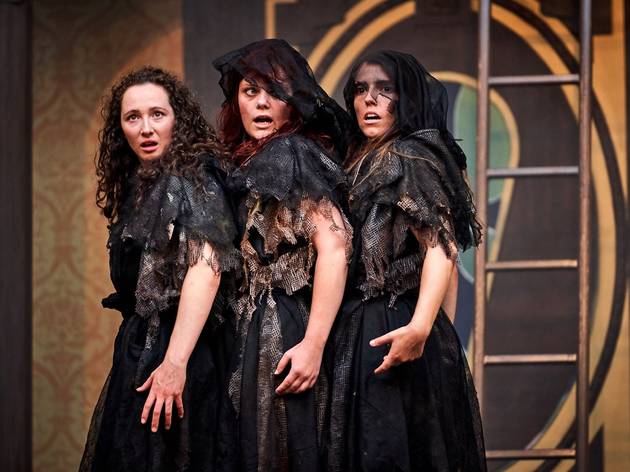 2/4
Photograph: Supplied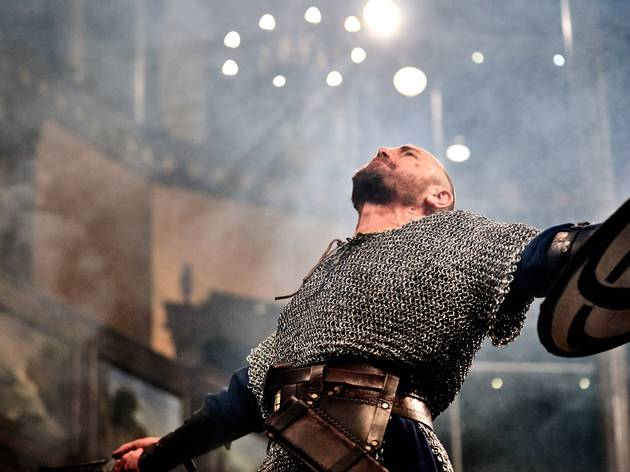 3/4
Photograph: Supplied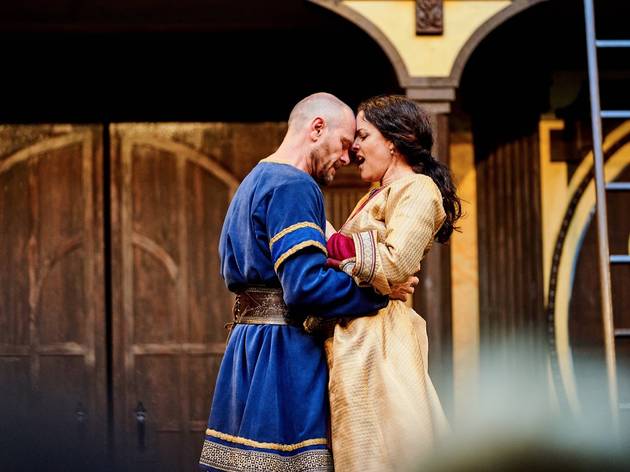 4/4
Photograph: Supplied
Time Out says
Experience Shakespeare's great tragedy as it was intended in this season from New Zealand's Pop-up Globe
Skip the soliloquies and give us more eye gouging!
That's the prevailing mood after seeing Macbeth at the Pop-up Globe, an Elizabethan time machine that has crash-landed into the middle of the Entertainment Quarter. In the sunny Sunday matinee crowd, the mood was pretty jovial for a performance of a classic tragedy – and the audience seemed pretty hungry for blood, which was a relief, because some of them were splattered with the stuff.
It's hard to be fully immersed in a dark tale when you're simultaneously experiencing the novelty of seeing a show in this touring replica Globe Theatre, built with Shakespearean specificity. It's that famed roundish shape and partly open-aired, with plenty of space for the "groundlings" (the term for those in the old-school standing-room only cheap seats near the front of the stage) and balcony seating alike. The show uses technical effects that are hundreds of years old – think trap doors and thunder sheets – and the mood is that of a shared experience that's a bit out of the ordinary, totally incongruous with daily life. There's just something about that cognitive dissonance that brings an audience together.
The story is the same one so many of us know well: of a man named Macbeth (a broody Stephen Lovatt), who, alongside his wife (an endearingly giddy Amanda Billing), gets drunk on ambition and a witches' prophecy that he'll one day be king. There's murder and ghosts and madness as Macbeth and his Lady go from giddy, "can-you-believe-how-easy-it-is-to-kill-a-king?" highs to the lows of moral torment. But it's all a little too showy and pitched at too broad a level of entertainment to make us ruminate, as many productions of the Scottish play often insist, on the limits and depth of the soul.
Instead, we're laughing at the violent and bloody battle scenes, especially when actors are aiming their fake blood pumps directly into the crowd. And when the porter (Greg Johnson), the patented comic relief of the play, makes an appearance, it's a minutes-long dick and piss joke that leaves the audience, again, soaked. Director Tom Mallaburn keeps the action moving swiftly forward, and the play never drags – there's always something interesting, gory, or gently funny to look at, and keep those on their feet distracted from the pain of standing for a few hours. Still, the witches are more hokey with their massive cauldron than they are scary, and really, can a tragedy that ends with a full-company jig of a curtain call really hit that hard?
But you don't go to the Pop-up Globe for depth and quiet reflection. You go to get a sense of Shakespeare's soap-opera for the masses appeal, often lost in our contemporary society's insistence of lifting the Bard up on a pompous pedestal, and to get a glimpse at the past – to feel what theatre used to be like, and to consider what it means to us now. It's a pleasant way to spend an afternoon or an evening. Wear comfortable shoes. Grab a snack at intermission. Relax into it.
Also at the Pop-up Globe:
The Comedy of Errors
The Merchant of Venice
A Midsummer Night's Dream
Details
Users say