1/5
Photograph: Lightbox Photography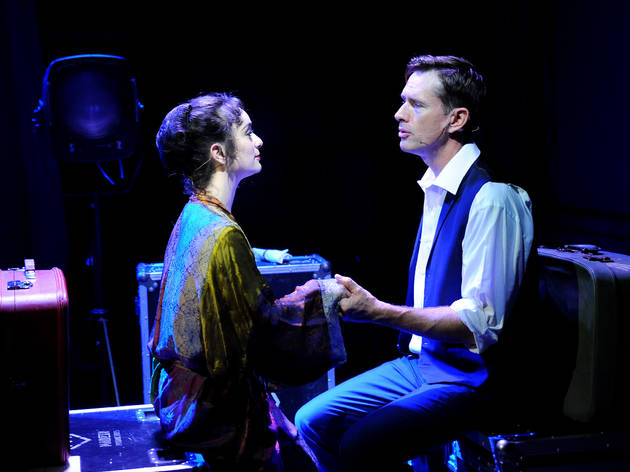 2/5
Photograph: Lightbox Photography
Angelique Cassimatis and Scott Irwin
3/5
Photograph: Lightbox Photography
Angelique Cassimatis
4/5
Photograph: Lightbox Photography
Deone Zanotto and ensemble credit
5/5
Photograph: Lightbox Photography
Broadway legend Jerry Herman's lesser known musical gets an indie production at the Hayes courtesy of Trevor Ashley
Mack and Mabel, about real-life old-Hollywood stars Mack Sennett and Mabel Normand, starred the legendary Bernadette Peters when it opened on Broadway in 1974. Despite netting eight Tony nominations, the show has never become an enduring hit (its unhappy ending was probably a bit much for audiences of the time, who were still expecting frothy musical comedy from the genre; also, the book is notoriously weak). Still, it has a lively and gorgeous score by Jerry Herman (Hello Dolly!, La Cage Aux Folles), which can prove irresistible to music theatre makers. In this case, performer/director Trevor Ashley, who last tackled Heathers the Musical, has taken up the challenge.
Mack Sennett was more or less the inventor of movie slapstick. A silent film mogul, he created the Bathing Beauties and Keystone Kops, and even signed Charlie Chaplin to his first American film. In the musical, Mack (Scott Irwin) is a selfish, work-obsessed micro-manager, but he can't help but fall for Mabel Normand (Angelique Cassimatis), his premier star, a comic genius, and the first known pie-in-the-face. He won't commit to her, but he can't bear to see her leave (which she eventually does, chasing legit stardom and legit love).
Ashley has highlighted Mack's role as the show's narrator (which in other hands could be a more stilted device, interrupting the action) by styling his asides as freeze-frame, fourth-wall breaking confessions. It's almost like the action of the piece bursts out of his memory, playing out on the same soundstage as he relives his triumphs and mistakes across New York and Los Angeles. Lauren Peters' set design and Angela White's costumes are a study in pleasing contrasts: the glamour of Hollywood costumes in the 1910s and 20s coupled with the grittier look of a rough-and-tumble studio warehouse.
The book (by Michael Stewart – and revised at one point in the 1990s by Sweet Valley High creator Francine Pascal) is entirely unbalanced, but Ashley's production does the best it can with the flawed source material. Beginning as a romantic workplace comedy, the script is too abrupt and under-developed. When the second half of the second act hurtles into an array of disasters and shocks about the disintegrating Mabel (her heroin addiction; the murder of her "friend" William Desmond Taylor, which she may have a hand in; her eventual death) we're not prepared for them. There's no narrative foreshadowing or groundwork to support the sudden turn, and it feels salacious and unnecessary, no matter how true.
Other endings have been tried out over the years – happy endings, with Mack and Mabel united, or more lurid endings that include the rape and murder scandals that re-defined the career and reputation of Fatty Arbuckle – but the book is difficult to correct and rehabilitate, no matter how much affection directors and the theatre community have for its accompanying score.
It also, of course, does Mabel Normand a great disservice. Primarily concerned with Mack Sennett and his doomed love for his young discovery, we only ever see Mabel through his eyes: as a larger-than-life young woman with too much ambition, eventually thwarted by her obsequious love for a couple of powerful men. Her talent as an actor is attributed solely to Mack, who directs her so completely he counts her every movement ("One you walk, two you turn"); you would never know from the show that Mabel was a big deal at the time, or that she directed films and ran a studio, all outside of Mack's influence.
But Ashley does some necessary course-correction. He can't completely transcend the book, but in his hands, Mabel is painted more as a natural talent slowly crushed by the industry she works in and the men who abuse her, both emotionally and physically. He draws clear lines from Mabel to Judy Garland and Marilyn Monroe, lifting Mabel out of her silent-film past onto a throne of queer diva worship.
He has also gathered together a strong cast: Irwin gives Sennett a conflicted, softer side, Cassimatis is unstoppable, and Deone Zanotto as fellow Sennett girl Lottie is a standout. Cameron Mitchell's choreography is playful, expansive, and somehow defies the logic of space as the ensemble flies seemingly forever across the tiny Hayes stage. The much-loved score is in the right hands, too: Bev Kennedy's musical direction is bright, lush, and infectious – you'll leave with at least one of the show's songs stuck in your head.
The show is worth seeing if you're into Old Hollywood (if you love the podcast You Must Remember This, you'll get a kick out of this production and its Easter eggs of Hollywood history) and a good score well-sung. Just don't expect the story to be well-crafted and the book to be more than perfunctory.