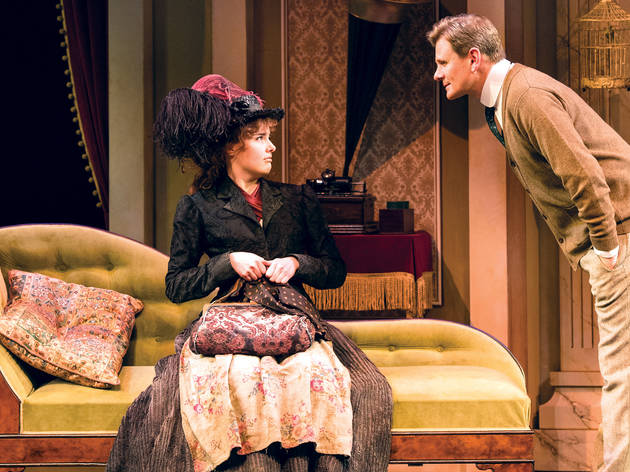 1/8
Photograph: Brian Geach
Anna O'Byrne and Charles Edwards in My Fair Lady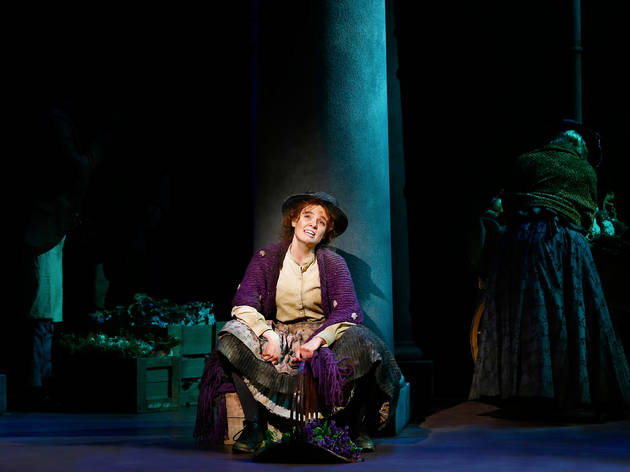 2/8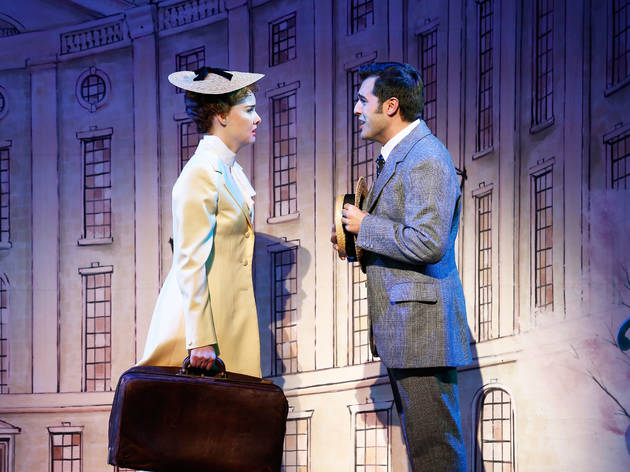 3/8
Anna O'Byrne and Mark Vincent
4/8
Photograph: Brian Geach
Anna O'Byrne and Charles Edwards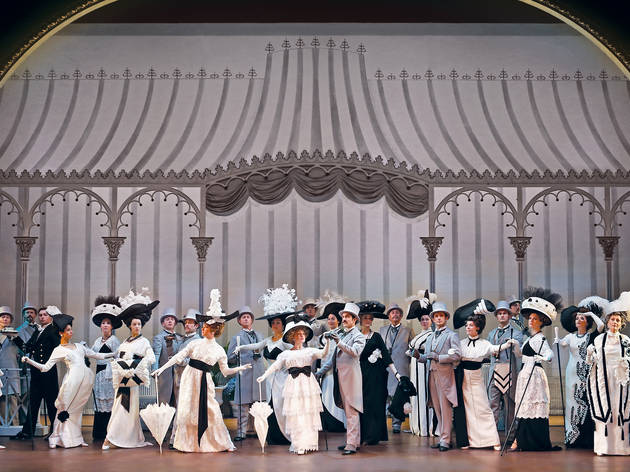 5/8
Photograph: Jeff Busby
The Ascot scene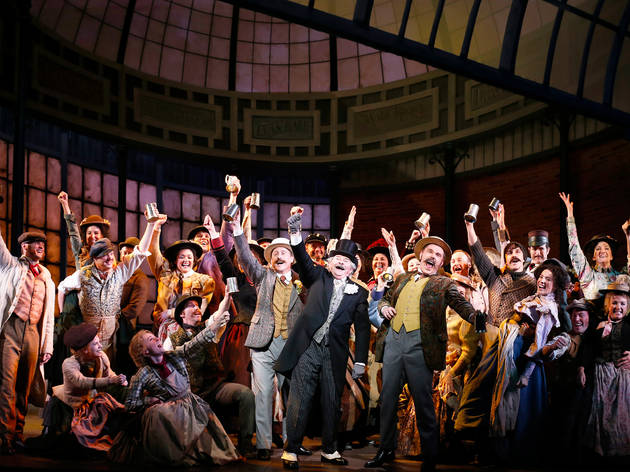 6/8
Photograph: Jeff Busby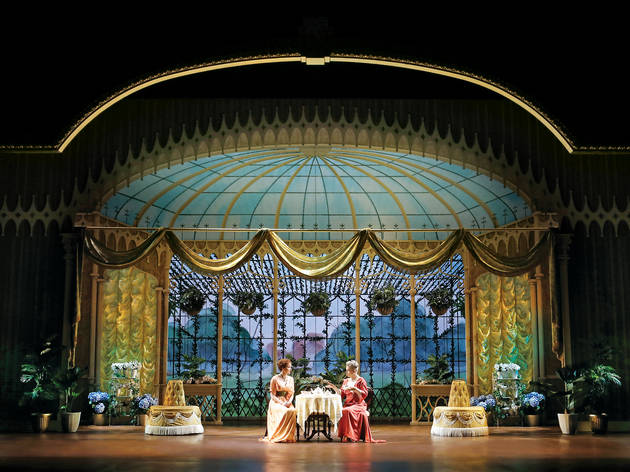 7/8
Photograph: Jeff Busby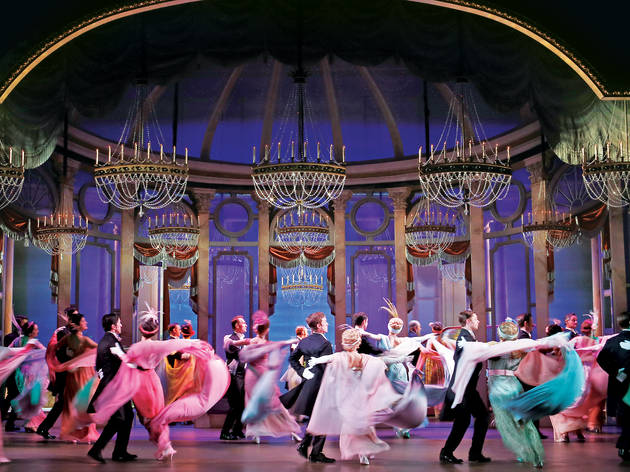 8/8
Photograph: Jeff Busby
Dame Julie Andrews' 60th anniversary production of the Tony Award-winning musical returns to Sydney for an encore season at the Capitol
Below is our 3-star 2016 review of My Fair Lady at Sydney Opera House, with a slightly different cast.
My Fair Lady made Julie Andrews a star when it opened on Broadway in 1956, beginning a juggernaut career for the future Mary Poppins and Maria von Trapp. For its 60th anniversary, Andrews has moved to the director's chair for a nostalgic production at the Sydney Opera House.
The show has an oddly beloved, enduring place in our collective Western consciousness. Based on George Bernard Shaw's play Pygmalion (though it's far less bleak), My Fair Lady is perhaps the most popular adaptation of the story, where a young working-class woman is transformed into a 'lady' by two older gentlemen, as part of a wager.
Andrews' revival comes with an extra gimmick: her production faithfully recreates each detail of the original run (then directed by Moss Hart) from sets to costumes and beyond. Old designs and designer assistants were tracked down and studied to make a show that looks just like any given night of its record-breaking 2,717-night run on Broadway in the 1950s – with the exception of fresh choreography by Tony-award winner Christopher Gattelli, which is inspired by Hanya Holm's original work.
Unlike other adaptations of Pygmalion that embrace contemporary culture and suggest that these class or makeover experiments also change the men for the better (e.g. She's All That or the swiftly cancelled but not without promise TV series Selfie) this replica My Fair Lady remains a product of its time. Its outdated gender politics are hard to ignore in 2016, and arguably shouldn't be.
The story is ostensibly about 21-year-old Cockney street hawker Eliza Doolittle (played here by Anna O'Byrne) and her transition from a "common, ignorant girl" into a "lady". However in adapting Shaw's story, Lerner and Loewe shifted the focus to Henry Higgins (British thesp Alex Jennings, who won an Olivier Award for the role in a previous production), the professor of phonetics who bets his pal Colonel Pickering (Tony Llewlleyn-Jones) he can pass Eliza off as a "duchess" with six months of voice coaching. He then proceeds to train her with all the determination (and disregard for personal feelings) of a drill sergeant.
Higgins is hard to like. Like the sculptor Pygmalion of Ovid's myth, he views Eliza as malleable material upon which to demonstrate his skills (as he tells Eliza in the second act, "There isn't an idea in your head or word in your mouth that I haven't put there.") From the get go, despite the misgivings of Colonel Pickering and warnings from his housekeeper Mrs Pearce, Prof. Higgins disregards any personal or emotional consequences for Eliza, who will surely be left stranded at the end of the experiment, a woman without a place to truly fit in. The script makes no bones about how cruel he is towards his protege – and his feelings about women generally are on the record from his own mouth ('A Hymn to Him' is just one of several rants).
The most generous reading of the gender politics of My Fair Lady is that it is more a comment on misogyny than it is an avowal of it. Shaw's original play gave Eliza far more agency than she is allowed in the musical, but Lerner's book and lyrics are structured frequently to suggest that self-important Higgins is the butt of the joke – that perhaps when he sings "why can't a woman be more like a man" we're not supposed to agree with him.
Certainly directors have some room to illuminate Higgins' egotism and direct audience laughter against him, or to tell a more equitable story through staging and direction. (For example last month's production of the show at the Bay Street Theatre in the United States' Sag Harbour, directed by Michael Arden, attempted to reframe the love story in Eliza's terms).
Andrews isn't making these kinds of choices, and in fact the show has a 'trapped in amber' feel. The Covent Garden scenes, especially in the second act, peddle the myth of the happy poor, and it's rare in this production that Higgins' cruel, sexist statements are met by a dramatic beat or look of incredulity by his scene partners. Higgins is instead indulged, painted as an erratic genius whose misogyny is a quirk that must be borne.
This idea that we've all simply got to 'put up with Higgins' is built into the script's ending, in which Eliza returns to Higgins even after he's made no acknowledgement of her feelings, no concession to her comfort, and has told her he refuses to change – to her obvious (in this production) distress. She says goodbye forever. Moments later (in stage time – a matter of hours, at most, in narrative time) she inexplicably returns to his house – and they resume their status quo. We're never given a chance to see what changes her mind, because the moment isn't about her – it's about Higgins' realisation instead.
There is some ambiguity to the ending and the nature of Eliza and Higgins' reconciliation – we don't know if they'll stay together, let alone marry – but in the style and convention of 1950s musicals, and with the markers of key numbers 'I've Grown Accustomed to her Face' and 'I Could Have Danced All Night', along with the strain of longed-for romance in 'Wouldn't it be Loverly', an expected romantic coupling is woven into the fabric of the show. Andrews' direction keeps that expectation intact. It's a hard pill to swallow.
Taken on its own terms, this production has undeniable strengths. O'Byrne has a clarion soprano that's perfectly at home in Loewe's iconic score, and her comic sensibilities are sharp as she tries out society life at the races. Jennings' Higgins has unflagging energy, injecting some much-needed dynamism into the book's dullest scenes. As his mother – one of the few characters who doesn't let Higgins get away with his casual cruelty – Robyn Nevin is a droll delight. Under Andrews and music director Guy Simpson, the ensemble sings with the expert, classical phrasing of the 1950s.
Andrews sometimes struggles with the smaller scenes, especially when they're largely made of exposition – a montage of Eliza's studying is more paint-by-numbers than character development – but every moment taking place at Ascot is a winner. From Eliza's exaggerated gentility and comic flair (no wonder Mark Vincent's Freddy is captivated by her), to the staging of the races itself, this run late in the first act captures some of the joy of the show – perhaps the only uncomplicated joy left to contemporary audiences.
This is the only real scene that lampoons the upper class as much as the rest of the show dismisses the underclass (Shaw's original portrait of the class divide was far more complex, but things are generally simplified in musicals) and it's due in large part to the sly, irresistible wit of Gattelli's choreography during the 'Ascot Gavotte.' Gattelli's particular magic in these large ensembles is creating individuals at a glance, with movement that denotes character and social mood rather than rigid uniformity, and this scene is packed with tiny, fully-realised moments that capture the potential of expansive musical numbers to create a real sense of place and person (watch out for two women discovering they are wearing the same outfit, from hat to shoe).
My Fair Lady is a product of musical theatre's much-revered Golden Age, where musicals began to have sustained books with real storylines – integrated musicals with scenes and songs that advanced the plot – and Lerner and Loewe are the first duo to have roaring success with the model perfected by Rodgers and Hammerstein in the late 1940s, and which prevails today. It was one of the earliest shows to take over the world – following the lead of Kiss Me Kate – travelling in its early years not just to the UK and central Europe but also to Israel, South America, and even the musical theatre-resistant France.
Andrews' production doesn't make a case for continuing reverence of the show; rather it's an odd, occasionally charming experience of a time ready to be left behind. Perhaps then it's for the best that her production is this deliberate, unchanged recreation from 1956. It belongs in the past and Andrews showed us the past – the only context in which the show worked.