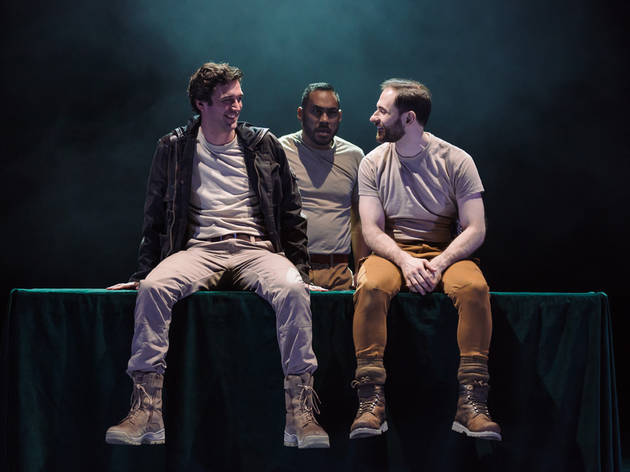 Ray Chong Nee and Yalin Ozucelik star in Bell Shakespeare's take on the classic revenge tragedy
When The Australian reviewed Bell Shakespeare's Othello in Melbourne, critic Chris Boyd told audiences they "had until December to miss it." With two months left on the clock and a multi-city tour in the rearview mirror, the production deserved fresh eyes and an open heart for its Sydney opening night.
It's not a winner.
Sometimes it's baffling that Othello is still beloved in 2016 – it has numerous problems with race and gender that rightfully give modern audiences and theatre-makers pause – but it contains that beautifully knotted Shakespearean language, and the cult of Shakespeare seems virtually unkillable at this point. (Just read the comments on any article that discusses the decision to give Christopher Marlowe a formal credit on a few of Shakespeare's works).
So Othello is here to stay. In this production Peter Evans (Bell's artistic director), has loosely cultivated a contemporary look and feel. Michael Hankin's set is shadowy and dominantly green (an easy nod to Othello's murderous jealousy) and actors frequently move the lights themselves to re-direct audience focus. His costumes are vaguely 'now' and – perhaps by design – are simple and muted. Shirts and vests for the men suggest their military identities and the women are identified, it seems, by colour – "strumpet" Bianca (Alice Keohavong) wears a deep red and Desdemona (Elizabeth Nabben) gentle pinks.
But within these sort-of-nowhere, sort-of-now parameters, and even though Evans has cut down some of the wordier passages, the production is muddy and inconsistent, starting so lightly that its ghastly ending feels unearned. Yalin Ozucelik's Iago is a sitcom villain; he starts and ends his soliloquies and asides with the most modern of fourth-wall breaking: the visual language of mockumentary (think those cut-to-camera reaction shots on Parks and Recreation or The Office). When a character behaves exactly as Iago would expect, he looks out at us and shrugs, or smirks, or sighs. He's basically Jim Halpert, crowing over a victory in his long-running prank offensive against Dwight Schrute.
Iago invites the audience to laugh with him as he dupes Othello, which puts us in an uncomfortable position – particularly in the final stretch, when Othello is cast as stupid and savage, and when Desdemona meets such a gut-wrenching end thanks to his machinations (not to mention the cold-blooded and casual slaughter of Iago's own wife, Emilia). It seems ill-conceived to cast Iago as cool, rather than cruel and genuinely villainous.
Ray Chong-Nee, our eponymous lead, is playing a thankless role in this Othello. At first he's pleasantly thoughtful and attractively charming. That's all gone after interval. When Othello begins to suffer fits of epilepsy that result in rage – in scenes that are unsubtle to a fault – he's more or less stripped of any of his pre-interval qualities.
Evans and key cast have said this production intended to explore Australia's domestic violence problem, but there's nothing exploratory about this production; it doesn't depart from the basics of the text. Emilia refuses to cover up her husband's lies – so he kills her. Desdemona refuses to agree that she's cheated on her husband – so he kills her. In this production, as in the text, Desdemona is little more than a cipher; she walks at a slower, less purposeful pace than the other characters onstage, she kisses Othello, she speaks fondly of everyone around her. Nabben imbues her with an unshakeable loveliness, but that's not much of a character. Her biggest moment is her death. We are subjected to a brutal, drawn-out death scene, where Desdemona fights against her husband, scrambling and kicking for breath. It's gratuitous and ugly. Several people gasped and murmured in the opening night audience. At least one person laughed.
There's a habit in current revivals of classics to 'tackle' the problems of the source material – usually around killing and torturing women – by staging them in gritty and violent ways. Hamlet, directed by Damien Ryan for Bell Shakespeare,seemed to pride itself on making Ophelia more real by increasing her torment and trauma; Evans' Othello takes the same approach.
But this is no substitute for showing these women as complex and realistic beings (and arguably that's something you can't do; there's no support for it in the script). To bring modern ideas to Othello, you would need to re-frame the play to highlight the wrongdoing of men, not the suffering of women; as it stands, female suffering has always been there, and male violence has always been tolerated.
There are also issues around race and representation issues in Evans' production: portraying Iago's murder of Emilia as far less brutal than Othello's of Desdemona plays into racial stereotypes – the more overtly aggressive murder is committed by the black man. This Othello uses the pain of women to tell a story about men. By staging it without addressing that, the company lionises the play at the expense of other perspectives. If women and people of colour had been in positions of literary and theatrical power for the past 400 years, we probably wouldn't still be talking about Othello.