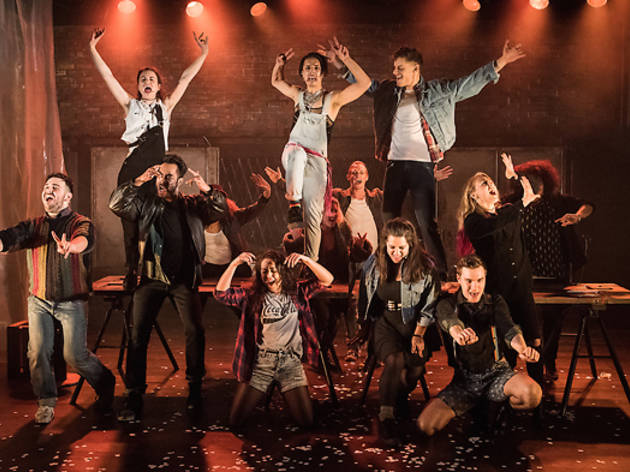 Shaun Rennie's pocket-rocket production of Jonathan Larson's Tony and Pulitzer Prize-winning '90s rock opera returns to the Hayes in 2016
Our review of Rent's 2015 season at the Hayes
Rent is the bushfire of musical theatre: it explodes from seemingly nowhere and consumes everything in its path until it has completely taken over. Its off-Broadway opening was preceded by the sudden death of its creator, the young Jonathan Larson, and since then the show has barrelled into cult status on Broadway and off again, and has made stars of many of its original cast (including Idina Menzel and Taye Diggs). And on opening night at the Hayes, the performance was halted by a false-alarm fire alarm and hasty evacuation. The show is hot.
Rent isn't a perfect text – it is frequently overwrought, some of the lyrics need finessing, and the storyline could be streamlined, cut, or altered to have more dramatic impact. But it was preserved in its original state as the testament of a young artist who wrote with Feelings. And those feelings, which still ring true, have carried Rent through musical theatre history in much the same way as Les Misérables has been propelled by shameless emotion.
Larson's rock opera is about young artists in New York City in the very early '90s, and is based on Puccini's La Bohème. It's laced with an urgency, fear and rage stemming from the AIDS crisis and New York's creeping gentrification. Is there a place for these queer, bohemian misfits anymore? How can they live a meaningful life when they keep selling out, breaking up, and dying?
Highway Run Productions have put this ball of raw emotion into the 110-seat Hayes Theatre and, directed by Shaun Rennie, it ignites almost immediately.
It isn't a perfect production: the musical direction (by Andrew Worboys) is confused and disconnected from the performers, and the sound design (Jed Silver) and mic cues are either terribly unrehearsed or terribly ineffective. The loss of clarity in the sound occasionally seems to intimidate the performers, who lose themselves, and their connection with each other, for a few seconds each time. But so much about the production feels right despite these moments of dissonance or divorce between singers and music and mics.
The set design (Lauren Peters) immediately summons the world of Rent; a spare artist's loft grounds the show in a distinct feeling of place. Andy Dexterity has woven Auslan into his choreography of the show, which thrusts the emotion home harder (it's particularly affecting in 'Will I?', a number about death and dying).
Rennie, a performer who directs here for the first time, strikes boldly, starting the second act with a genuinely lovely surprise, and pushing his actors into finding the less pretty reality of their characters: messy sobs, naked fear.
The cast isn't afraid of being swallowed up by the high-stakes, opera-inspired emotion of the show. Casey Donovan is outstanding as Joanne, the strident lesbian lawyer who is dating the fickle artist Maureen (Laura Bunting, who executes the performance art-comedy number 'Over the Moon' with a hilarious sincerity). Donovan and Bunting's duet 'Take Me Or Leave Me' resulted in floor-shaking applause more than three times before it was over.
Stephen Madsen finds something heartbreaking in Mark, the filmmaker who is terrified of being alone – a part often reduced to caricature. There's a pleasing, accessible humanity across all the performers: Collins (Nana Matapule), Benny (Matthew Pearce) and Roger (Linden Furnell) join Madsen's Mark in evoking a dysfunctional long-term friendship with the smallest of actions.
Mimi (Loren Hunter) the young dancer and addict, is desperate and scared. Her 'Out Tonight' is more plea for help than empowerment, and it feels right.
Christopher Scalzo's Angel is a casually genderfucked sweetheart who doesn't preside too much over the rest of the cast as an untouchable, tragic angel. In 'Contact', Angel's swan song, Scalzo emerges from an uninhibited party unable to return. It's almost a real revelation – a summation in just a couple of minutes of the loss and devastation of the AIDS crisis within the gay community, and how sufferers were cruelly ejected from their own self- and sexual- expression. With a little more clarity in its direction – the ensemble seems aimless behind a plastic curtain – this sequence (typically one of the more cringe-worthy in the show's production history) could be deeply poignant.
If this production can tighten up, refine, and rework, it could be unstoppable. Since it is already sold out, let's hope this affords the creative team the chance to rest after the run, and then come back with fresh eyes, make a couple of tweaks, and live on anew – as Rent seems to always do.