See Danielle Cormack in this hilarious take on a classic
The Wentworth star is returning to the stage to tackle the title role in this reimagining of The Misanthrope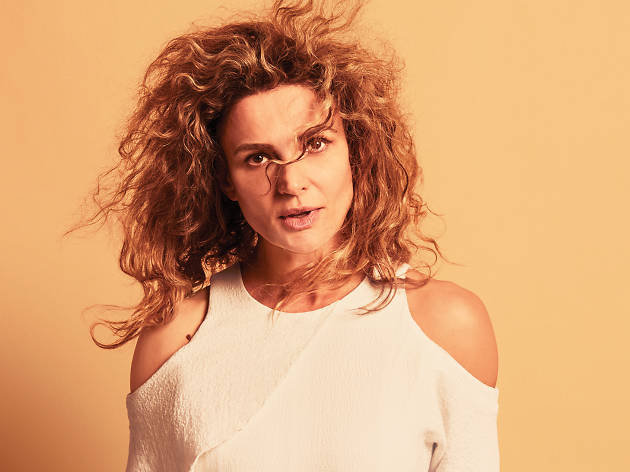 It's not every day you see a play written entirely in rhyming verse. When Molière was working in the 17th century, almost every playwright was using rhymes to show their quick wit and extensive vocabularies. But although Lin-Manuel Miranda made rhyming couplets cool again with his hit musical Hamilton, the comedic potential of a killer couplet has been largely forgotten in the theatre. (So has the joy of a great dirty rhyme; although most still remember that "there once was a man from Nantucket".)
Wentworth star Danielle Cormack is about to dive headfirst into a world of rhyme as she makes her return to theatre after three years with a new adaptation of Molière's The Misanthrope at the Sydney Opera House from August 28.
"I've been doing a lot of screen work so I was really excited to get back on stage," she says. "And what better way than to throw myself into the belly of the beast doing a Molière?"
Not that this production will be much like what Molière might have envisioned. The play retains Molière's plot – the central character Alceste finds himself in serious trouble as he shuns high society's hypocritical niceties – but has been translated and updated into modern Australian English by Justin Fleming. It'll sound just like the conversations you might hear walking up to the Opera House; apart from the fact that everything rhymes.
Helpmann Award winning director Lee Lewis has worked on two of Fleming's Molière adaptations before, which have proven hugely popular with audiences. But although this is Bell Shakespeare's fourth Fleming-Molière adaptation and its second with Griffin Theatre Company, audiences still come in with preconceptions and don't expect to get many laughs out of the rhyming verse.
"It's probably because their memory of rhyme goes back to school and how much they hated poetry," Lewis says. "But actually, it's a lot of fun and Justin is very clever with it; it's not repetitive, and there are moments where you can sense what the rhyme should be and you get a bit ahead of it, and then you've just got audaciously failed rhymes which are hysterical."
Lewis's production is set in the music industry on the day of a video shoot, so it'll have a distinctively rock'n'roll flair. She says the biggest challenge is to make sure the people on stage are the people of Sydney today, given that Molière was directly satirising and poking fun at his own audience.
"The things that he was sending up then are still the things that are ridiculous now: the pretensions," Lewis says. "He was writing in such a pretentious age, and for some reason that seems to fit with Sydney these days."
The other big change is that Fleming and Lewis have flipped the gender of several of the characters, which means there's now a core relationship between an older woman and a younger man. Cormack will play the titular misanthrope – traditionally played by a man – who is totally out of step with polite society and cuts through its hypocrisies and facades with a no-BS approach.
"Honestly, I just don't think we're really interested in seeing another discontented older man going 'I've had it with the world,'" Lewis says. "We've seen that before. But seeing a discontented older woman saying 'I've had it with the world'? That's kind of new."
For Lewis there was one clear choice for the role, actor and unlikely motorcycle enthusiast Danielle Cormack.
"There's a bit of Danielle that's a little bit 'fuck it, of course I can do anything,'" Lewis says. "She's a strong woman who's run her own career her own way; she's moved across countries to build her career."
Her character's attitude lands her in a fair degree of trouble, but Cormack says she admires her straight-shooting approach and thinks we can learn a lot from her when our perception of people is manipulated through social media and women are speaking truth to power more frequently.
"At a time when there's a huge movement of women calling out certain biases within society, it's really interesting," she says. "Historically, when women have had a voice they're labelled very differently than men… I think it would be impossible for this production not to project and reflect on current gender politics in the world right now."
Lewis agrees that we're seeing a significant shift, but questions how many women are truly able to speak their mind when not in the company of friends.
"I don't think we know that many women who are powerful and secure enough to be that honest," she says. "I think women have to play the game in a lot more savvy ways than men. So I think [the character] is a little bit of a fantasy figure at the moment, but I hope it's a vision of what might be possible one day."
Cormack admits Molière is about as far away from her recent work as you can possibly get as an actor – and that the prospect of speaking rhyming couplets is quite daunting – but that the core of what she does is the same whether she's playing an inmate at Wentworth Prison or a rhyming society figure who refuses to make nice with the people who surround her.
"We're telling stories that come from our human experience," she says. "It's finding the truth in that, and however it's delivered is just the technical side of it. Yes, I do have a lot of work to do in getting my theatre legs again, but that's what I love about crossing mediums – the heartbeat is still the same, you just find a different body."
The other thing that may change from medium to medium is the audience, but Cormack hopes those who've enjoyed her screen work will find a way into the stage classics with The Misanthrope.
"Although it's rhyming couplets, it's really accessible; it's funny, it's brash. And I implore anyone that feels a little bit shy of going to a Shakespearean play – either written by Shakespeare or a work of that ilk – to throw themselves into it."
The Misanthrope is at the Sydney Opera House from August 28 to September 28.