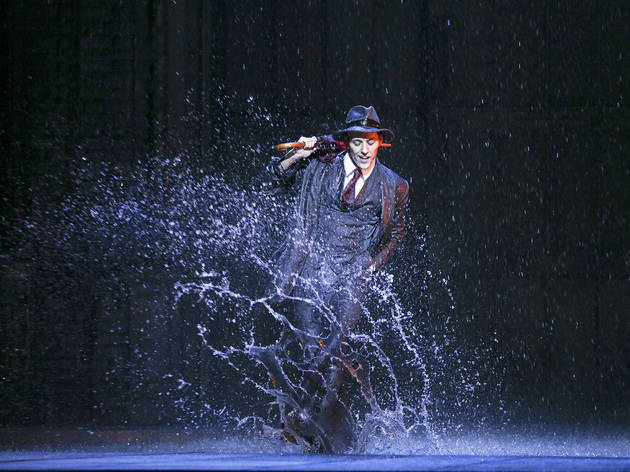 Time Out says
It's got 6000 litres of water – but does this musical theatre remake of the near-perfect film float?
When 'old Hollywood' star Don Lockwood (Grant Almirall) says goodbye to his new love, aspiring actress Kathy Selden (Gretel Scarlett), after a night of scheming to save a doomed movie, the skies open and rain begins to fall – 6,000 litres of it, right onto the Lyric Theatre stage. It's time for the title number of Singin' in the Rain, the 2012 UK stage adaptation of the near-perfect 1952 film.
This moment is one of giddy stage magic. Looking every inch an old-school song and dance man, Almirall twirls on a lamppost and kicks up majestic sprays from growing puddles (ponchos are distributed for those audience members sitting in the "splash zone"). Don Lockwood is on top of the world, lovestruck and drenched. It's an oversized, overblown, indulgently romantic number. It is the American musical writ large; it is exactly why Singin' in the Rain should exist on stage.
But this is only one moment. And when recycled water isn't spilling from a complicated overhead system, this show tends to fall flat. In this production, directed by Jonathan Church (who recently exited his new post as Artistic Director of Sydney Theatre Company in abrupt, mysterious circumstances), the show feels more exposition than exhibition, and surprisingly staid.
Maybe, while we weren't looking, this beloved musical grew old.
The cast is bursting with talent. As Lockwood and his longtime friend and sidekick Cosmo Brown, Almirall and Jack Chambers are full of charisma and fast-talking asides. Chambers draws gleefully on Cosmo's vaudevillian shtick, and seems so constantly in motion he almost vibrates. Almirall (taking the lead after star Adam Garcia and understudy Rob Mallett both suffered injuries in the role) is his slick, polished counterpart. Completing the trio as the brains of the operation is Gretel Scarlett's Kathy, an effortless triple-threat. She isn't performing glamour so much as she embodies it, with clean lines and a clear, supple voice.
But it's Erika Heynatz, the onetime model and TV host who first dipped her toe into musical theatre in 2012's Legally Blonde the Musical, who just about steals the show. Her Lina Lamont – the silent film beauty whose shrill voice and harmless villainy makes her a liability in the talkie revolution – is a studied and sustained broad comedy vehicle that's full of sly joy and remarkable voice work.
In between Lina's plotting and Kathy's earnest, no-nonsense romanticism, there are a lot of scenes that feel like a blur of mind-numbing background and dialogue. The changing tides of the movie business from silent films to talkies feels very low-stakes – even Don and Lina's awful test screening seems inconsequential, even though it drives the bulk of the show's plot – and the quickly-resolved antagonism that precedes the romance between Don and Kathy feels unearned and uneven.
The book scenes are more or less dead air, and it's a jarring disappointment. The musical numbers are more high energy, but 'Good Mornin' and 'Broadway Ballet' feel like they're only just reaching their glorious apex before the energy is undercut by choreography (by Andrew Wright) that feels aimlessly dynamic – movement for the sake of movement, rather than in service to the scene or story). Even 'Moses Supposes,' that great tap-and-patter song, feels subdued.
This production of Singin' in the Rain is a strange beast. It looks beautiful, and sounds beautiful, but only when it's at its most extravagant, raining in that generous way it should always rain for dazzled lovers, does it begin to feel beautiful. And you can't make it rain all the time.
Details
Best selling Time Out Offers