The Bridges of Madison County: cancelled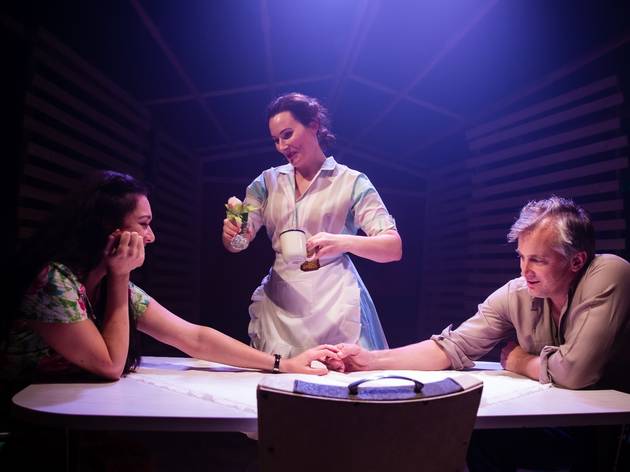 Time Out says
Hayes Theatre cancel The Bridges of Madison County, postpone remaining season.
This event has been cancelled due to the government ban on mass gatherings during the COVID-19 pandemic
STATEMENT
"Sadly, the intimacy and immediacy of a performance at Hayes is incompatible with social distancing recommendations and the health and wellbeing of our performers, staff and patrons has to be of the upmost priority right now. We're devastated by the impact being felt right across the creative community and the loss of opportunity for our incredible artists. Making art is hard; this goes far beyond that.

We're not stopping working at Hayes. We'll be putting our energy and resources into creative development and when the time comes to welcome audiences back, we promise to have wonders in store for you.

If you have tickets to any of the three productions, a member of our box office team will be in touch to organise a full refund (including booking fee). We'd like to ask that you consider converting the value of your tickets to a tax-deductible donation to Hayes, if it's within your means. Support from individuals is a huge part of our income and the only way we can put our musicals onstage. To lose that support as well as our box office income for the next three months would be a terrible blow to the company and our future productions."
REVIEW
Musical theatre is a great fit for a love story. Romance opens itself up easily to music. Scenes and scenery fly away in whirlwinds of revelations and suddenly you're lost in song. The Bridges of Madison County, now open at the Hayes Theatre after a long journey from the Robert James Waller novella to the Meryl Streep film and on to a Broadway flop, wants to be that kind of love story: the kind that makes you sigh and weep.
It sort of works.
The story is a product of very specific, early 1990s romantic daydreams transposed to the mid-sixties. Francesca (Kate Maree Hoolihan) left Italy as a young woman to marry Bud (Anton Berezin), an American GI serving in Europe during the war. Having raised a family with him in Iowa, she's happy enough, but as many women do, she's given up essential pieces of herself to fit into what is expected of a wife and a mother.
When her husband and children are away at a fair for a few days, Francesca's ready to enjoy some solitude. But then a National Geographic photographer named Robert (Ian Stenlake) pulls into her driveway to ask for directions, and her world breaks open.
Embarking on a passionate affair that seems to bring out their best, Francesca becomes increasingly creative, droll and vibrant. Robert, a loner, seeks out more intimacy and connection. But she's married and he's only in town to photograph the county's notable covered bridges. Can this love survive?
Composer Jason Robert Brown has scored the piece like it's the biggest and most important love story in the world. His songs are aiming at epic written with a nod to the classic age of Broadway. Indulgent, they muddle into a puddle of sameness for the most part (it's a rare musical score that can make you wish for fewer songs, but here we are).
Structurally, too, the show looks backwards for its inspiration, written with recognisable archetypes and plot progressions. Though Marsha Norman's book has some genuinely sharp moments, it doesn't mitigate the show's dated feel.
It doesn't help that, despite the musical resting on Francesca's shoulders, it's exceedingly judgmental of its women and reverential of its men. Robert, the photographer artist, is given a mystic understanding of the real world that Francesca – who has raised a family, crossed oceans, loved and lost – is frequently denied. Robert's viewpoint is so superior that the moment after he explains his ex-wife wasn't a photographer, she appears for a single song (the very pretty 'Another Life', performed with total conviction here by Katie McKee), that's built entirely out of photographic imagery.
Imagery matters, and it drives this show. Bridges is at war with itself. It knows that Francesca is its heart and soul, but it can't help trying to flatten her. Robert sings long declarations of feeling, she contributes a series of 'ohs' or joins him on a line. Francesca carries the show's emotional load, but Robert's given more words for it. She sings directly, with descriptive lyrics grounded in time, place, and plot. Robert, on the other hand, is given the gift of telescoping metaphor – the musical theatre equivalent of transcendence.
Director Neil Gooding's production is occasionally laboured. James Browne's striking set, evoking a covered bridge and burning sky, requires a lot of fussing and moving between scenes, and sometimes the lingering impact of a moment is sacrificed to get a wall back into place before the next scene can begin. For a show that depends on our emotional investment, those lost seconds matter.
Still, Hoolihan is a dream as Francesca, imbuing a broadly written character with loving detail and clarion vocals. She's a leading lady with a heart on her sleeve, a quick wit with devastating emotional availability. This production is very lucky indeed to have her. Stenlake pushes himself admirably as Robert, but the pair together are a black hole for chemistry. There's none to be found. The show feels thin without that connection, every fumble and flaw in book and music are exposed.
Beth Daly and Michael Beckley deliver perfectly calibrated performances as Marge and Charlie, an archetypical comic secondary couple with love for, respectively, drama and pie. Their musical numbers – layering laughter with feeling as the main plot advances around them – manage to steal the moment from the central couple every time. Zoe Ioannou and Grady Swithenbank round out the cast with crisp and charming performances as Francesca's children.
Musical director Geoffrey Castles confidently leads the band in its swings between old Broadway sincerity and down-home dirt – you can't help but wish for more bluegrass and folk and less forced beauty, but the strings prevail and, here at the Hayes, they sound good.
If it could just be all lush melodies and blinding chemistry, then perhaps you could forgive Bridges its sins. It does manage to capture something ineffable about falling in love: how extraordinary it feels, and yet mundane. It's not new, but it's always new. The world doesn't change, but the lovers do. "I want to believe," sings Francesca, "That we are the first people on Earth to know this feeling." The whole musical turns on that feeling. This production gets halfway there.
Details
Users say