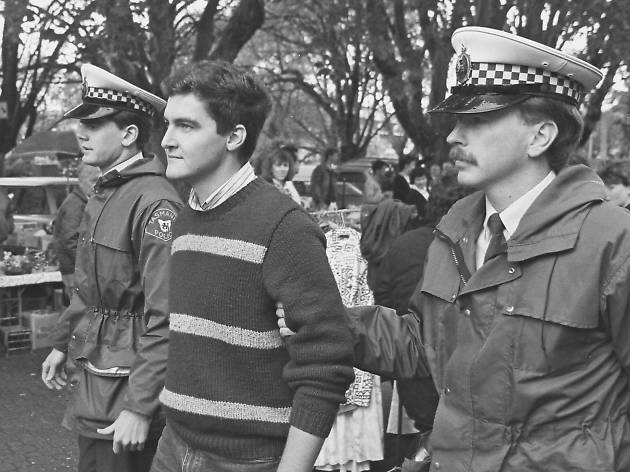 Time Out says
From hatred to triumph: this new Australian play charts the history of gay law reform in Tasmania
How do you tell the story of social change? How do you track the path activists and homophobes – never mind a whole state – took to achieve gay law reform? That's the mission of The Campaign, which looks inside the struggle to take Tasmania from some of the most harmful laws in the world against its LGBTQIA residents into a state with some of the best.
Written by Campion Decent as verbatim theatre – a work strung together using interviews and archive material with just a little creative license – the play focuses on activists Rodney Croome (Mathew Lee) and Nick Toonen (Simon Croker), plus Christine Milne (Jane Phegan), Michael Kirby (Tim McGarry), and Lee-Gwen Booth (Madeline MacRae), among an array of supporting voices, all played by the small ensemble. It moves forward through time from mass arrests at the Salamanca markets in 1988 all the way to the United Nations.
The tone is light and flattened out; cruel words and traumatic experiences laughed off, wins punctuated with Lady Gaga or Diana Ross. This is a story told by victors, constructed with triumph. There's a happy ending, and Decent seems anxious to keep that in mind, reluctant to linger in anything that might hurt. The script skips and skitters forward and so does Kim Hardwick's direction, unwilling to let too many milestone moments land in case the gravity of them sinks in.
The ensemble are a good-natured unit, game for anything as they transform into an array of characters from scene to scene. The few moments allowed to be poignant are moving (perhaps the survivors from this time couldn't bear to linger in their interviews, either), and there's a sense of rightness, that justice was done. This is verbatim theatre as affirmation.
Of course, this isn't the full story. A dismissive joke about the "alphabet soup" of the queer community acronym is as far as the play goes in encompassing more than a narrow experience of LGBTIQA life in Tasmania – we're looking at a movement and its instigators, which necessarily privileges the stories of a subsection of the community. Here again the play's reluctance to go deep limits it: there are brief nods to broader experiences, broader community, but those stories aren't as happy, and they don't fit with the broader narrative.
This is a play about struggle that wants to be an earnest celebration, and on balance, that's exactly what it is. It's an illuminating look inside a movement that shaped a state and later the rest of the country – Croome was on the frontline of marriage equality activism, too, and says that many of the tactics used during public debate on the issue were identical to tactics used in Tasmania – and it's historical context writ positive. It has a broad, welcoming approach: good for teens and straight allies, a theatrical nightlight for a dark history.
Details
Best selling Time Out Offers