Thrones! The Musical Parody review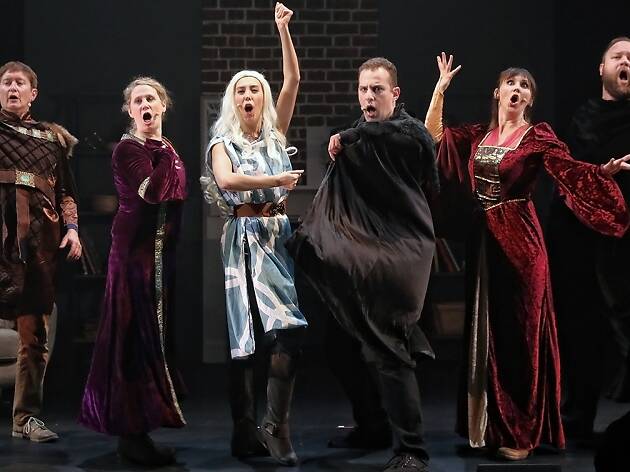 Time Out says
Condensing the Seven (sorry, Six) Kingdoms into one lounge room, this musical sendup refuses to bend the knee to coherence
You have to hand it to the creators of Thrones! – they've faced down a deadline as terrifying as an army of White Walkers and triumphed. In less than a month since the final episode of Game of Thrones aired, they have updated their four-year-old musical parody to include jokes, asides and entire sequences that reference the ending of the eighth season. It's a mark of the dedication of its creators, but also of the loose, let's-just-cram-everything-in format of the stage show, which premiered in Los Angeles in 2015 and has played the Edinburgh Festival four years in a row as well as the 2019 Adelaide Festival. Thrones! is less a coherent narrative than a bunch of musical and spoken word sketches. It's scattershot – veering from cogent analysis to smartarse gags to outright abuse, like an online discussion thread come to life – although when it hits, it pierces the funny bone like dragonglass.
The ostensible plot has five friends at a viewing party for the final episode trying to get a sixth friend, Linda (Leslie Collins) – a GoT virgin – up to speed with the entire series. With a few makeshift costumes and props, they perform songs in a variety of genres that outline the characters, interrogate plot points and delineate the things that annoy them about the show, from Ed Sheeran's cameo to why did Rickon run in a straight line? We get a love duet, 'You Know Nothing Jon Snow (But I Want to Know You).' The notorious Red Wedding is re-enacted as a fiendishly clever gangsta rap number, 'Stabbin', while a show-stopping tribute to the gentle giant Hodor, 'Hold the Door', is in the stirring style of an African-American spiritual.
The American cast are seasoned comedians with real singing and dancing clout and hilariously bad British accents. (Jordan Stidham, whose character, Tom, takes on the role of Jon Snow, gets a laugh every time he opens his mouth.) They rhyme 'Khaleesi' with 'cheesy'; they base an entire song around the vast list of character names; they make a dragon out of an umbrella and some curtains. Much of the humour, however, is crude without being funny, and it seems mean spirited to make a joke about Tyrion's stature by having an actor portray him on his knees. But then they win you back with a hats-and-canes routine between King Joffrey and Ramsay Bolton (Mary Lou Kolbenschlag and Ashley Ward): "It tortures me," these soft-shoe sadists sing, "when I'm not torturing."
What the show doesn't do is provide a real story arc for its meta-characters. When Linda, a divorcee, sings of feeling "like a minor character in your own show", it's merely a cue to bring Oberyn Martel and Stannis Baratheon onto the stage so we can laugh in recognition. It eventually devolves into a pop-culture mash-up as the friends decide that GoT is whatever they want it to be, and chaos ensues. Like the controversial eighth season itself, Thrones! is both slightly disappointing and something that no true fan would dream of missing.
Details
Best selling Time Out Offers