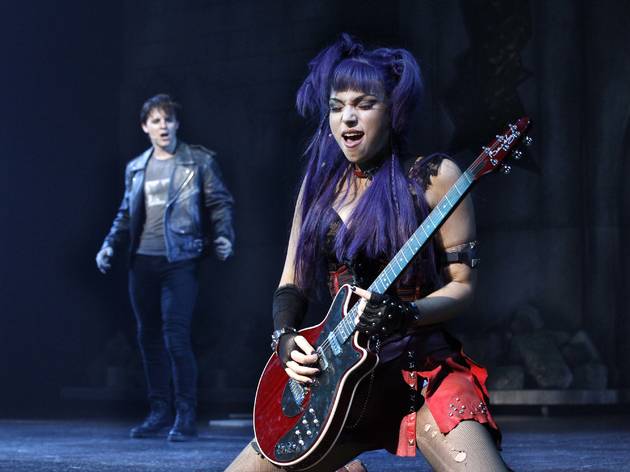 1/9
Photograph: Jeff Busby
Erin Clare as Scaramouche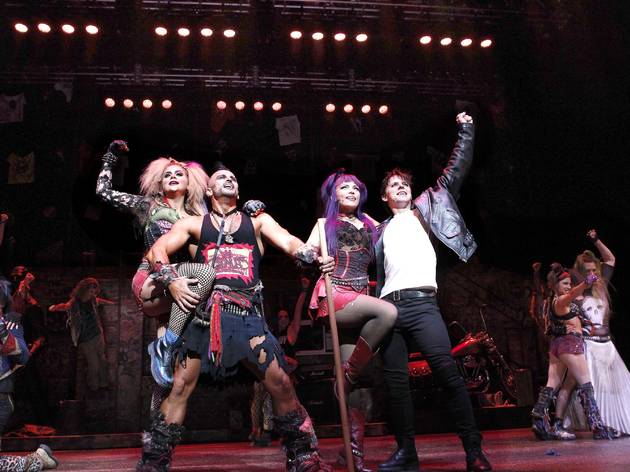 2/9
Photograph: Jeff Busby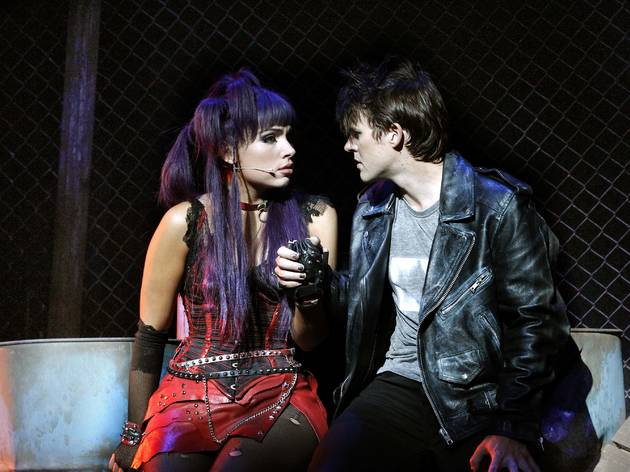 3/9
Photograph: Jeff Busby
Erin Clare and Gareth Keegan (Galileo)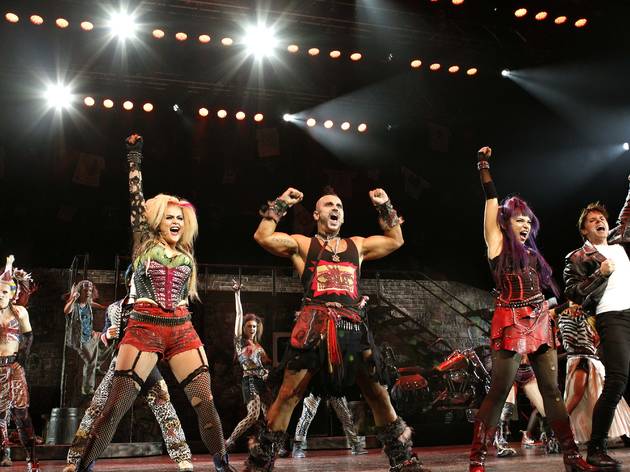 4/9
Photograph: Jeff Busby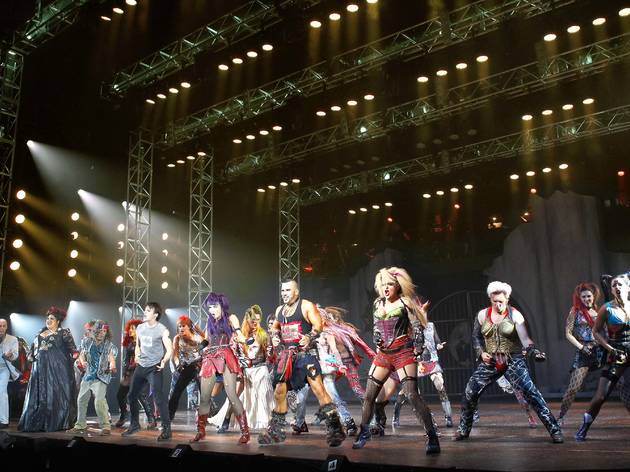 5/9
Photograph: Jeff Busby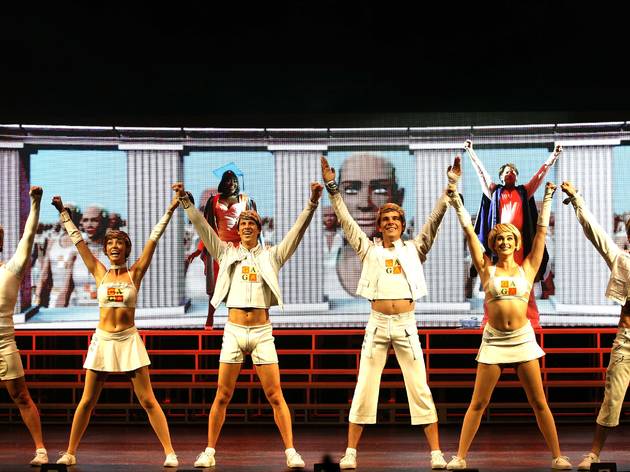 6/9
Photograph: Jeff Busby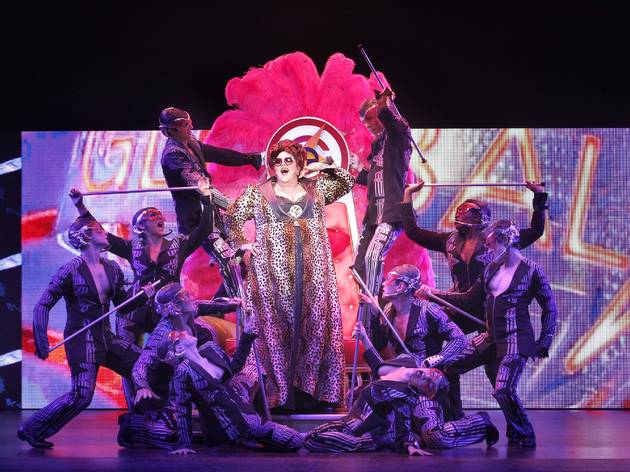 7/9
Photograph: Jeff Busby
Casey Donovan as Killer Queen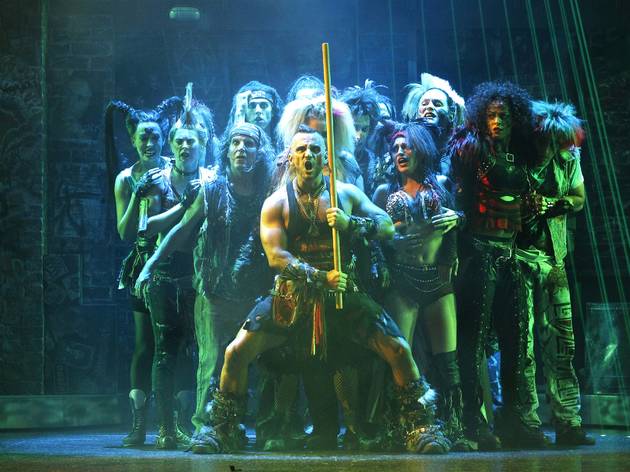 8/9
Photograph: Jeff Busby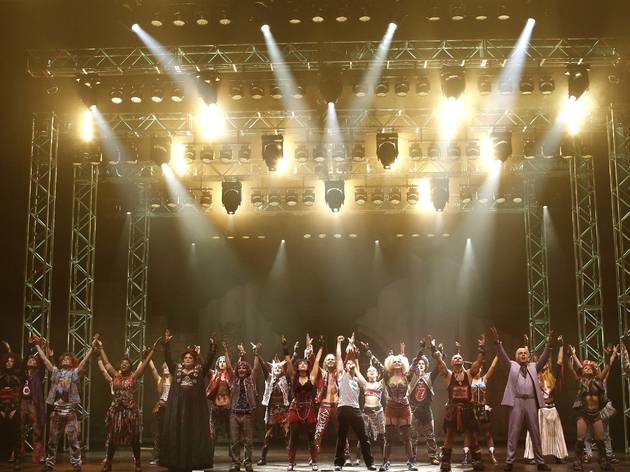 9/9
Photograph: Jeff Busby
Ben Elton's juggernaut Queen musical is still the mindless fun it intended to be – but the real reason to see this new production is its young star
We Will Rock You has done a cracking trade peddling mindless fun. It opened at London's Dominion Theatre in 2002 to mixed reviews, but ran there for a massive 12 years. It's been seen in Moscow, Tokyo, Berlin, on a cruise ship, in Las Vegas – but notably, not Broadway. It first touched down in Oz in 2004, where it took out took out five Helpmann Awards.
This new production is actually a little stronger than the 2004 iteration – but it nevertheless creaks under the weight of dated references and its poorly-executed book.
The story is by Ben Elton, who has written, among other things, 15 novels, TV shows including Blackadder and The Young Ones, and Phantom of the Opera sequel Love Never Dies. It takes place on the planet once known as Earth, now an iPlanet run by the powerful Globalsoft Corporation, whose undisputed leader, Killer Queen (played here by Casey Donovan), is a video game character brought to life. All music, except that created by the corporation, is banned. Making or playing musical instruments is forbidden. Since the musical is held together by the songs of legendary rock band Queen, it's a pretty safe bet that these restrictions will be overturned in the end by our hero, a dreamer named Galileo (Gareth Keegan, in a generally empty, well-intentioned performance that never quite soars) and his reluctant partner in crime Scaramouche (the stunning Erin Clare).
Everything about the show is just enough to get by. It rests on its laurels and on its already-a-hit songs – and it's a formula that has worked for plenty of shows since musical theatre took off: not just shows like Jersey Boys, featuring the music of one artist, but shows like Cole Porter's Anything Goes (1934) and Paris (1928), which worked the composer's popular songs in with his new musical theatre numbers.
We Will Rock You has familiar story beats – the hero's journey – and reasonably high stakes. That the writing is poor and the tech references are dated (except for some cringey updates about Twitter) doesn't matter – it feels like it might be a good story, and there are plenty of bright lights and pyrotechnics to convince you. The songs don't always make sense in place with the book, but they're brilliant songs, so many won't care whether they make dramaturgical sense. (And the show does make more sense, in its revised form, than when it was last in Sydney: the addition of 'You're My Best Friend' allows the relationship between Galileo and Scaramouche to evolve in a more organic and pleasing way, and brings out a glimmer of a storyline – loneliness in a life lived online – that is genuinely interesting).
But if you accept We Will Rock You on its own terms – as fun rather than art – then you'll probably have a great time. And the audience on opening night did: they cheered at a reference to '80s Aussie rockers the Uncanny X-Men whose frontman, Brian Mannix, plays an aging Bohemian onstage; they got a kick out of rousing old songs sung well, as when Casey Donovan dominated 'Another One Bites The Dust.'
Perhaps the main obstacle between the audience and a good time is the sound mix: voices are lost too often in poor balance with the (generally fantastic) band – and when most of the cast are excellent rock vocalists, that is a real shame. No one should miss a note of Jaz Flowers' feisty bohemian Oz, who brings a rowdy crowd to quiet and tears with her rendition of 'No One But You.' It's an issue that may be resolved into the season.
The best and most compelling reason to see this iteration of We Will Rock You, though, is to see a star in her breakthrough role. Erin Clare has only a handful of credits to her name, including a supporting role in Heathers at the Hayes Theatre and the title role in Bonnie Lythgoe's Snow White pantomime. Here she takes on a leading role that is vocally demanding (she all but raises the roof with a stormy, gorgeously complex 'Somebody To Love' within the first few minutes she's onstage) and arguably requires the most acting of all the parts. As a young woman furious at the world and its limitations, Scaramouche is quick with insults, and Clare's deadpan delivery of these makes it all the more exciting as her character slowly starts to consider that she might like – and maybe love – the dreamer Galileo.
Expect to see Clare in all your favourite shows in 2017 and beyond – and enjoy being able to say you saw her in those electric moments when she opened her mouth and bewitched us all for the first time.
The rest is just window-dressing and rock and roll.