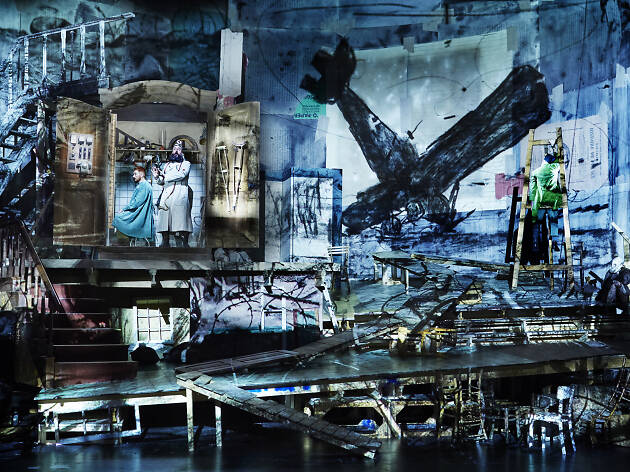 1/4
Photograph: Keith Saunders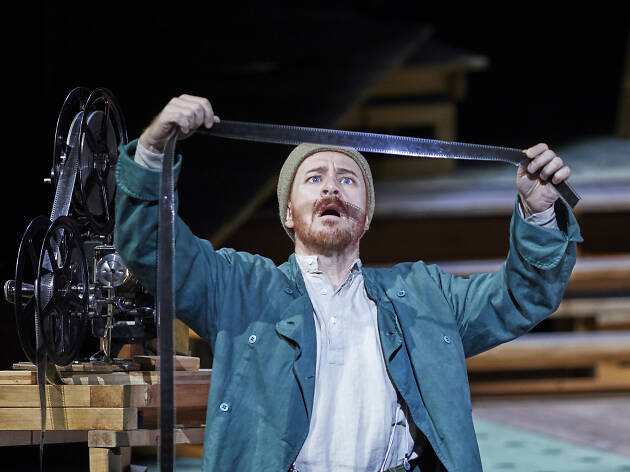 2/4
Photograph: Keith Saunders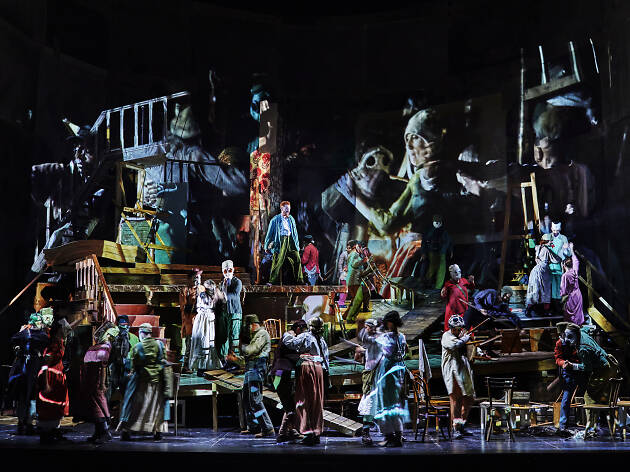 3/4
Photograph: Keith Saunders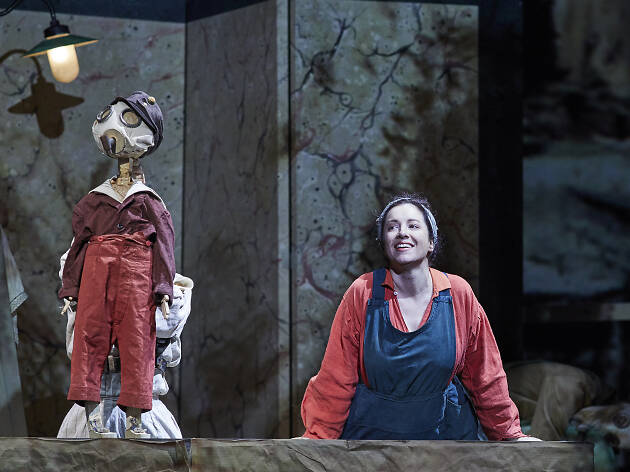 4/4
Photograph: Keith Saunders
Time Out says
South African artist William Kentridge brings his animations to this Opera Australia production
A program note for Opera Australia's new production of Wozzeck begins by saying that the text for the opera is "drawn from one of the most extraordinary dramas ever written." That's a pretty standard assessment when it comes to Georg Büchner's Woyzeck, the play the German writer was working on when he died in 1837 at the age of 23.
After having seen four versions of the play on stage, I'm not sure I agree. It's certainly a significant work, groundbreaking in its portrayal of the way that poverty, military and medical professionals can dehumanise a person. It's probably the novelty of the play's treatment of these issues – and the fact that a working-class tragedy was put on stage with such an uncompromising commitment to truth – that's led to the work's popularity among theatre artists. Whether it has aged well is another question; it's structurally weak (although that's hardly Büchner's fault as he left the work unfinished at his death) and has misogynistic undertones. Simply, there are better plays on this subject that tell more compelling stories than that of a soldier who's driven mad by his own degradation and eventually kills the woman he loves.
Alban Berg's 1925 opera based on the play is musically adventurous and accomplished, but does little to convince of the story's dramatic heft. It's a neatly trimmed back 100-minute, single-act opera, but this production, directed by South African artist William Kentridge and Luc de Wit, feels longer.
Kentridge's approach is to cover the stage with World War I-inspired handmade animations and sketches, projected onto a towering set of furniture and debris. The style of sketches will be familiar to anybody who knows Kentridge's visual arts practice: there are black and white scenes of conflict, disturbed figures, broken cities and even a robotic horse. They cover the set for the entire show and his moody images whirr away while the action plays out across the space.
The problem is, when you have 100 minutes of mostly atonal music coupled with 100 minutes of dizzying, overblown projections, the entire arc of the opera feels flattened out – and its emotional impact is flatter still. Nothing in the staging feels quite so dazzling when it's so relentless and excessive. The physical blocking of performances across the stage is also clumsy; perhaps the creatives think the projections will do all the work for them? Instead, they overwhelm – even the death scenes feel inconsequential, staged on a small platform toward the back of the stage.
Musically, this Wozzeck is another story. It's a challenging score for most audiences, but there's plenty of reward. There are few melodic themes to grasp onto, but Berg has matched each revelation in Büchner's play beat for beat, giving sparkling musical life to these characters.
Conductor Andrea Molina led the Opera Australia Orchestra through a vividly realised and richly textured performance on opening night. You could sense the enthusiasm emanating from the orchestra pit as the musicians were let loose on a score so adventurous and outside their usual remit.
The singers are similarly impressive: Michael Honeyman's vocal storytelling is superb in the title role, even if the staging leaves him with few opportunities to trace the character's gradual degradation. Lorina Gore is gorgeous as the mother of his child, Marie, and John Longmuir, Richard Anderson and Dominica Matthews all put their character skills to strong use as the often vile and thoughtless people surrounding Wozzeck.
The production has been met with rapturous acclaim by some critics – particularly those at Salzburg Festival, where it premiered last year – and by many in the opening-night audience. It's a huge technical achievement, but there's a whiff of Emperor's New Clothes about the whole thing. If it's this challenging and depressing, surely it must have something profound to say about the human condition? If the stage is packed with images of poverty and war, it's got to be an important work? If critics in Salzburg were rapturous, it must be the absolute pinnacle of the artform? We're not convinced by any of those old-hat assumptions. Especially not with an opera that comes nowhere near to touching your heart.
Details
Users say