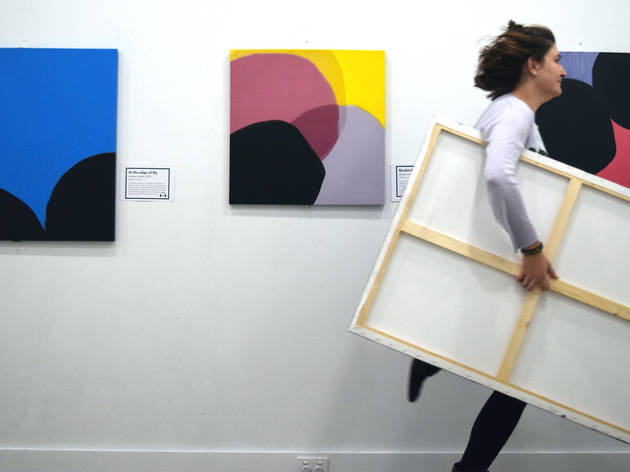 This experiential theatre show turns a gallery visit into an actual adventure
When you rock up to the address listed on your ticket, it's still hard to know what to expect from Art Heist, a new interactive experience from Jetpack Theatre. Inside an empty shopfront in Dulwich Hill, we are greeted by director Jim Fishwick. After signing a waiver, we put our valuables in a safe and are given a quickfire mission brief. Our objective is to steal a valuable painting ('The Fat Dragon') from under the noses of two quick-footed security guards and return it to its rightful owner. We know the gallery closes in 10 minutes, after which we have half an hour to complete our mission. We barely have time to process this information before we step through a door and into the gallery.
The fictional gallery is a creation of the Jetpack collective, complete with home-made contemporary art and hilarious labels that send up the pretensions of certain artists and galleries. Immediately we spot the prize, an ugly figurative masterpiece protected by guards, lasers and security cameras. Already the PA system informs us the gallery is closing, there's no time to waste.
We sneak off to the bathroom and lock ourselves in the janitor's room at the back as security guards lock down the gallery. The clock is ticking. Whispering frantically, we get to work, our hearts racing, deciphering clues and using our collective cunning to come up with a plan.
The next 30 minutes pass by in a flash, involving the sort of shenanigans I used to dream up in bed as an over-imaginative 11-year-old. I won't spoil what unfolds in that eventful half hour. I'll only reveal that we were only partially successful in our mission (I got caught, my friends got away, Fat Dragon under their arm).
Escape rooms have been around for a while. Room-size puzzles solved as a team, they're often run by entertainment conglomerates in malls or multiplexes. What's exciting and refreshing here is the home-made nature of the experience, crowdfunded and conjured with inventiveness and hard work by an independent, up-and-coming arts collective. It's rough around the edges, but it works. And unlike most escape rooms it requires not just mental skills but active physical engagement from participants. Hearts pounding loudly in our chests, we suspended disbelief and felt for a moment like our lives were truly on the line.
We left in a state of giddy euphoria, our bodies vibrating with residual excitement, energised by the level of agency bestowed upon us as participants.