Audiocraft Podcast Festival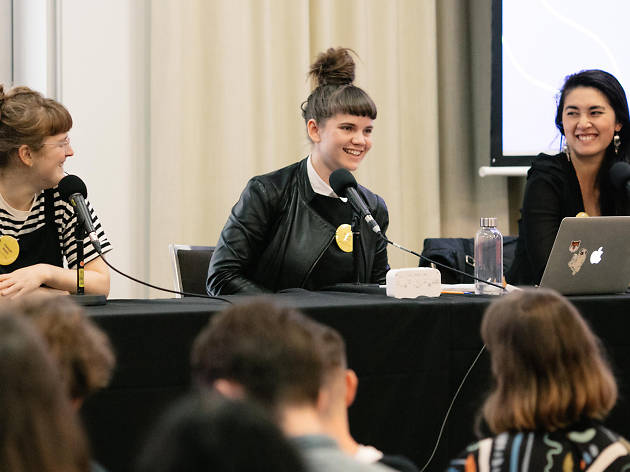 Nerd out about audio in Australia's leading podcast festival
Radiolab, Pretty for an Aboriginal, the Guilty Feminist, Still Processing, S-Town, This American Life… There are so many excellent podcasts available now that we're struggling to catch up with the latest stories and issues shared in on-demand audio format.
We're consuming (and making) serialised audio more than ever before. So if you've got a germ of an idea for your own podcast, you should check out the workshops, listening parties and conference talks at the third annual Audiocraft Podcast Festival.
The festival kicks off with a listening party featuring UK-based producer Eleanor McDowall, from Falling Tree Productions, BBC Radio 4's Short Cuts and Radio Atlas – a project that subtitles audio from around the world.
On Saturday, there'll be a full-day conference at UTS aimed at beginners up to the seriously advanced. The line-up of speakers includes Audible's Jesse Baker, Collin Campbell (from podcasts Sincerely, X and Ponzi Supernova), Eric Nuzum (The Butterfly Effect), Robert Smith (NPR's Planet Money), Helen Zaltzman (Radiotopia's The Allusionist), and Radio Atlas's McDowall.
On Sunday, there'll be a series of workshops that you can book into, from audio editing basics to advanced editing with Pro Tools, plus workshops on the art of interviewing, writing for radio and pitching ideas. Each workshop costs $37.74 or there are bundles available to pack out your day with ideas and education from teachers like Eleanor McDowall, ABC RN's Beverley Wang (It's Not A Race and Stop Everything!), ABC's Joel Werner.
For the truly gifted (or at least experienced) podcasters, there is also a two-day content development retreat run by Audible, which is available by application only. Mid-career creatives can work with the guest speakers on their ideas at Manly's Q Station.