Australian Academy of Beauty and Spa Therapy Student Day Spa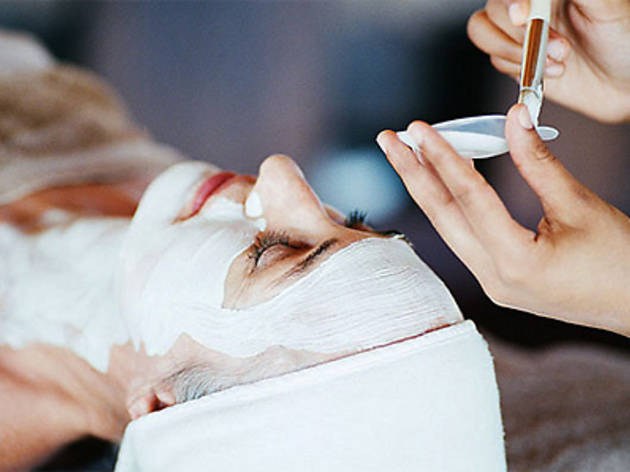 In North Strathfield, the Australian Academy of Beauty and Spa Therapy has a state-of-the-art student day spa, where treatments are performed under supervision from a teacher and assessor. Unlike many other college day spas, this school is open late on Thursday evenings and on Saturdays – so you can spruce up for next to nix on salon treatments from tanning and waxing to facials and massages.
Venue name:
Australian Academy of Beauty and Spa Therapy Student Day Spa
Contact:
Address:
Level 2
18-22 George St
North Strathfield
2137

Opening hours:
Mon-Wed 10am-5pm; Thu 10am-9pm; Fri 10am-5pm; Sat 10am-9pm
Rating Breakdown
5 star:

2

4 star:

0

3 star:

0

2 star:

0

1 star:

0
So excited to receive this review from a beauty blogger!
A lot of you have asked me where I go to get pampered. So I've decided to do my next blog on The SPA at the Australian academy of beauty therapy
I made an appointment for a heavenly facial and a body scrub and wrap in the spa capsule.
I always love walking in to the place. The interior is beautiful, very well presented and always smells nice and clean. Yes it is a student day spa but all treatments are overlooked by a well experienced trainer.
My therapist, Laura advises me that we will be starting the treatment off with the body scrub, masque and capsule and ending with the heavenly facial.
Ok let's start. 😶
Oh. My. God. Her hands!!!!! Magic hands. I have been brought to heaven. The strength in her hands are to die for.
She scrubs my whole body and I must say I have goose bumps everywhere. You rarely get such a great treatment from a day spa/beauty salon let alone a student day spa. This is why I love this place.
In walks the trainer to overlook. Honestly no one needs to overlook this treatment she is divine. Laura obviously knows what she is doing and she knows that this is her calling.
But then again. Maybe this is why treatments here are done so perfectly.
Continuing, next is my body masque. It first gets applied on my back before I lie down then the rest of my body gets a lovely masque to keep my body well nourished and feeling soft and silky.
Her hands really are magic!!!! 😄 im in love 😍hahaha.
Laura then wakes me from my dream land to tell me that I might feel abit of Coldwater as the first parts of my Vichy shower comes on.
Statistically 3 out of 10 students graduate and continue on in the beauty industry. Although 99% of students from AABT complete and graduate, not too sure on the numbers how many stay on in the industry though.. I really do hope that Laura stays in the beauty industry. She will be a great asset to any salon. She really can go far in the industry. I dont say this often everyone, but girl....... you are amazing! Did I mention that I may be in love 😍haha
Anyways back to my review.
Facial time!...
As soon as Laura touches my face, I've been once again sent back to heaven. This girl is amazing!!! (Come home with me) lol 😉
She then covers my eyes. And oh wait a hot pack is placed on my tummy to further relax me. Did I mention how much I love this place?
🤗🤗🤗🤗🤗🤗🤗
OMG! YES!!!! this girl is truly an angel. She knows what she's doing alright! My foot massage! Back to heaven.
Face massage time. Laura has made up an energising blend for my facial massage today and omg!!!! She's put me to sleep. I know I've mentioned before but yes once again I am in heaven!!!! (I love you laura) lol.
Once that is complete my collagen mask is applied whilst Laura works her magic fingers on my head massage once again. 💆
My skin feeling amazing from head to toe. Scoring this treatment will not be hard at all.
I love you Laura!!!! 😍
Score time OK overall the salon itself was beautiful. 9/10
Facial - 10/10 - I just could not fault this treatment bonus points for a student spa.
Face massage 9/10 - im sure I fell asleep. Did not want to leave
Body scrub - 8/10
Wrap - 8/10 these treatment got high points as my therapist was thorough and explained it all to me and that capsule just made my day. I was made to feel very comfortable.
My overall experience I would score 9/10.
If you own a salon and need staff. This is the place to find them. Highly trained and very efficient and therapist are always beautifully presented.
And this is why I always get me treatments here.
Thank you all for spending this time with me.😚next blog will be the benefits of a beauty treatment and capsule. Tania, beauty blogger
Excellent facilities, and amazing spa treatments. I have had a microdermabrasion today and I absolutely loved it! It was fantastic, the girls are so lovely. Amazing experience I will be back again!