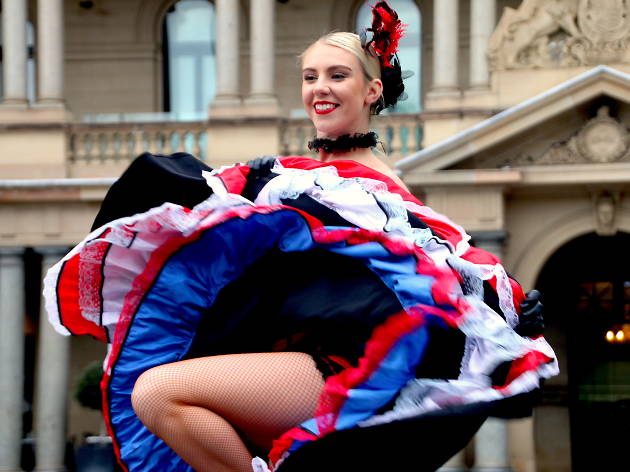 Be transported to a Parisian party with everything from fine wines to traditional cabaret
Experience the best parts of France – food, wine, art and entertainment – without leaving the city at Sydney's celebration of Bastille Day (Sat Jul 14). The festival will take over Circular Quay and the Rocks for four days with food villages, wine bars and beer gardens, movie screenings, street performances and a cabaret show.
There's four main precincts to explore, which offer different experiences, themes and flavours. At First Fleet Park in the Rocks you'll find an exciting smorgasbord of French fusion. Try the camembert arancini or French paella for a fun culture mash-up. Pair these dishes with an ever-accessible glass of wine while you listen to live music at the festival's mainstage. If you're after more traditional fare, head to the area around Customs House for the crunchiest baguettes, stinkiest French cheeses and freshest crêpes.
The eastern side of Circular Quay will be the centre of activity, with even more food, wine and performers taking over its shores. Evening revellers will descended on the neon-lit Electro Beer Garden, which pumps out modern swing sounds and will be serving a range of beers created specially for the event. And there's a Christmas theme for Argyle Street in the Rocks, which will be turned into a wintery Paris streetscape after 1pm. Its market stalls will be the perfect place to pick up a French momento while sipping on warm mulled wine.
Street performers will keep everyone entertained across these sectors with dance, music and circus acts. For entertainment beyond the streets, there's a cosy outdoor cinema in front of the Museum of Contemporary Art where you can catch a French film (or one inspired by the culture) from $18 per ticket. Or, for $85 dollars a pop, hone your wine and cheese pairing skills in a masterclass run daily at the Rocks.